In this article, you'll learn how building featured snippets on Google – also called ranking position 0 – works and which points are most important to maximize your chances of success. If you're wondering how to create a Google highlighted snippet, you now have a helpful additional partner. AI (Artificial Intelligence) is a new way to create these snippets and make them not only more relevant, but also more unique. We would also like to address this.
What is a Featured Snippet?
Featured snippets are highlighted snippets above the actual Google search results. This "position 0" provides the direct and precise answer to the user's search query.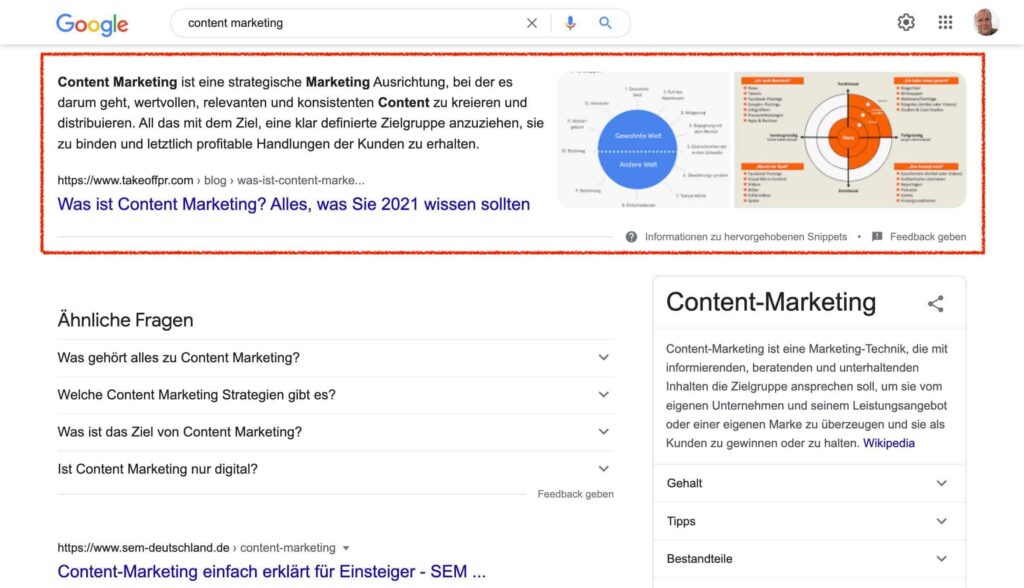 Featured Snippets are a very compelling way to increase your brand's visibility in the SERPs. They will be displayed in a prominent position and you will get more traffic from Google and increase your share in the SERPs.
These featured snippets are particularly suitable for mobile searches and searches via Google Voice.
---
What do Featured Snippets look like?
The Featured snippet is displayed at the top of search results, above all other organic search results,and is a promising way to drive traffic to your website.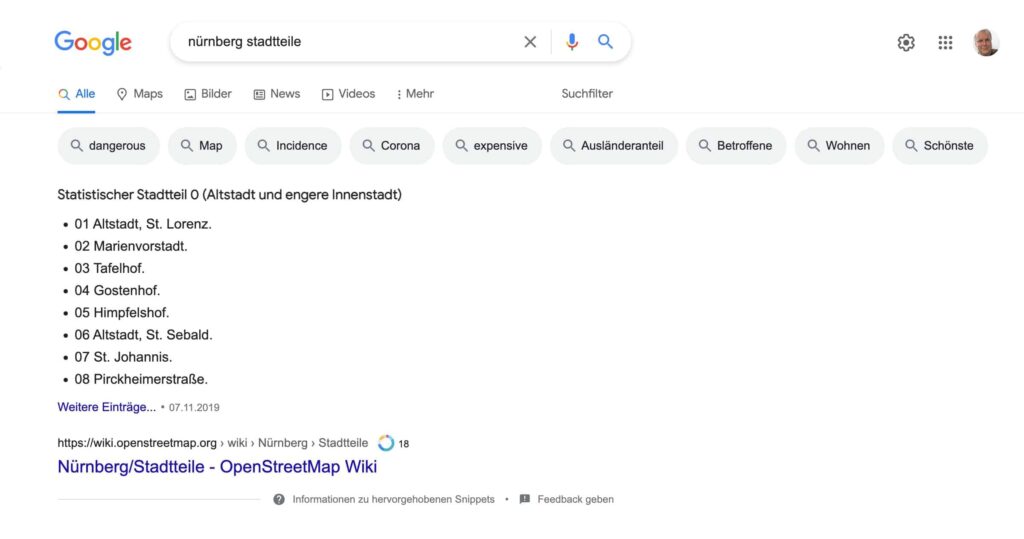 Featured snippets are often the fastest way to answer a question asked in an organic search. They are particularly useful for questions to which the user is looking for a quick, direct answer.
Further, featured snippets often contain images. These can be obtained from sources other than the content of the highlighted snippet itself.
---
Why are featured snippets important?
With a featured snippet, you'll be played out in front of all other organic results and can position yourself ahead of the competition. The prerequisite for this is good, relevant content and structured formatting.
Featured snippets play an important role in optimizing websites for search engines. They help highlight content and improve brand awareness. They can also help generate more visitors to a website.
In this age of increasing user numbers on mobile devices and voice search, it's important that your website contains featured snippets. That's because Featured Snippets help you optimize for these search methods and ensure that users find the answer they're looking for faster.
The click-through rate is an important factor for ranking in search results. The higher the click-through rate, the better the placement. That's why it's important to design your content to show up as a featured snippet as often as possible. The bounce rate is also an important ranking factor. The lower the bounce rate, the better the ranking. Therefore, you should also make sure that your content is interesting enough to keep users on your website longer.
So if you make an effort and succeed in getting featured snippets, your content will automatically be good and useful. You can usually expect to get a lot of organic rankings when you do.
---
What are the featured snippets?
Text snippets
Featured snippets are a format that gives direct answers to questions and does not necessarily redirect users to your page in search results. They are displayed in the first place when the user enters a search query where Google already knows what they want.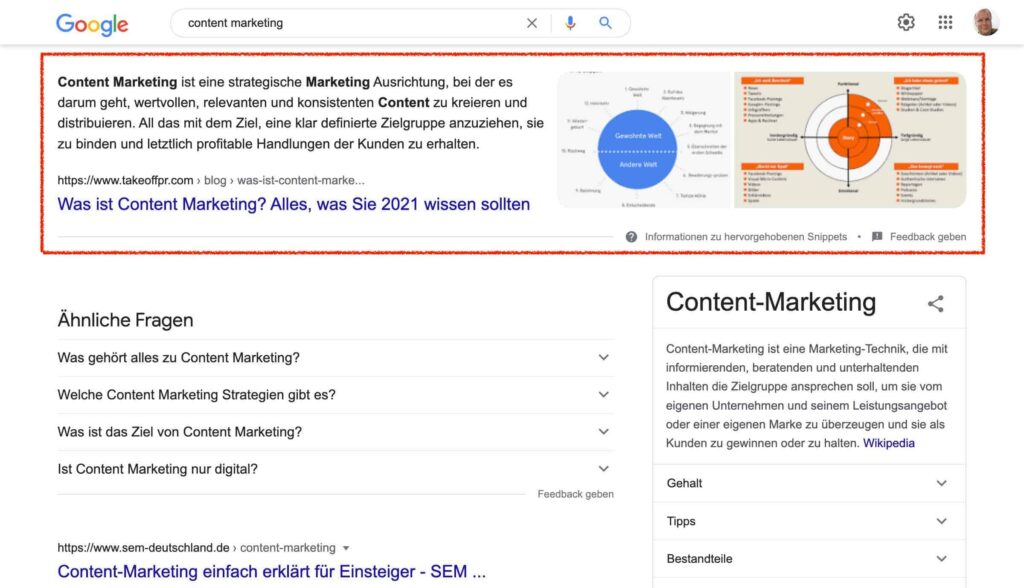 Video-Snippets
Video snippets are results of videos published on YouTube. They display a thumbnail of the video as well as the title and duration of the video.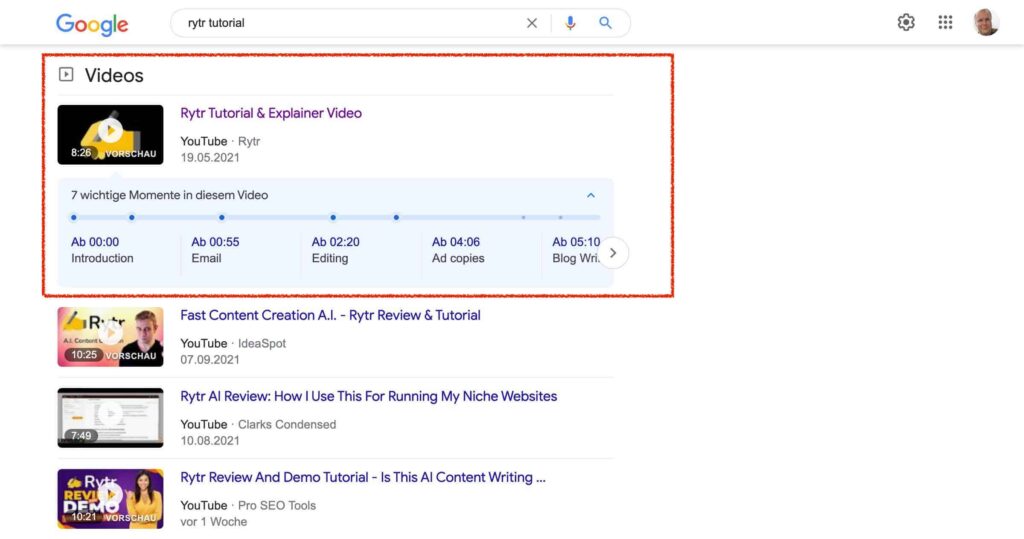 Even if you capture a featured snippet with your uploaded video on YouTube: visitors can always be directed directly to YouTube when they click on the link in the video snippet.
List & Table Snippets
List & Table snippets can be displayed as a supplement to text or as an alternative to tables on the search results page. They appear in different formats depending on how the snippets were created: as text, list boxes or table.
The first three lines of a featured snippet should contain the most important information to convey relevance to the keyword or question at hand.
---
Create Featured Snippets – here's how:
To create a featured snippet, you need to understand how the algorithm processes snippets and follow these important rules.
Find a search result that already ranks in the top 10 or on page 1 respectively
Use a headline that contains the exact match variant of your keyword
In the first paragraph after the heading, give a specific answer to the intention.
The first paragraph has no more than 300 characters or about 50 words
Follow this recipe for many of your headlines if possible
Place internal and external links to your site to strengthen the authority of the site.
Step 1: Find a search result that already ranks in the top 10 or on page 1 respectively
First, you should find out which Featured Snippets already exist. With the help of Google research and data analysis, you can identify those keywords for which a featured snippet already exists. Then, you analyze them based on their content characteristics to find out what makes them different from other featured snippets.

Focus on keywords that contain more than one term. It is easier to create relevant information for relevant search queries. With a suitable answer, you have a better chance of getting a featured snippet.
To get featured snippets, you should first make sure that your website is already ranking on page 1 of the results. Then you just need to figure out which search queries your site answers and optimize accordingly. Using AI tools like Google Search Console, you can find out what questions your website answers.
So look for keywords that you already rank for on page one, and secondary keywords that are at least on page two. You can use your Google Search Console or specialized tools like SISTRIX, SEMrush, AHREFs or others.
Step 2: Use the exact keyword in a headline or in the text
Use the exact keyword in a headline or in the text to increase the chance that your content will appear. Featured snippets are very much defined and used by Google based on the keyword, so you should consider this to increase your chances of ranking in the SERPs.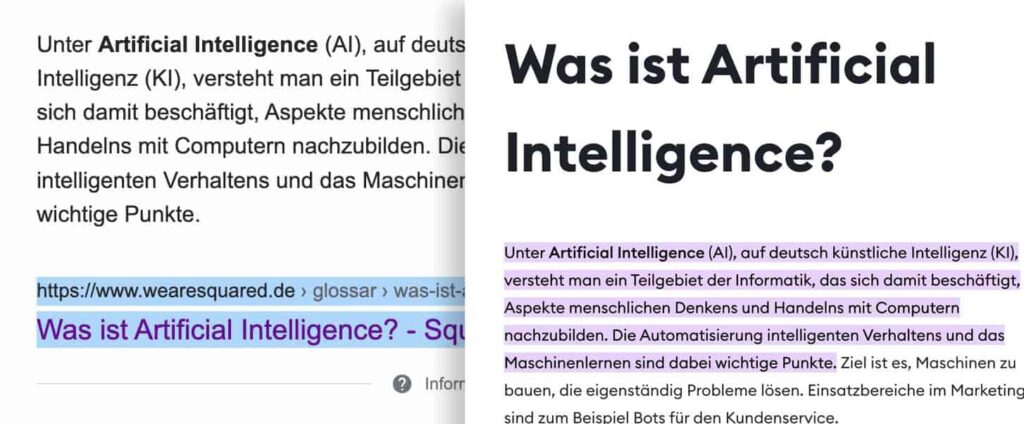 One of the best ways to optimize content is to use keywords in h2 headings and/or body text. This is especially important to get featured snippets. Additionally, place your answer in the form of a tag directly below the corresponding h2 heading.
Step 3: In the first paragraph after the heading, give a specific answer to the intention.
It is important that you formulate a clear, unambiguous answer to the search query in the first paragraph after the headline. Set yourself the task of formulating the best possible answer on the web in 1-3 sentences.
To do this, you should mainly understand the intention of the search query. With search queries formulated as questions, this is somewhat easier. Generally, the more words an addressed keyword contains, the clearer it is to you what the user expects on it.
Otherwise, you have to deduce what he wants? Take "furniture manufacturer" as an example?
Does he want to know? If so, what?
Does he want to buy something? If so, what?
If you think about it a bit, the most likely scenario is that the searcher wants to find a list of furniture manufacturers. In this case, the intention for a definition of the word is probably not behind the search query.
The actual search query in this example should be "Give me a list of the best furniture manufacturers". Unfortunately, the seeker explicitly does not do you this favor. So you have to implicitly put it in his mouth to develop the best answer with your content.
So, if a list is required, you should create a list of the most important furniture manufacturers in the content to have chances of getting a featured snippet and also to rank well with your page in the SERPs.
If you know the real intention, you can answer all questions accurately. Then you can achieve top rankings and get many featured snippets on Google. For the intention, you can often identify so-called trigger words such as definition, checklist, list, guide, etc.. They do not appear explicitly in the search query. But they are essential for you.
You should then include the trigger words in headlines and text.
Step 4: The first paragraph has no more than 300 characters or about 50 words
The recommended character limit for the first paragraph is about 300 characters. The Featured Snippet is displayed at the top of the SERPs and should be short and concise. A pre-written, excellent first paragraph helps you stand out from the crowd and makes it easy for Google to understand what your article is about.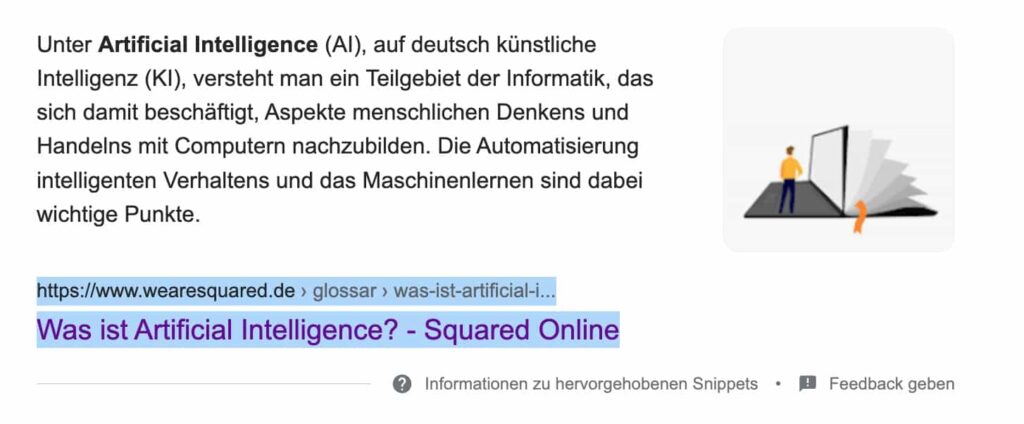 Step 5: Follow this recipe for as many of your headlines as possible
You increase the chances of a featured snippet the more often you try to address them. Therefore, it's best to check the first paragraph for the number of characters after each H2 or H3 heading. The more headlines that meet the requirements, the better your chances of getting many good rankings.

Step 6: Set internal and external links to your site to boost the authority of the site.
If you want to achieve optimal rankings, you need to build internal links to your content. This gives Google the opportunity to see that your content is important and can help you rank better in search results.
Internal links are an important element for the success of your content. They help you spread your content and attract new readers to you. Also, you can use them to improve your site's rankings. So use meaningful internal links to push your optimized content!
Search your website for the following pages and link from these pages to your content that you want to strengthen:
Pages that already have the topic of your page as a keyword in the text
Pages that rank secondarily on the keyword of your topic of the page to be strengthened
Sites that are popular with your target audience.
Pages with the latest content on your website.
Pages that belong to a category or subcategory you want to highlight.
Pages you want to link to in a text or image post.
Pages where you have a lot of content.
---
How to conquer a lists & instructions snippet
To capture a how-to snippet, you should optimize for either a paragraph or a list. For instructions, it is especially important to use trigger words and follow up words. These words help Google recognize your page's content as how-to and highlight it accordingly.
You need a headline with the exact keyword
Write a relevant paragraph with max. 300 characters best shorter
Then follows a renumbered or numbered list (ul- or ol-tag)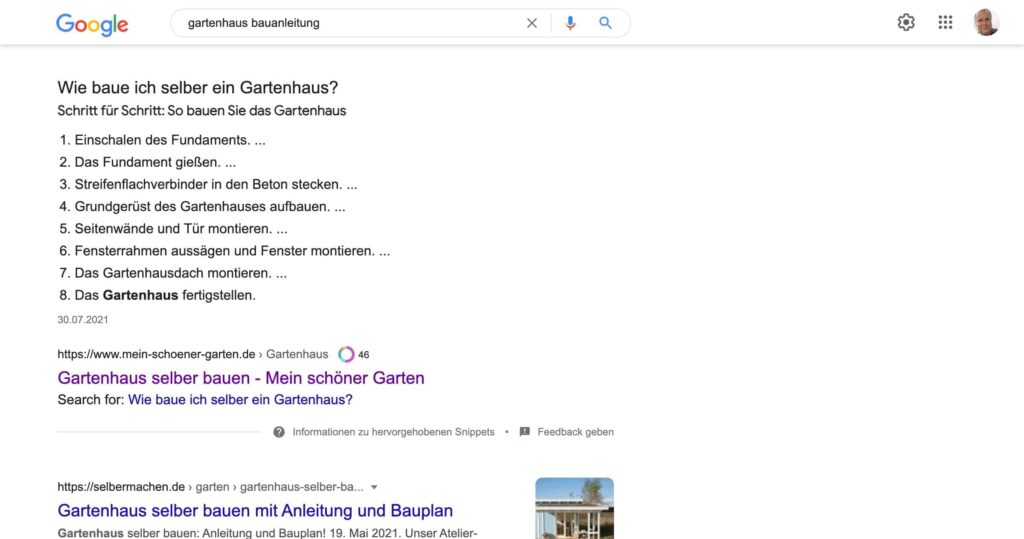 The second way is a bit more complex and elaborate and is mainly used for step-by-step instructions.
You need a headline with the exact keyword
Start under the heading with the first step as subheading (e.g. h3)
Identify this as a step (e.g. step 1, numbering).
Describe each step
You can strengthen your snippet using trigger words. These words give the searcher the impression that he is on the right page and will be helped directly.
The most common trigger words include:
List
Instruction
Guide
Instructions
Checklist
Actions
Method
Step by step
To generate an instruction snippet, the first thing you should pay attention to is the number of list items. Apparently, this is a good trigger for Google. This should be followed by imperatives as follow-up words, such as "use," "find," "click," "do," "write."
Create Google Featured Snippet: Definition Snippet
To capture a definition snippet, you should look for simple words that answer the question in simple terms. These simple definitions are then readily displayed in the SERPs.
Here's how you can create a Google Featured Snippet for definitions:
You need a headline with the exact keyword.
Write a relevant paragraph with max. 300 characters best shorter
You should first check if there is already a snippet for the keywords you are using. If so, you can find them with the SEO tool you trust. Then you select the articles with relevant content and try to answer as many questions as possible concisely and accurately.
To increase the chance of an insertion, you can use trigger words like "definition" or "what is".
Create Google Featured Snippet: Table snippet
Table snippets are displayed by Google when the search query requires exactly this type of data presentation. They are much rarer. They contain title and heading as well as a short excerpt from the table content.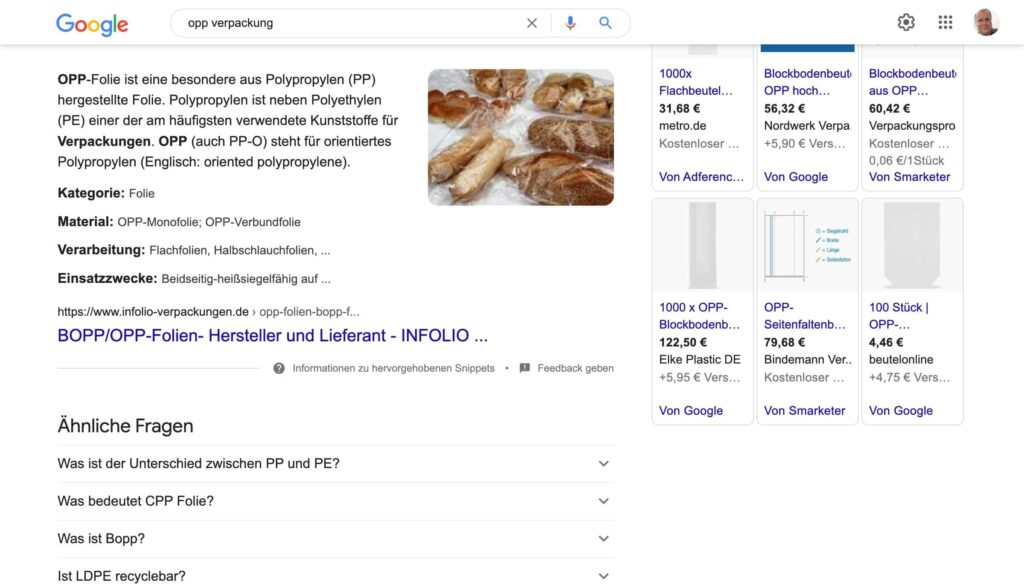 To increase your chances of getting your content displayed in a table snippet, make sure your title and headline are worded accurately and relate to the content of your table.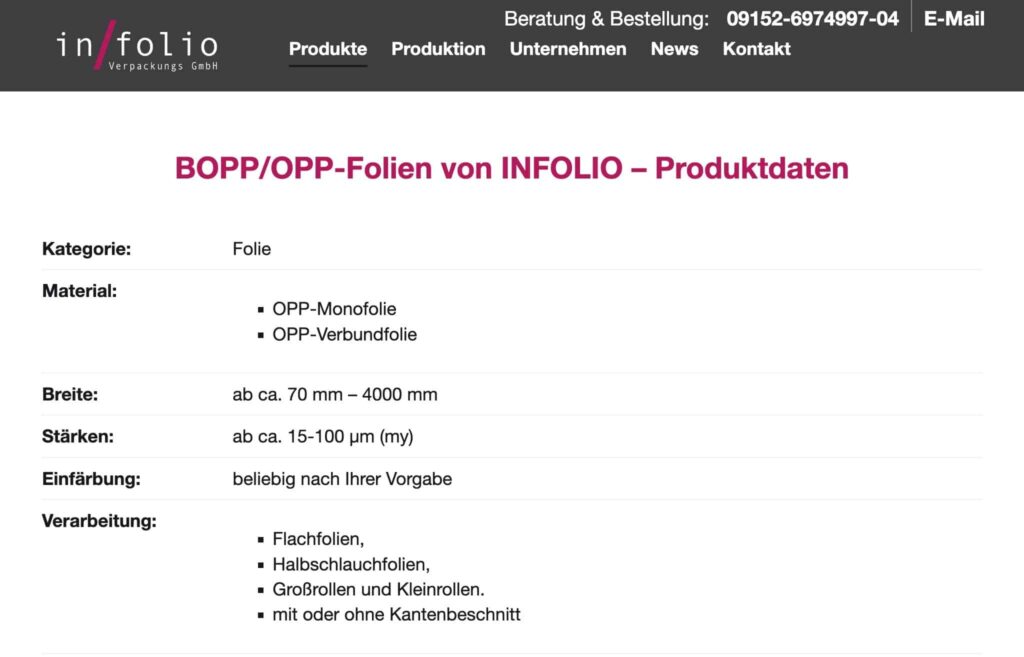 For example, if you want to rank for the keyword "inhabitants federal states Germany" with a featured snippet, an appropriate headline would be "List of German federal states by inhabitants". With this, Google should clearly understand that what follows is highly relevant to this search query. A table would probably be best for a concrete answer in this example.
To get featured snippets, you first need to know what your customers are looking for. You can use Google Search Console to find out what keywords and search queries your customers are using. Then you should include these terms in your content and provide the corresponding table with the most important information.
Pay attention to the following search intentions:
Compare
Prices
Salaries
Wages
Search queries that indicate the expectation of a tabular view (e.g., states residents)
To get featured snippets, you need to design your content so that the most important information is in the first three lines. These lines must convey clear relevance to the keyword or question at hand. If you pay attention to this, you have a good chance of being displayed by Google as an answer to a search query.
---
How can you create a featured snippet using AI?
AI writers are excellent and helpful in creating featured snippets. GPT-3 and other AIs rely on training data from the network to learn. This makes them suitable for answering simple questions briefly and precisely, which can be used as featured snippets.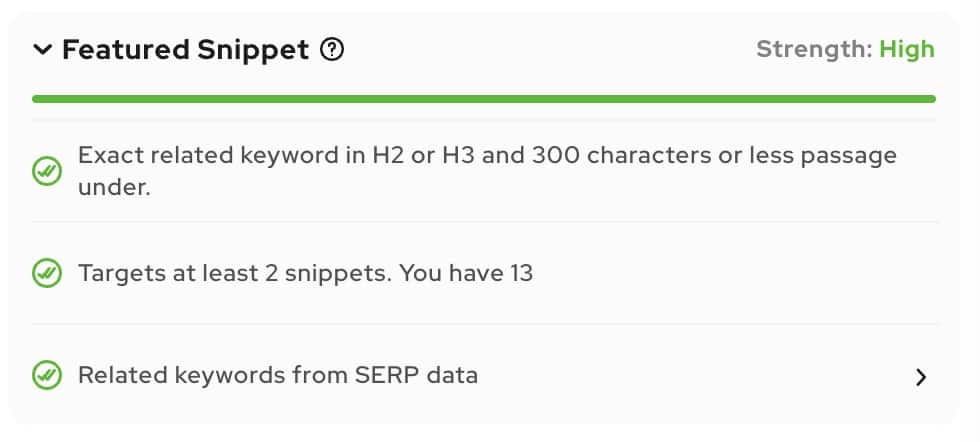 Some AI tools even have specially trained models on board for outputting responses for a featured snippet. So, in particular, the AI writing tooloutranking.io, which not only offers custom modules for creation, but also checks your text to see how many passages are suitable for Featured Snippets and meet the criteria.
With almost every AI provider, you'll find modules that can answer FAQs. There are also tools with a command function. If an AI is specifically instructed via such a function to create a featured snippet for any question, it will usually do so.
---
FAQ