How about an AI that knows hardly any boundaries? Which can be completely tailored to your requirements and wishes. Which lets you develop your own use cases. It has four powerful AI cores (GPT-3 is only one of them). Which is optimized for either sales copy, blog copy, or fictional stories. Which has integrated research functions for content and SEO on board. And – which on top of that is currently available unbeatable for a one-time payment within a lifetime deal (as of February 2022) with no limits. All this is reason enough for us to take a close look at ClosersCopy.
---
What is ClosersCopy?
ClosersCopy is a copywriting software from Germany that helps people write texts automatically in 120 languages. The software offers a library of content templates regularly updated by the provider and a large community, as well as ideas on what you can include in your various texts. With the help of the software, users can more quickly and effectively write copy for marketing, campaigns, emails, blog articles, social media, video, and more.
---
Contents
---
For beginners and experts
ClosersCopy is good for both experts and beginners and helps you with editorial selection, correction and optimization of your content. Besides, ClosersCopy lets you create posts for video, images or text. Nevertheless, in our opinion, the focus here is on more advanced users who have studied the subject of writing with artificial intelligence in depth and have some experience or are willing to acquire it. At least, if you want to fully exploit the power of the tool.
ClosersCopy offers integrated features for SEO, content research, and lets you develop completely custom AI models (frameworks) and workflows for your work.
---
What can you do with ClosersCopy?
The software has comprehensive features that will help you improve your texts and produce them more effectively. With ClosersCopy you can create excellent blog articles, sales copy, Facebook ads, marketing copy, sales letters, Google ads and other copy.
ClosersCopy was noticeably developed by an experienced copywriter from Sales-Copy
You can create content via AI using forms (frameworks) for various text applications
The Longcopy Assistant writes long texts fully and semi-automatically for you and with your guidance.
ClosersCopy helps you with content research and also rewriting of existing content
You can completely create your own use cases
With "Workflows" you can group multiple use cases (frameworks) into one workflow
4 AIs for sales copy, blog copy, stories, and GPT-3 help you write purposefully
---
What content does ClosersCopy write for you?
Blog Ideas & Blog Outlines
Writing blog paragraphs
Writing complete blog articles or sales copy
Writing emails and email series
Texts for Google and Facebook ads
Rewriting and paraphrasing of complete paragraphs
Summarizing texts
Website-Titel und -Beschreibungen für SEO
Product descriptions for online stores
Video descriptions
Video ideas
Creating testimonials and reviews
Job Descriptions
Texts for landing pages (headline, subheadline, body copy)
Profile information e.g. for your LinkedIn or XING profile
Song Lyrics
Poetry texts
complete AI storywriting and AI story generator
---
Advantages and disadvantages of content writing with ClosersCopy (Review)
Advantages:
Unlimited writing (Unlimited Plan)
Lifetime deal (as of February 2022)
Own proprietary AI with less restrictions than OpenAI GPT-3
Offers three different AI algorithms plus GPT-3 for different applications
Output with up to 3,000 characters within a single query
Over 300+ integrated templates and models (frameworks)
Own templates and models (frameworks) can be created
"Workflows" (combination of different frameworks)
Content research and SEO module (Compete)
Strong large community that contributes many tutorials and models (frameworks)
120 languages via integration of DeepL and Google Translate
Informal and formal address possible, e.g. in German
Working in a team
Disadvantages:
Partially relatively long waiting times for text output
Tends to require more training
AI is sometimes more difficult to control and can sometimes stray off topic.
Lower price plans with limitation to queries of AI (75 Starter plan / 200 Professional plan)
no internal plagiarism check
---
ClosersCopy Tool Pricing:

Power
300 AI Runs / month
50 SEO Audits / month
Limited Updates
Teams (2 unsers inklusive)
SEO Audit
SEO Planner
Longform
(Wizard for long texts)
Frameworks (custom templates and models)
Workflows (series of frameworks)
Tune (coming soon)
Insights (internal statistics about lengths and words)
Email Support
Community (11k+ members)
$ 49.99 per month
$419.90 per year (30% discount)
Superpower
Unlimited AI Writing
Unlimited SEO Audits
Unlimited Updates
Teams (3 users included)
SEO Audit
SEO Planner
Longform (assistant for long texts)
Frameworks (custom templates and models)
Workflows (series of frameworks)
Tune (coming soon)
Insights (internal statistics about lengths and words)
Email Support
Community (11k+ members)
$ 79.99 per month
$671.90 per year (30% discount)
Superpower Squad
Unlimited AI Writing
Unlimited SEO Audits
Unlimited Updates
Teams (5 users included)
SEO Audit
SEO Planner
Longform (assistant for long texts)
Frameworks (custom templates and models)
Workflows (series of frameworks)
Tune (coming soon)
Insights (internal statistics about lengths and words)
Email Support
Community (11k+ members)
$ 99.99 per month
$839.90 per year (30% discount)
---
Core features of ClosersCopy Writing AI
Dashboard with project and document management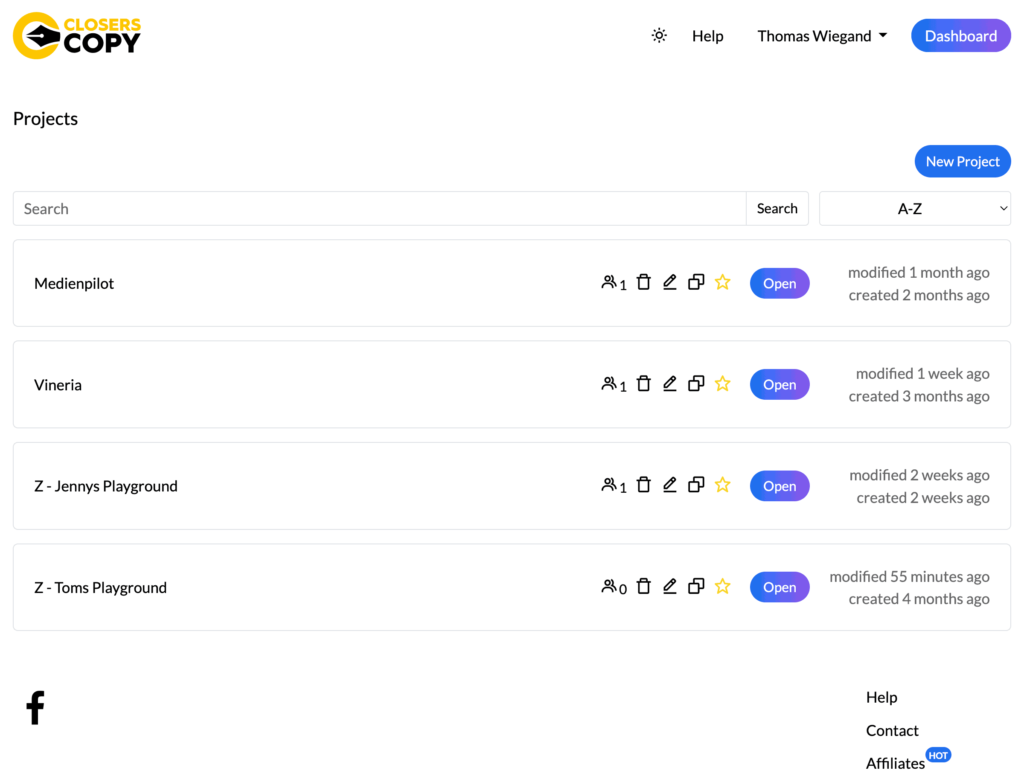 The dashboard is simple and clear. You can easily create projects here and within the projects you can upload your documents. Using selectable icons you can share your documents with other people, delete them, edit them and duplicate them.
Basically, you should be able to handle it immediately, intuitively, since this logic follows familiar patterns and experiences, e.g. when working with your operating system.
User interface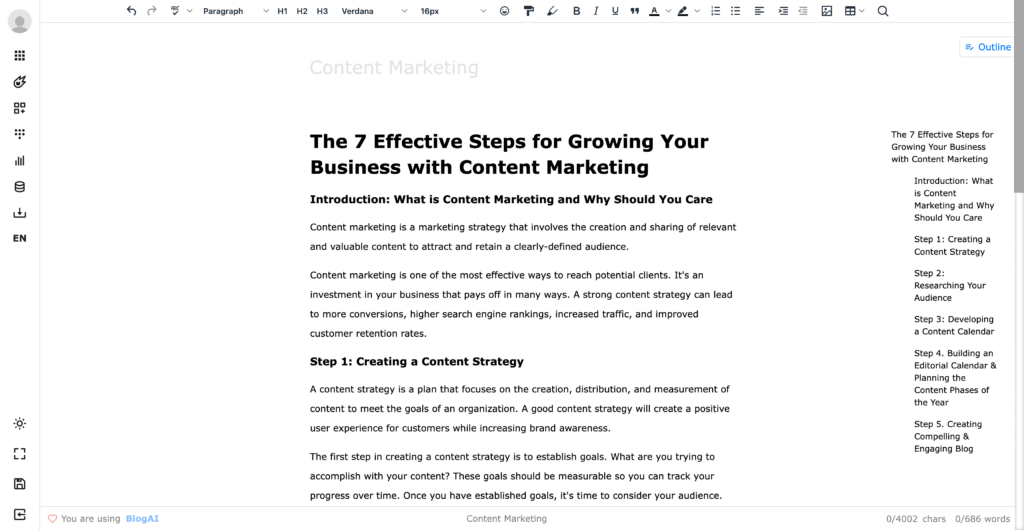 The user interface is practically a text editor that provides all the functions for writing, editing, formatting and correcting texts.
The functions of ClosersCopy and the AI can be accessed via a menu bar on the left or via shortcuts. Basically, you create AI content either by using the corresponding function or by right-clicking on a selected text. This will show you a floating selection window and you can choose to expand, enhance, translate or rewrite the selected text.
At the same time, the marked text serves ClosersCopy as a context to understand what is to be written about. Here you can also find further settings and contents like the language selection of your document.
In the footer you can choose the AI algorithm to use: Sales AI, Blog AI, Story AI. Depending on what kind of texts you want to write. More about that later.
The AI of ClosersCopy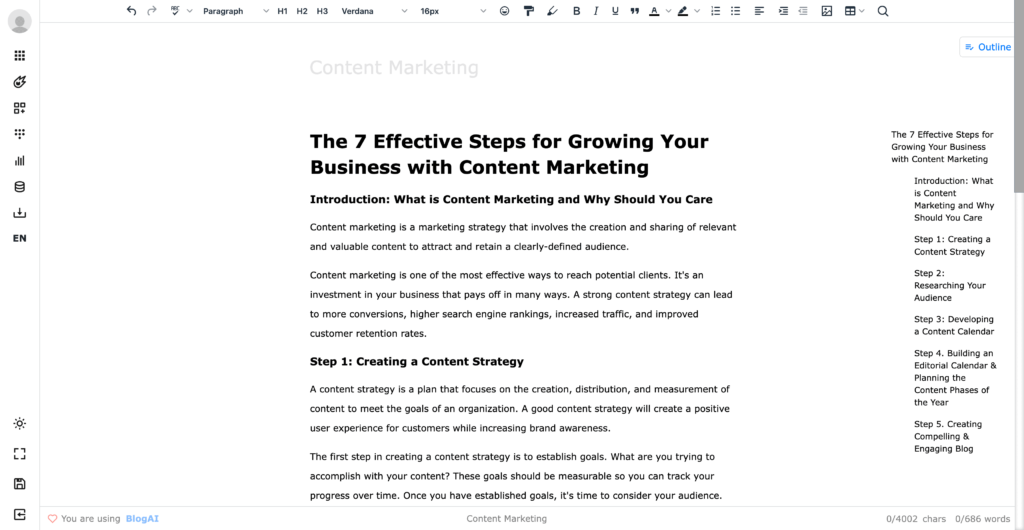 Most AIs rely on OpenAI's GPT-3, but ClosersCopy does not. GPT-3 is of course also on board – but it is only one of four options.
ClosersCopy relies on its own approach for several reasons and includes three AI algorithms:
Sales-AI – Trained in writing sales pages, ads and promotional emails.
Blog-AI -Trained in writing articles, blogs and press releases.
Story AI– Trained to write stories.
You will quickly notice this difference when you write texts. Of course, you can write a blog article with Sales-AI, but ClosersCopy will tend to always want to sell you something. The texts will be more lurid overall.
The second major advantage of the ClosersCopy approach is timeliness of knowledge. OpenAI's GPT-3 knowledge is based on training data that was available as of 2019.
So if you want to write an article about Corona, GPT-3 probably thinks it's more of a beer brand. It can't contribute anything meaningful to the pandemic, measures, danger, and vaccines. It's different with the AI from ClosersCopy. This knowledge is available here.
Several users have already tried to find out how exactly the company does this. But ClosersCopy understandably treats this aspect as a trade secret.
Furthermore, ClosersCopy's restrictions are lower than for GPT-3. If you want to write sensitive content, OpenAI will quickly throw a spanner in the works. And even if you don't plan to write explicitly for adults directly, with GPT-3 it will always happen that the AI refuses to output.
OpenAI is extremely sensitive and goes on strike as soon as it has the slightest suspicion that the text might be too salacious, have political, health or religious leanings, or anyone might feel offended. ClosersCopy leaves this assessment up to you and is completely painless. Also, if you wanted to write a script for a porn movie. The AI would support you creatively and maximally dirty.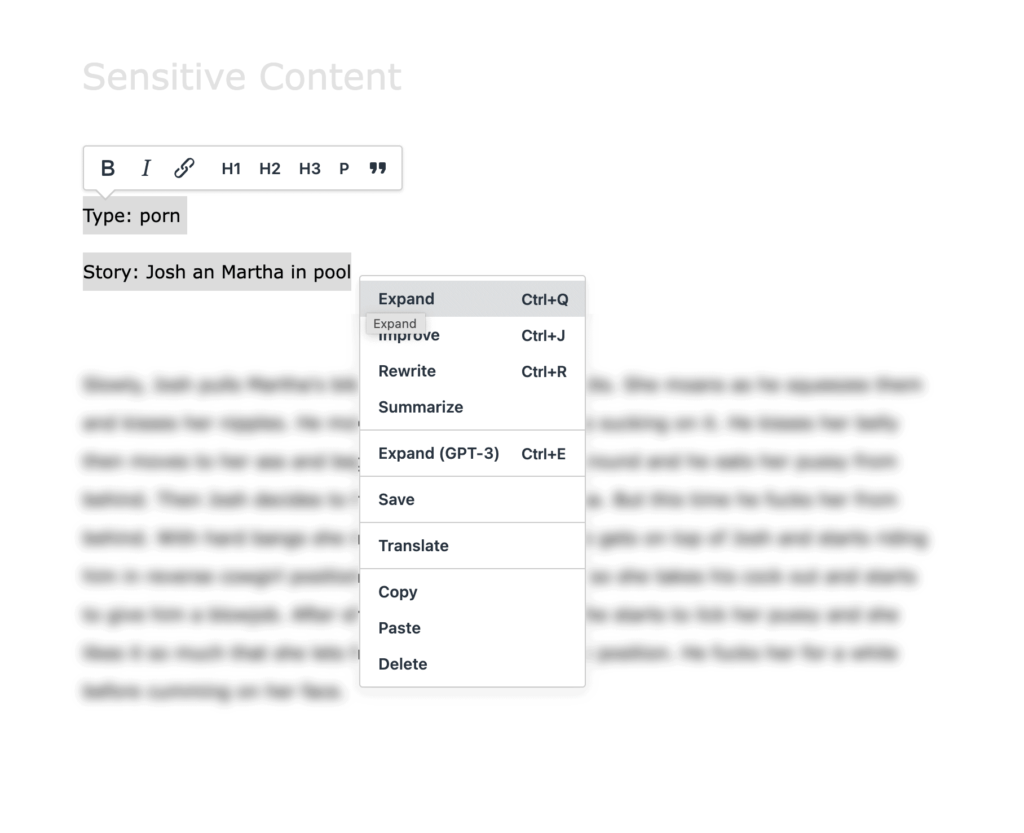 Let me add that I am producing this ClosersCopy review here using another GPT-3 tool. At the last lines about the restrictions of GPT-3 and sensitive contents, the AI of GPT-3 refused to perpetuate these words together with me. ClosersCopy, on the other hand, would be joyful and creative.
ClosersCopy Compete – the module for SEO & content research on Google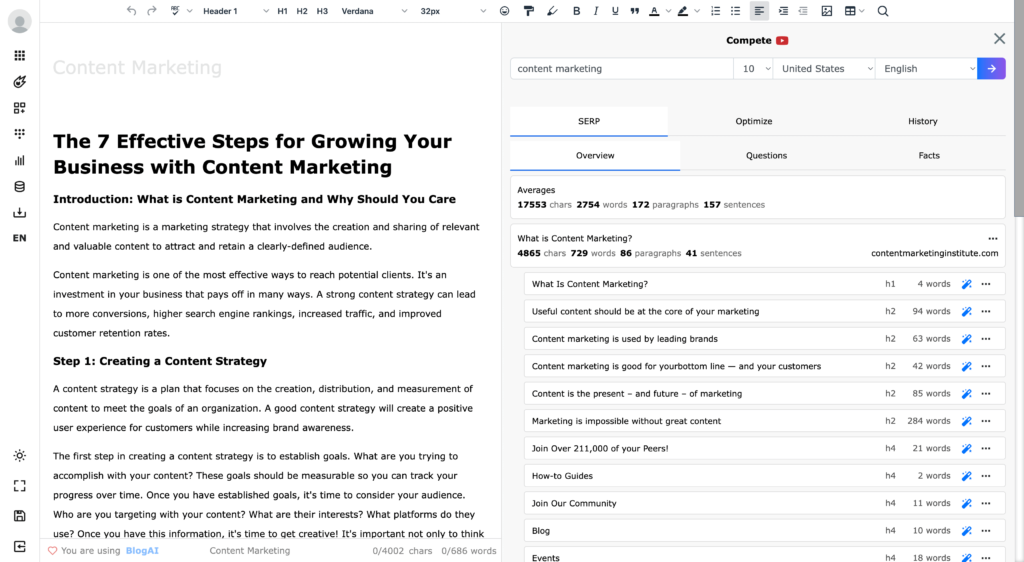 Compete is a new feature of ClosersCopy that helps you search for headlines on top-ranking web pages, discover their structure and content, and copy them along with their paragraphs if needed. Of course, either 1:1 or automatically rewritten by the AI.
Moreover, this feature is especially useful for advanced users who want to learn more about their competitors. You can use Compete to find out how well your site ranks compared to other sites and what content you should contribute to improve your position.
The tool knows two modes:
If you search for keywords, all articles and websites that currently rank for this keyword will be displayed.
When you enter a URL, only the one specific article is displayed and you can see its structure (outline) and content.
In both modes, you can transfer content with a single click or directly rewrite entire sections.
ClosersCopy Compete is an incredibly useful tool for creating content with the goal of ranking well and speeding up your topic research process.
Longform – the module for automatic writing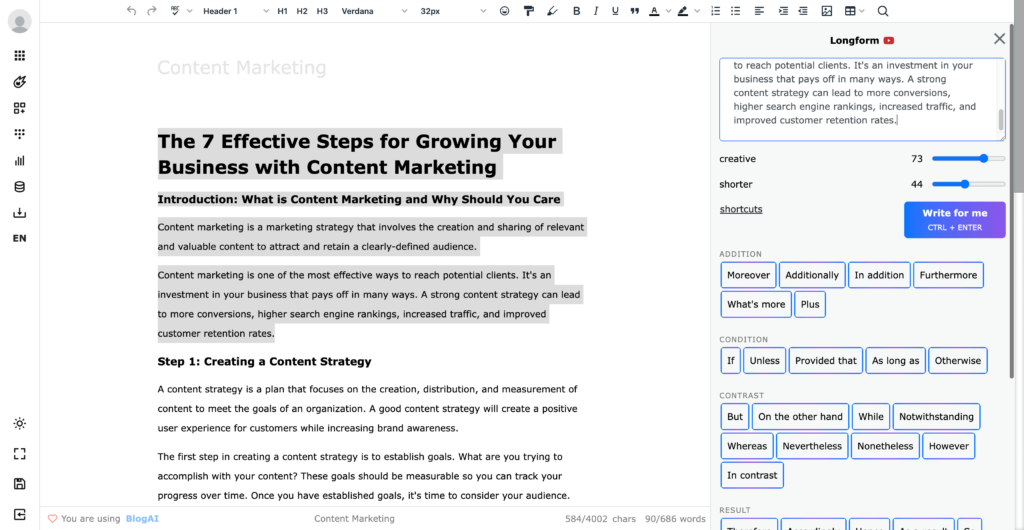 The "Longform" module helps you to update continuous texts. At its core, the module is first a "Write for me" button.
If you click it or press the key combination "CTRL+Enter", ClosersCopy tries to continue writing the content from the placement of your cursor. As context, the AI takes over content you've already written, first to avoid duplication and second to understand what it's about in the first place.
Furthermore, you can provide your own additional context and instructions in a form field.
You can use the "creative" slider to determine the extent to which the AI should stick to facts in context or may creatively digress. Here we have mostly had excellent experience with the basic setting.
With the slider "shorter" you determine the desired length of the output of ClosersCopy. We have made the experience that with longer output, however, the thread of the text is usually lost and the AI gets into rambling. With the default setting, the AI tends to stay on track.
Under "Shortcuts" you find helpful first words with which the AI should continue a text and give the general direction. Although the shortcuts are stored in English, they generally function with the same meaning in other languages as well. Furthermore, you can define your own words.
Frameworks – your templates for all possible use cases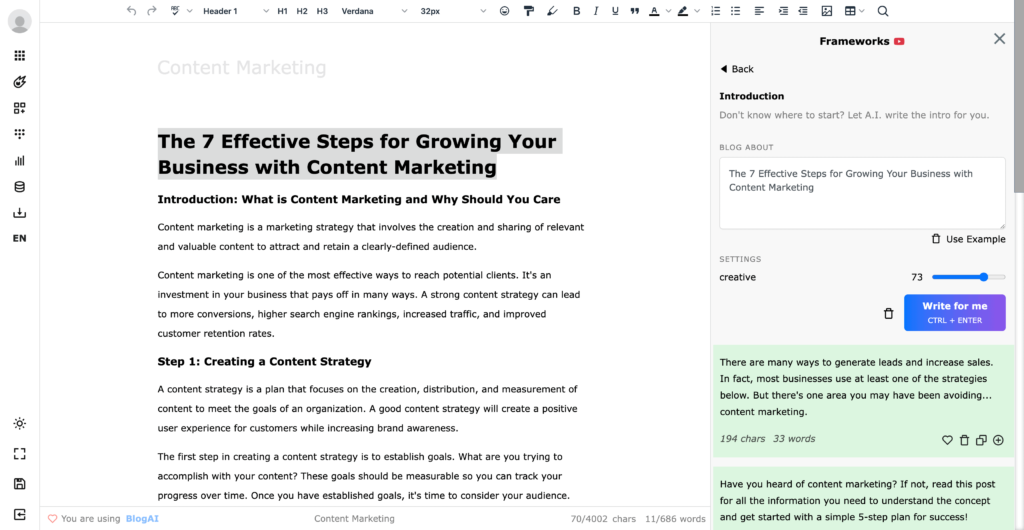 Certainly, ClosersCopy's frameworks can be described as a kind of heart of the tool. Not only that hundreds of templates are deposited here by the provider and the community. You can configure your own frameworks.
In principle, this works by telling the AI several times which output should follow which input. At some point, usually after 2-5 examples, the AI will adopt your given pattern and respond solidly with the desired output to different inputs.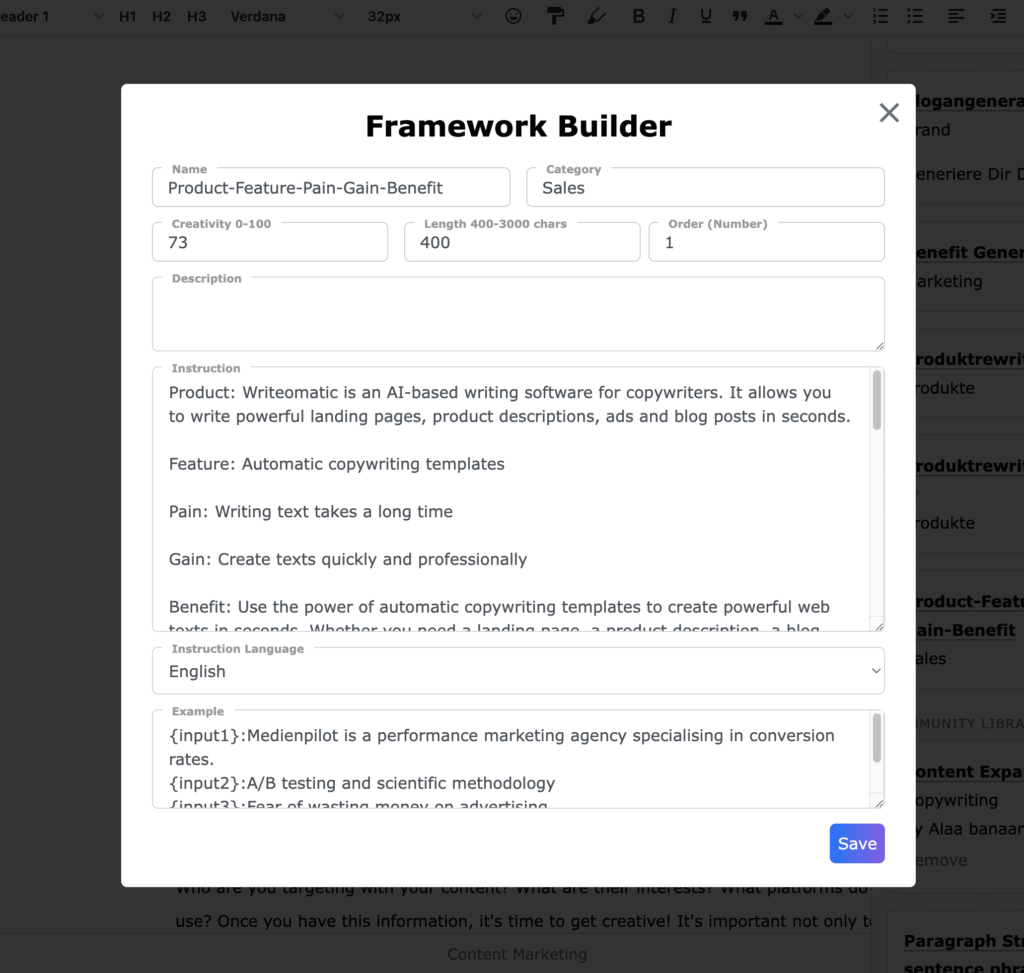 ClosersCopy and many community members provide extensive information and video tutorials on programming the frameworks. Since the whole thing isn't witchcraft, you'll certainly have a very steep learning curve here and can quickly develop your own use cases for your business.
Finished frameworks are represented in the module as forms. There is always a sample text for the ideal input that you can use as a guide.
The "Write for me" button triggers the AI to generate various text suggestions.
It has been our experience that the frameworks at hand were often produced for English and do not always work ideally in other languages. If you type in English, it works better most of the time and the output is still in the language of your document.
Workflows – group multiple frameworks in a row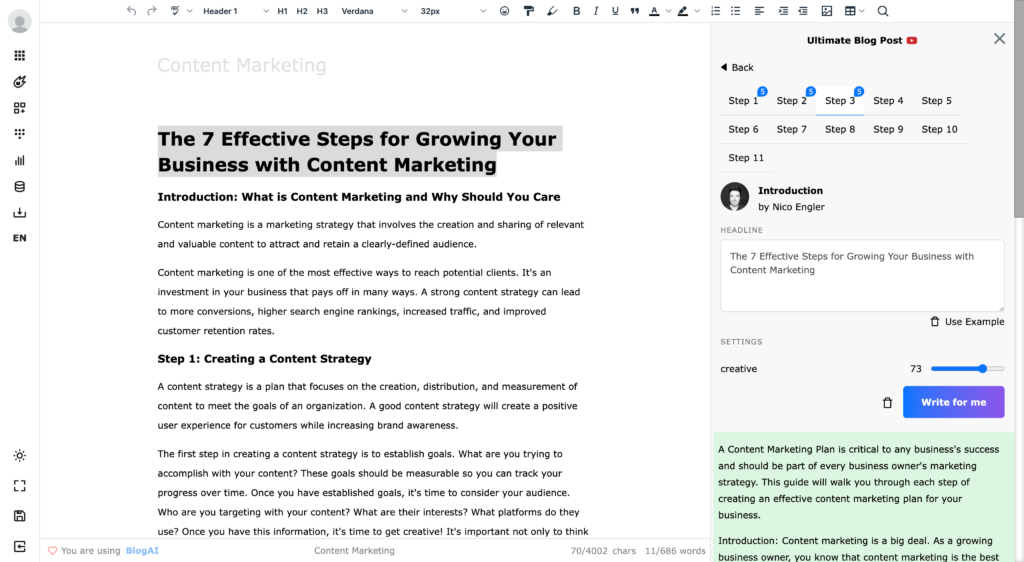 With a "workflow" you combine different "frameworks" to a process that you work through step by step. For example, you can create processes for the following texts:
Blog article -combination of blog idea, headline, intro, outline, paragraph, conclusion, call-to-action.
Email cover letter – combination of email idea, email subject, email cover letter, call-to-action, post script.
Landing pages– combination of AIDA formula (Attention-Interest-Desire-Action), headline, subheadline, benefits, product description, call-to-action, testimonials, about us.
Product texts -combination of PAS formula (Pain-Agitate-Solution), headline, title, meta-description, advantages, product description
Facebook ad – combination of AIDA formula (Attention-Interest-Desire-Action), Facebook post text, headline, subheadline, call-to-action.
Advertisements – combination of AIDA formula (Attention-Interest-Desire-Action), headline, sub-headline, benefits, product description, call-to-action.
…
Again, vendors and the community provide plenty of existing components and as with the "frameworks" you can create your own "workflows".
Insights – ClosersCopy's statistics and recommendations for your text
The tool has six analysis features for greater effectiveness: a headline analysis, an emotional tone assessment tool, a keyword density finder, a length tool, a spam analyzer, and a language analysis.
Insights is a great tool to improve your text. With it you can check how often you use certain keywords. You can better understand the emotions your text evokes and identify sentences that are too long or too short.
In addition to statistics, the tool also recommends specific optimizations.
How well does ClosersCopy work in German?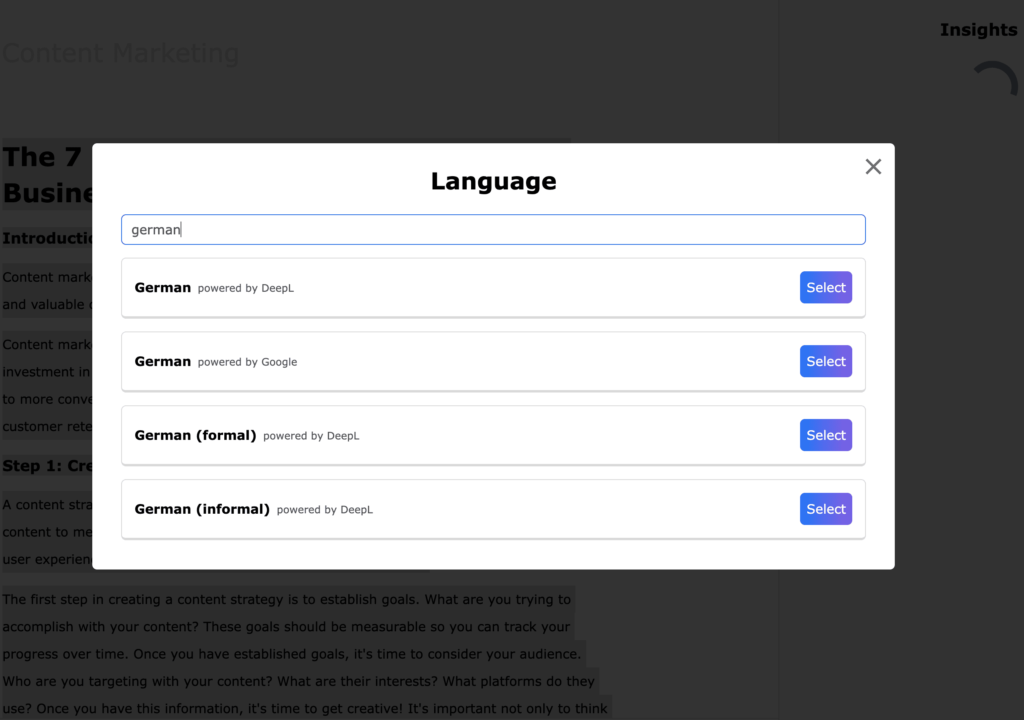 ClosersCopy is an AI-based writing tool available in over 120 languages. The German language works well and delivers flawless results. We assume that this is also the case in the other foreign languages, but we cannot judge this.
ClosersCopy seems to work basically in English and uses APIs from DeepL and Google Translate. So you can choose DeepL or Google Translate respectively.
By integrating DeepL, you can also address your texts formally and informally in the "Sie-Form" and "Du-Form". A discipline that many other AI tools struggle with.
But since the developer of ClosersCopy Nico Engler is from Germany, he seems to know this challenge and addressed it.
---
ClosersCopy Conclusion:
ClosersCopy is a tool for professional bloggers, copywriters and marketers who want to make their craft even better. It's like you have an assistant working for you all the time. With ClosersCopy you can save time and increase your productivity. Above all, the customization options for your specific business allow you to create an ideal production environment. As long as the unlimited lifetime deal continues to be offered, it is probably the most attractive offer on the market at the moment (as of February 2022).
---
Frequently Asked Questions (FAQs)