If you're looking for a tool to automatically write content with an AI, you should check out Writesonic. It is a simple AI writing tool for creating content like blogs, e-books, articles, ads and much more. This is a review of Writesonic, a simple AI writing software for beginners. I've been using it for a few weeks now.
---
What is Writesonic?
Writesonic is, at its core, a great collection of small AI writing apps that let you effortlessly and quickly write better marketing copy for a wide variety of tasks.
It's like having a little copywriter in your pocket to help you with every type of content – from Facebook and Google ads to landing pages, product descriptions, blog posts and more.
Writesonic not only helps you create content for campaigns and websites, but can also provide business ideas for your next startup or growth hack ideas to take your business to the next level. It also helps you with titles, scripts, outlines, and descriptions for your YouTube videos.
---
Contents
---
How does copy writing for website, campaigns and social media work with Writesonic?
You choose from a collection of over 40 text templates, describe your product or service and receive dozens of ready-made text suggestions from Writesonic and its GPT-3 AI engine, which are perfectly implemented for your specifications by the AI. Otherwise, you can edit, copy, share and publish your texts wherever you want.
Each writing task is like a small application with a form where you enter your input and Writesonic's AI creates the content.
Accounting is done in "credits". One credit usually corresponds to one triggering of the AI, which usually provides 3-5 suggestions. The credit system does not apply to unlimited packages.
---
What can you do with Writesonic AI software?
With Writesonic, you'll write headlines, SEO meta descriptions, copy for digital ads, Facebook ads, Google ads, LinkedIn ads, Instagram ads (coming soon), Twitter ads (coming soon), and article/blog copy, and more.
We will go deeper into the different applications in a moment.
---
What can you do with Writesonic AI software?
Advantages
The start is free of charge.
It is very easy to use
Many complex tasks are solved via step by step forms
High quality and well trained AI models
25 languages
Each user has full access to all writing tools.
Versatile enough to cover almost all marketing disciplines
Unlimited packages already at low cost
Disadvantages
No factual accuracy/fact-checking of expenditures
no plagiarism check
cost-intensive with more than 2 users
Use limited to existing use cases only
---
Writesonic prices
Writesonic currently offers 5 price models:
Free Trial
10 Credits
All basic features
25 languages
1 user seat
free
Basic
100 Credits (up to 50,000 words)
All basic features
25 languages
1 user seat
Long-Form Writing Assistant
SEMrush integration
Browser Extensions (Coming Soon)
$ 15,- per month
$ 120,- per year
Economy
750 Credits (up to 375,000 words)
All basic features
25 languages
1 user seat
Long-Form Writing Assistant
SEMrush integration
Browser Extensions (Coming Soon)
$ 25,- per month
$ 200,- per year
Professional
Unlimited Credits
All basic features
25 languages
1 user seat
Long-Form Writing Assistant
SEMrush integration
Browser Extensions (Coming Soon)
$ 45,- per month
$ 360,- per year
Startup
Unlimited Credits
All basic features
25 languages
2 user seats
Higher quality generations
Long-Form Writing Assistant
SEMrush integration
Browser Extensions (Coming Soon)
Priority support
$ 95,- per month
$ 760,- per year
---
Core features of Writesonic
User interface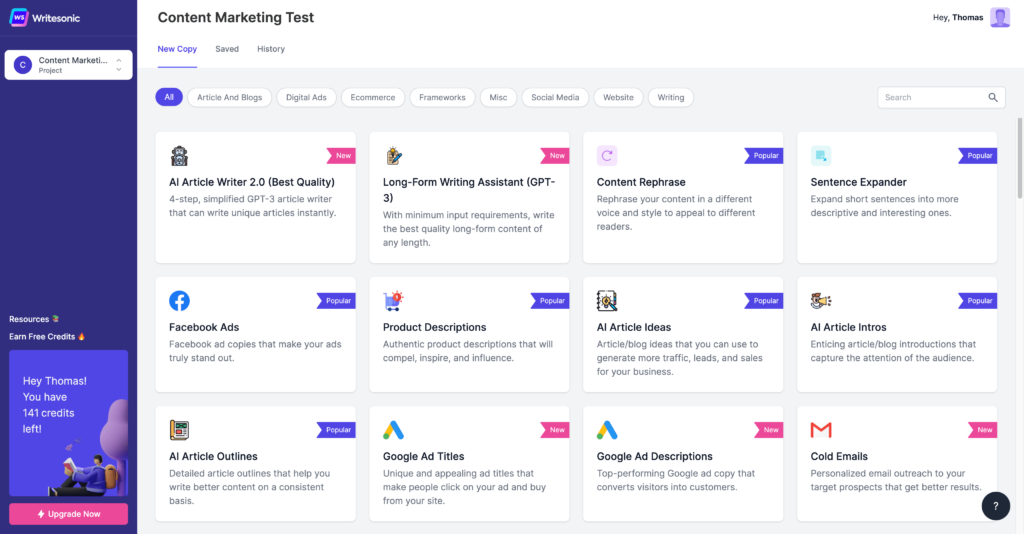 The latest update of Writesonic's user interface has brought many improvements. It is now even clearer and more appealingly designed, which makes working even more pleasant.
In the left menu you can easily create projects. In the center of the tool are all the templates and applications.
So you just choose the type of text you want to create from and enter your specifications into the form.
The forms are clear and easy to use. More complex content, such as landing pages or an entire blog article, is produced via a multi-step form.
Optimal and new is that once made entries in a project are preserved when you use several different tools. With a previous version you always sat in front of empty forms.
Languages
Writesonic supports 25 languages. The quality of the output in foreign language is optimal. Unfortunately, informal address in appropriate languages such as German in the "Du-Form" was not considered. In German, first address everyone politely in the "Sie form," even if you're creating a blog post or an ad on Facebook.
Articles & Blogs – automatically create content for your posts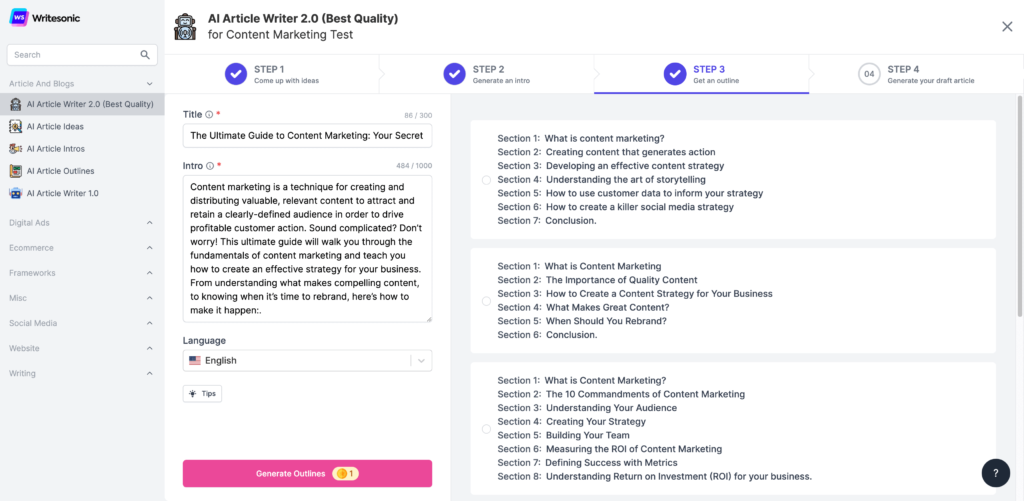 Writesonic provides you with the most important building blocks for blog articles. But the best part is that you can create a first draft of a complete blog article from idea, outline, intro and conclusion completely and automatically in just a few minutes.
You can then further edit, add to, extend or correct this with the new Long-Form Assistant.
AI Article Writer 2.0
With Writesonic you can create a complete blog article within minutes. The AI Article Writer 2.0 module is certainly one of the highlights of Writesonic.
Writesonic guides you through the process in four steps. Enter a keyword and you'll get suggestions for blog headlines. In the next step Writesonic will create several suggestions for complete intros based on this headline. Again, you choose an intro and Writesonic creates suggestions for outlines.
In the end, after the fourth step, you'll have a completely finished first draftwith a title, intro, subheadings, finished paragraphs of text, and a conclusion.
Quite simple and speedy.
AI Long-Form Assistant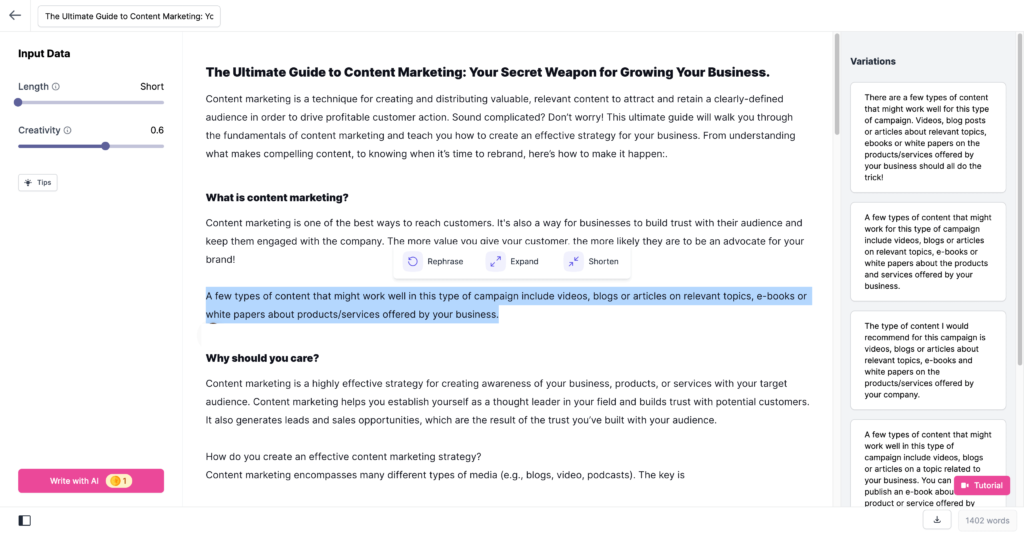 With the Long-Form Assistant from Writesonic you create long texts like blog articles. The difference AI Article Writer is that AI can help you write piece by piece and sentence by sentence.
You can just let the AI continue your text. You can select existing text and have the AI expand or completely rewrite it.
Long-Form Assistant is an excellent help for content marketing.
AI Article Ideas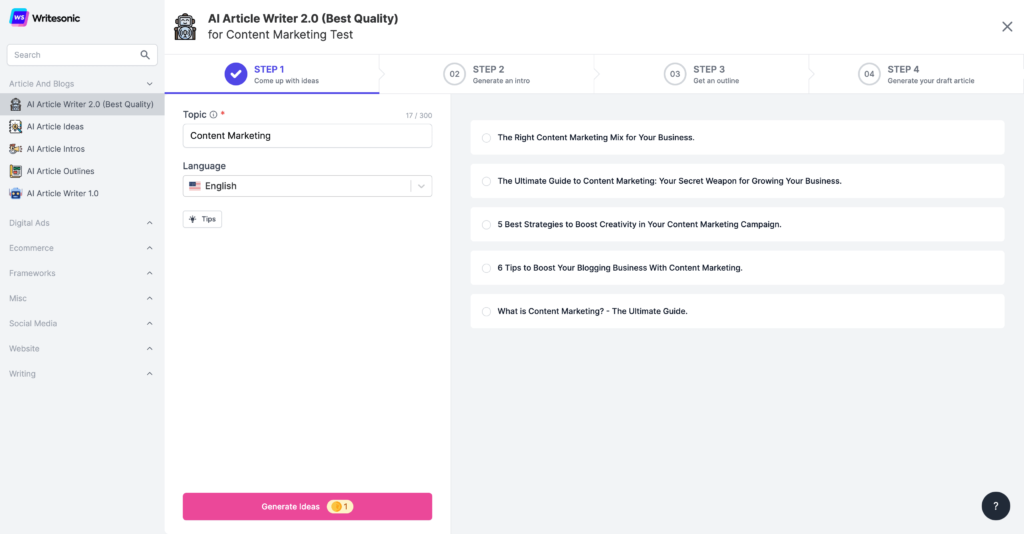 AI Article Ideas is a module that gives you ideas for articles. Just enter a keyword and AI will provide you with excellent blog headline suggestions.
Input:
Issue:
How you can use content marketing for your business.
The 3 best types of content marketing that will increase your conversion rate.
Content marketing: a strategic approach to your marketing campaign.
The secret to a successful content marketing strategy.
The ultimate guide to content marketing strategies for businesses.
AI Article Intros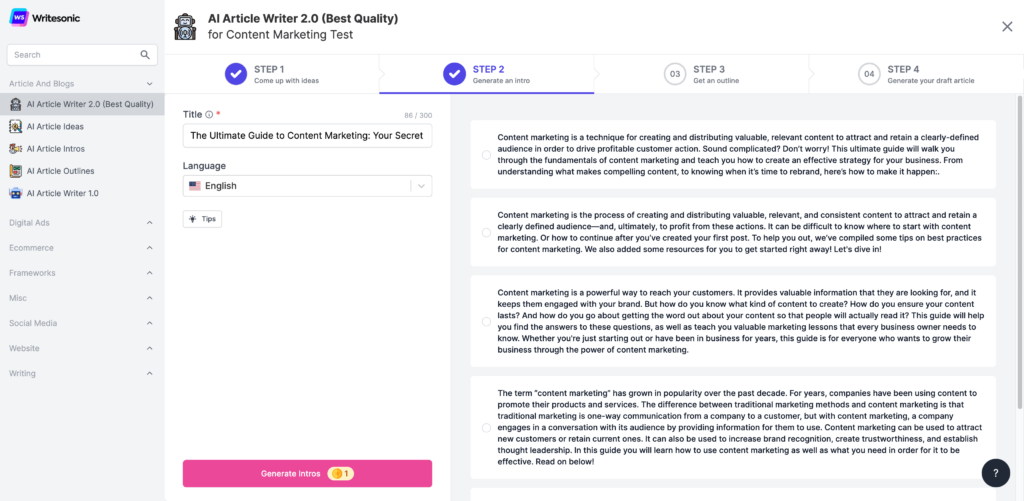 Writesonic creates several suggestions for intros to match your headline. The introductions for your articles read smoothly, and you can apply most of them directly to your first draft without adaptation.
Input:
How you can use content marketing for your business.
Issue:
Content marketing is the new buzzword in the industry. And for good reason! Content marketing can help you generate more leads, increase your brand awareness, open up new business opportunities, and help people find your products or services. We'll show you the best ways to go about it here.
AI Article Outlines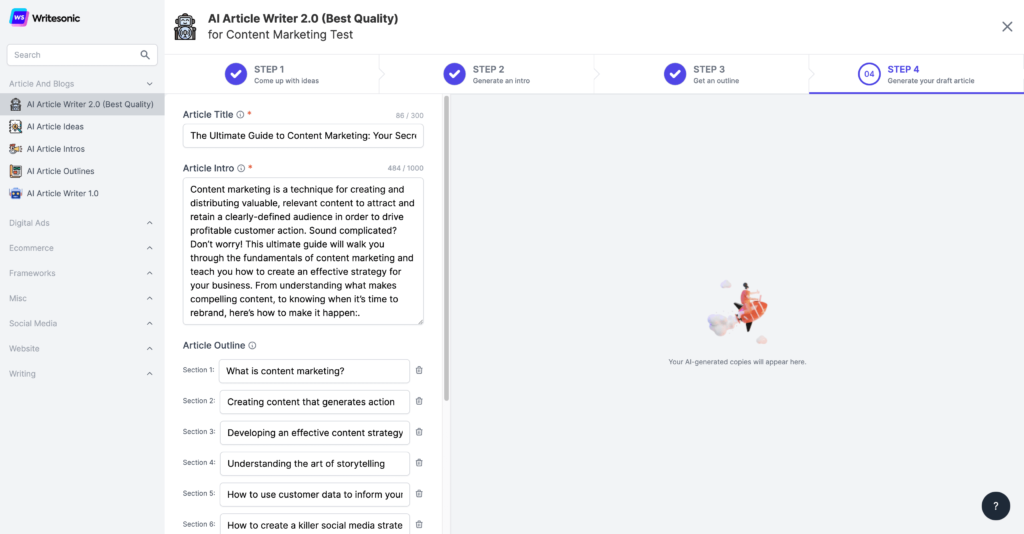 If you already have an idea for an article and have written an intro, Writesonic will create suggestions for suitable outlines in seconds. Surprisingly, the AI's suggestions always exactly match questions that users ask on Google or in forums on the topic, among other things.
Example:
Section 1: What is content marketing?
Section 2: Why it's beneficial to your business.
Section 3: The importance of quality content.
Section 4: How to find the right kind of content.
Section 5: How to get started with your strategy.
Section 6: Make plans for the future.
Section 7: Conclusion.
Digital Ads – Automatically Generate Facebook Ads, Google Ads and More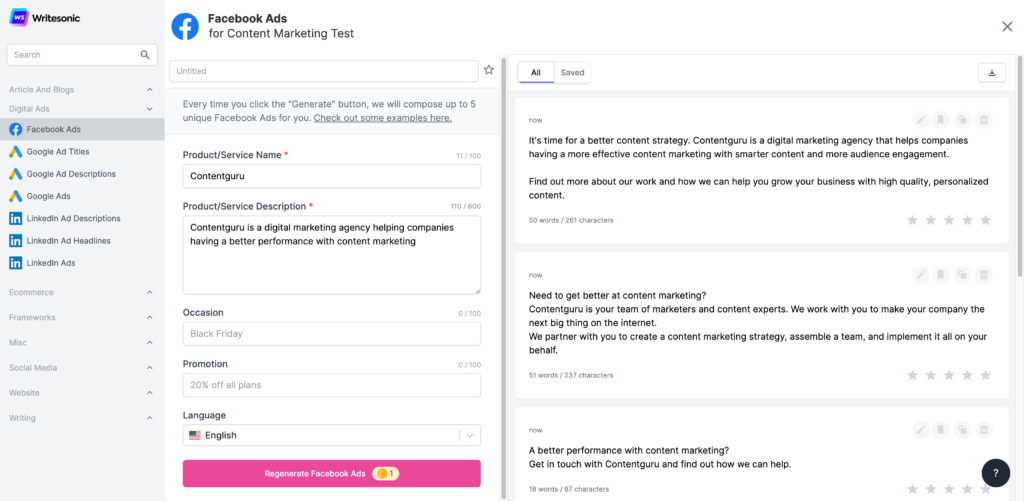 Writesonic helps you with your ad campaigns on Facebook, Twitter or other forms of pay-per-click advertising. The section includes adding texts for LinkedIn ads, Google ads and Facebook ads. Soon, users will also be able to create texts for Twitter and Instagram ads.
Example:
Are you interested in the best content marketing strategies?
Have you considered these 5 tips to make your content marketing more effective?
We've compiled our best tips and tricks in a free whitepaper. Download it now and take your content marketing strategy to the next level.
E-Commerce Pages & Campaigns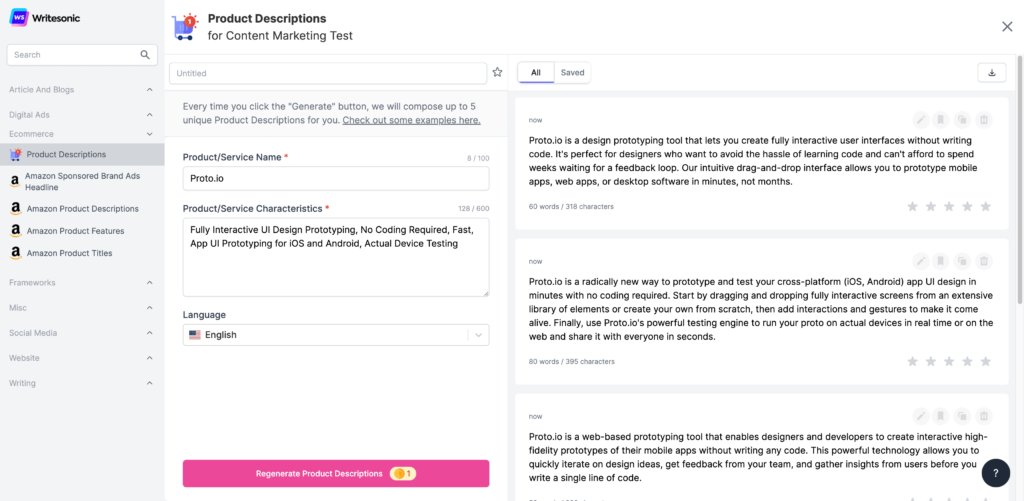 Under the menu item e-commerce you will find templates for product descriptions or texts that you can use on Amazon. Be it a title optimized for Amazon or a description that follows the mail order giant's specifications.
Marketing Frameworks & Formulas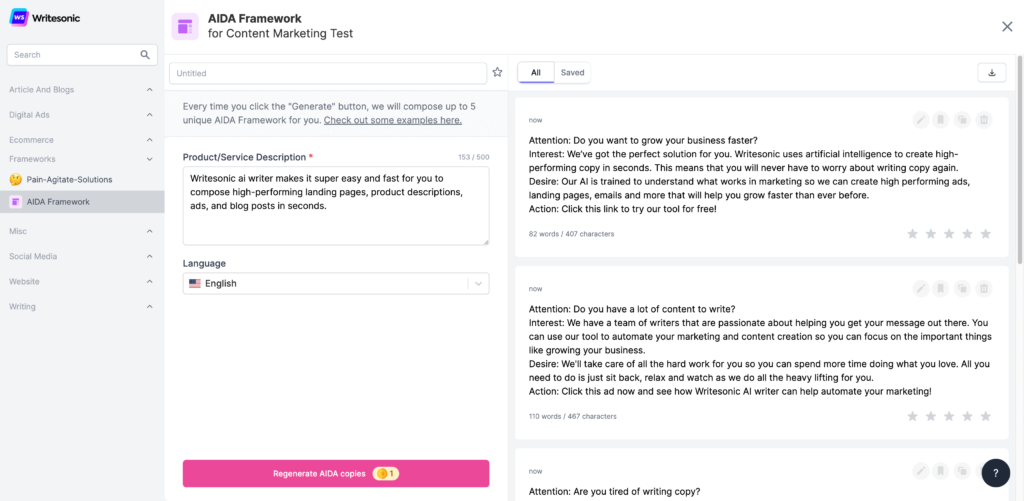 Especially for agencies and consultants, but also if you are planning a campaign, strategic preparatory work helps you to create better content. With Writesonic you can easily create an AIDA (Attention-Interest-Desire-Action) or PAS (Pain-Agitate-Solution) formula from a short description of your product or service.
This directly helps you better understand your customers' pain points and drives and design successful messages for your campaigns.
Input:
Contentguru is a content marketing agency that helps companies create a successful content marketing strategy. We present the best strategies in a free whitepaper.
Issue:
Attention: Want to improve your content marketing strategy?
Interest: Our free whitepaper shows you how to develop a successful content marketing strategy. We've helped companies like yours grow their audience and increase their sales.
Desire: We'll show you how to create content that's optimized for Google, Facebook, and YouTube. You'll also learn best practices for social media, blogging and email marketing.
Action: Click on this ad now to download our free whitepaper!
Social media – create posts for YouTube and LinkedIn, Instagram, Twitter automatically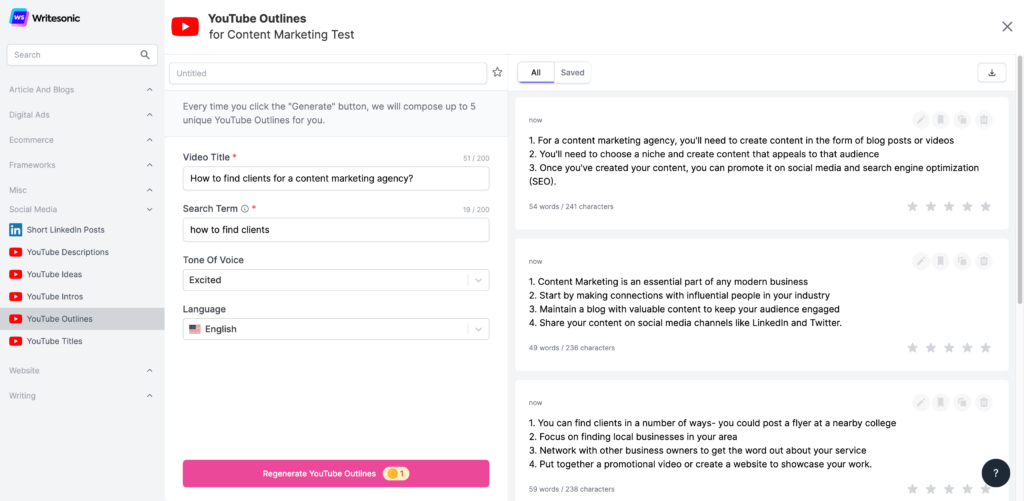 Social media is an important part of any business and can be used as an efficient way to communicate with customers. Social media is an important part of any business and can be used as an efficient way to communicate with customers. Writesonic helps you with original, creative content for your social media, such as LinkedIn posts, YouTube ideas, YouTube titles and descriptions. Support for Instagram and Twitter is on Writesonic's roadmap.
Website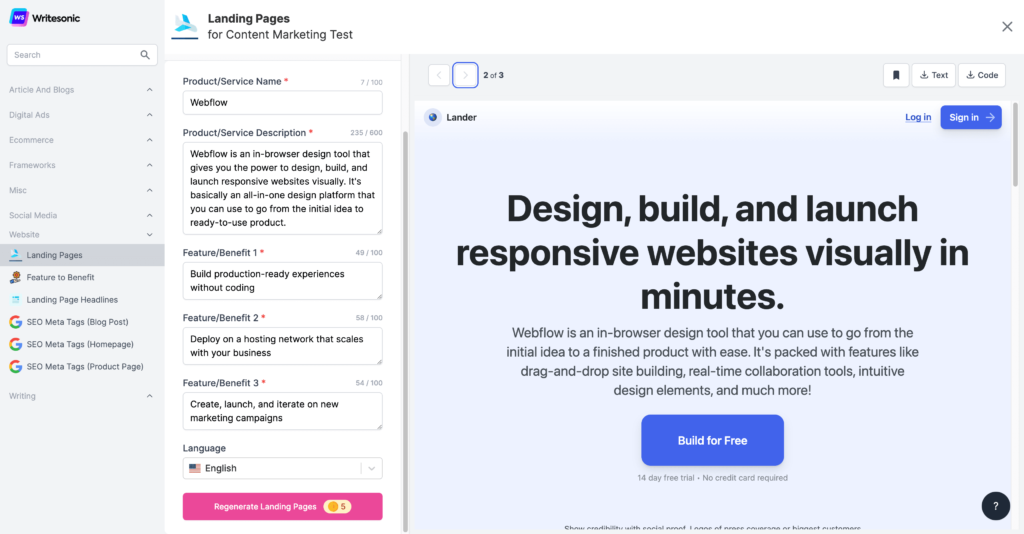 The "Landing Pages" module has caused the greatest enthusiasm for Writesonic among us. Similar to the "AI Article Writer" it creates complete landing pages. All the content that the AI creates is loaded into a landing page template, so it's also very visually impressive. Although you could even download the source code in HTML, you obviously can't use the landing page directly. But the AI gives you a great idea of how you should build and structure your site, and you can probably take a lot of the text from the suggestions directly.
With the "Feature to Benefit" module, you convert features of your product into compelling benefits. On the surface, this helps you transfer your thinking from the company's point of view to your customer's point of view. Customers don't buy features, they buy solutions.
Especially for SEO agencies and consultants the module "SEO Meta Tags" should be interesting. With it you can quickly create suitable and strong SEO meta tags for different page types (blog, store, website).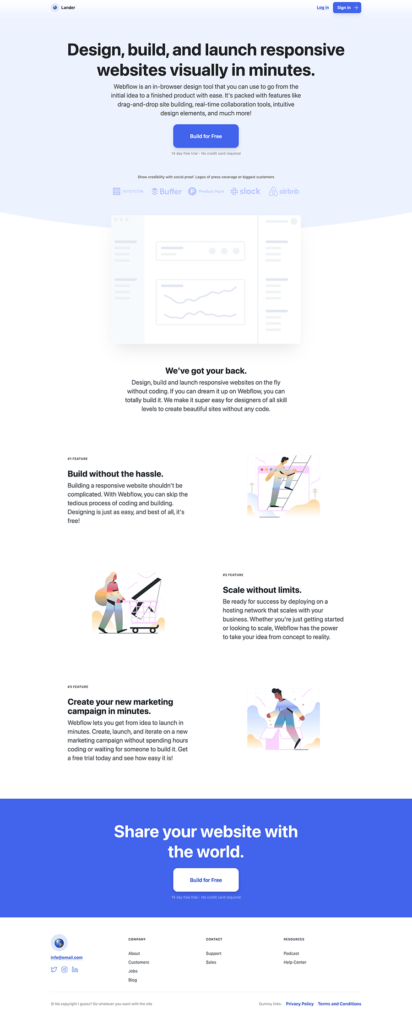 E-Mails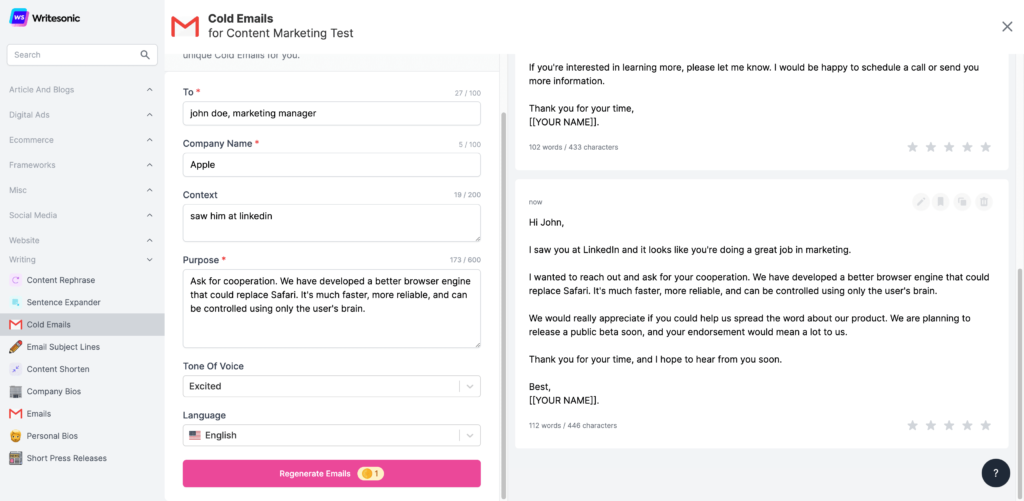 Writing emails and email series in particular often feels like sitting in front of a blank sheet of paper. With Writesonic you'll be able to do that quickly in the future. Because even if texts are not directly suitable for sending to your customers as suggested by AI, the tool gives you excellent approaches for the structure and address of your emails.
The module "Cold E-Mails" writes you complete mailings and with the module "Subject Line" you generate suggestions for subject lines with high open rates.
More Writesonic Ai Writing Tools
Content Rephraser
Sentence Expander
Content Shortener
Text Summary
Product Names
Growth Ideas
More Writesonic Ai Writing Tools
The program offers a number of modules that will help you improve your text or assist you in your work. With the modules "Content Rephraser", "Sentence Expander", "Content Shortener", "Text Summary", "Product Names" and many others you can optimize your text and adapt it to your needs.
Whether you want to shorten, lengthen, or rewrite a text, or whether you need a summary of an entire website in a short paragraph. Writesonic offers you a quick solution for almost any textual task.
Writesonic in german
KI has an excellent qualitative edition in German language. However, she only uses the "You" form of address. This is a shortcoming of very many AI tools. Mostly they were developed for English in focus and do not have the formal and informal forms of address of some languages in mind.
---
Writesonic Conclusion
Writesonic is a very easy-to-use AI tool with a focus on users with little experience in AI. However, this is exactly what makes it interesting for agencies and copywriters who are looking for a quick solution for optimizations and ideas. For a production of large text volumes, it is not the best tool on the market from our point of view. Although it also offers article creation and management options, other providers are for the most part stronger in this area. However, the quality of the models is really outstanding. They do what they promise perfectly. The landing page module is a highlight and absolutely stands out from the market.
---
FAQ