Nichesss is one of the most popular AI writing assistants on the market. It is quite unusual in many ways. First of all, its user interface is unlike any other copywriting software. A bit weird and colorful to the max. We didn't take Nichesss very seriously at first. But how well does it actually perform in generating blog posts, articles, social media posts and more? Especially since it is probably one of the cheapest providers. But let yourself be surprised.
---
What is Nichesss?
Nichesss is a revolutionary AI content creation tool that can create blog posts, articles, social media posts and more from scratch. The latest GPT-3 technology makes it possible to process text and create original, creative content in no time.
The underlying GPT-3 is a language model for natural language processing. It is currently the largest neural network published by Open AI. GPT-3 was trained with 570 gigabytes of text crawled from the Internet, including blog articles, Wikipedia entries, and more. GPT-3 is an artificial intelligence that, through its understanding of human language, is able to compose texts in a few seconds.
AI-powered writing programs can speed up the content creation process by automating many of the tasks normally performed by human writers.
---
Contents
---
How does Nichesss work?
Nichesss provides you with various AI copywriting tools for different text tasks, allowing you to create content on a topic of your choice.
With AI Writer you can enter the parameters of the content you want, such as the words, descriptions, contexts, and the topic you want it to be about. Nichesss will then create several proposals for your texts.
---
What can you do with Nichesss?
Nichesss currently offers a whopping 84 AI models for the most comprehensive text tasks. In addition, an editor for longform content – that is, long continuous texts such as blog articles.
Models include product descriptions, blog ideas, blog outlines, intros, paragraphs, conclusion, copy for books, company names, taglines, profile & bio descriptions, courses, dialogs, emails, Facebook ads, Google ads, social media posts, horoscopes, landing pages, SEO meta tags, outreach campaigns, reviews and much, much more.
Simple text tools are also available to expand, shorten, rephrase, summarize content, answer FAQs, or simplify a context so that a five-year-old child can understand it.
Nichess works with DeepL and Google Translate and generates texts in over 100 languages.
There are also many tools for the strategic part. Starting with an AIDA formula (Attention-Interest-Desire-Action), a PAS framework (Pain-Agitate-Solution), a "Before-After-Bridge" or a "Feature-Advantage-Benefit-Tool".
---
Business-Plans & Problem-Quiz
Nichesss also offers the "Business Quizzes" feature, which allows the AI to suggest complete business ideas based on your skills, desires, desired customers, hobbies, passions, or initial ideas. The system suggests personal and unique ideas that fit your needs and expertise after a form-based interview.
Of all the form-based approaches to an AI writing program, Nichesss offers one of the largest variety of different tools. However, this does not mean that Nichesss is also the best in each of the areas. But if you're looking for the broadest possible approach, Nichesss is the place to go.
---
Advantages and disadvantages of content writing with Nichesss (Review)
Advantages:
Comprehensive AI Writer with over 84 tools + Longform Content
Unlimited writing. No limits.
Stores all contexts, descriptions and specifications in the marketing plan
Tools for business ideas and discovering niches
Over 100 languages. Formal & informal address, e.g. in German
very low cost!
Disadvantages:
Partly unusual, flashy UI (well, you can also like it)
Some models not ideally trained (but most are excellent).
May be overloaded and confusing due to the large number of tools
weak long form editor
Some operations require more clicks than necessary
---
Nichesss AI Writing Tool Prices:
Nichesss currently offers 3 price models:
Rookie
Search 40k+ sub-reddits
AI-Powered Idea Generator
AI-Powered Copy Generator
200 Short Form Generations per month
$ 19,- per month
Intermediate
Search 40k+ sub-reddits
AI-Powered Idea Generator
AI-Powered Copy Generator
500 Short Form Generations per Month
$ 39,- per month
Pro
Search 40k+ sub-reddits
AI-Powered Idea Generator
AI-Powered Copy Generator
♾️ Unlimited Short-Form Generation
Long-form Autowrite (1K Autowrite Generations Per Month)
$ 99,- per month
---
Core features of Nichesss Writing AI
Software user interface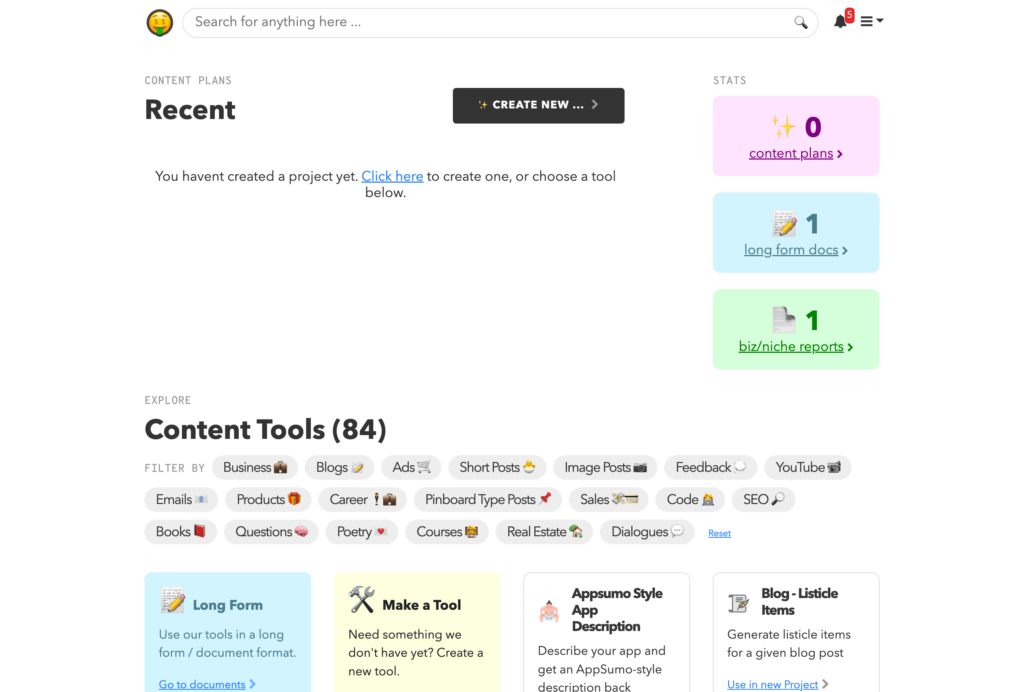 As mentioned several times before. The user interface of Nichesss is unusual. Colorful, wild, many emojis. Nevertheless, it must be said that the tool is usable and you still feel more or less whacky. In the Facebook group, it also becomes clear relatively quickly that you're not just dealing with users of the tool, but downright disciples and groupies of the tool. The enthusiasm and exchange there knows hardly any bounds.
To start a new project, either select one of the tools or click on the black button "Create New".
You can now enter a project name, a description and one or more keywords.
First of all, and this is excellent with Nichesss– all inputs, no matter if they are made during the project creation, or further inputs during the application of a tool, are always available within the project.
As an alternative to a project, you can also create a document of the "Long Form" type, or one of the "Business Quizzes". The former provides the a text editor with attached GPT-3 AI to write continuous texts. The second starts one of several surveys that ask about your skills, your hobbies, desired customers or ideas, in order to make suggestions for concrete online business models at the end.
After playing around with the tool for a while, you get used to the look, the operating concept works and you get along well. Sure, you won't win any usability awards with it, but otherwise you can work with it very well.
Content plan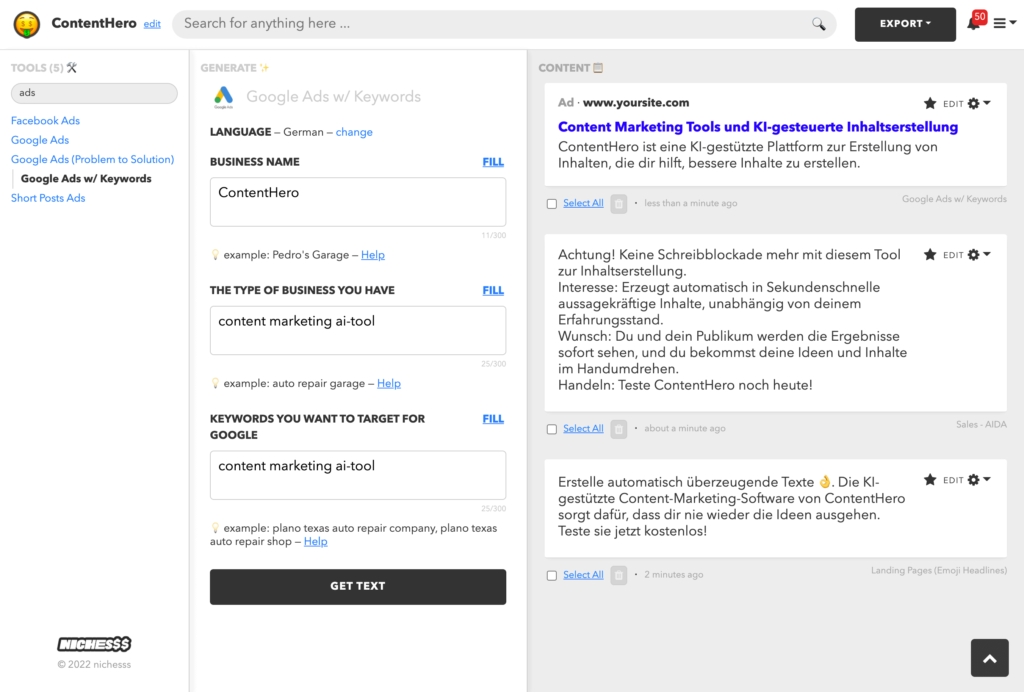 The user interface within a project is divided into three parts. On the left, the column with over 84 AI tools. In the middle, the column with the form of a tool where you enter your content, briefings, keywords and context, and on the right, the text suggestions of AI.
I really like the fact that Nichesss has provided each of the input fields with examples, as well as always linking to the corresponding help article, which provides further explanations, tips and tricks. Thus, the learning curve is very steep and you quickly achieve high quality output.
In the input area you can also specify your target language. Through the connection of DeepL and Google Translate, over 100 languages are available to you. Through the API of DeepL, Nichesss masters both the "you address" (formal) and the "you address" (informal). Once set, Nichesss retains the language setting.
In the content plan you can generate text proposals from several tools, modify them, delete them, translate them into other languages, duplicate them. A plagiarism check can also be performed here.
Long Form Editor
The "Long Form Editor" is very rudimentary. It is a very simple text editor. Formatting options are currently not available except for bold and italics.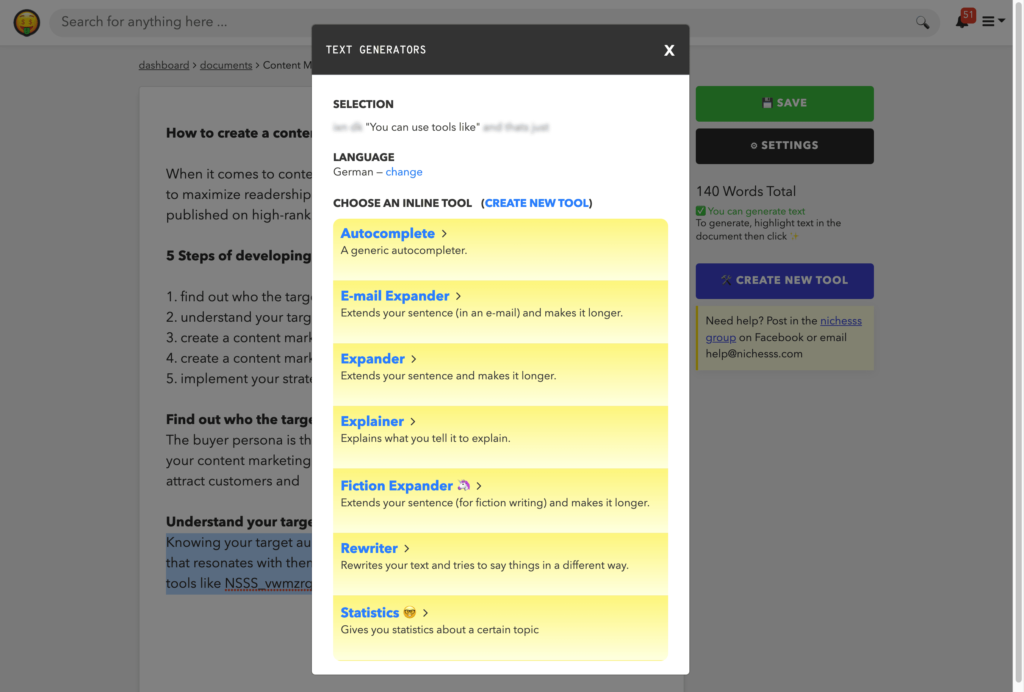 The only thing you can do here is handwrite a text and then trigger the AI to continue it. There are several tools at your disposal here. However, this is quite cumbersome to use.
The quality here is fine – assuming good context in the parts already written. However, it must be said quite clearly, this is implemented much better in other AI writers. At least AI functions like "Expand" or "Shorten" or "Rewrite" are missing here to expand, shorten or rewrite texts. Also normal functions of a text editor to format and structure headings, lists, alignments and much more would be desirable.
We think that they have quickly integrated such a tool here, just to have a "long form editor" in the portfolio and hope that they will take on this task even more seriously in the future. We would be happy to award the rating "beta status". In practice, we do not use the "Long Form Editor" from Nichesss.
Nischen Reports – Business Ideas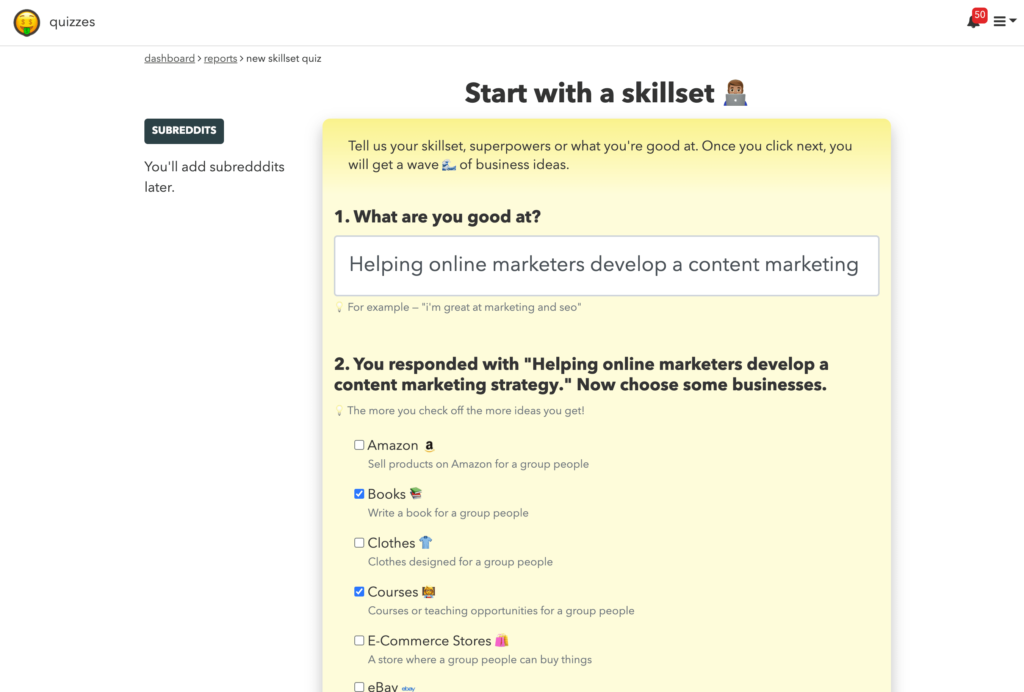 Nichesss has put a lot of emphasis on finding niche and business ideas. So you can't just start with Nichesss to develop texts for your business. You can develop your business.
You can do this by taking one of the many quizzes on the site, such as the Passion Quiz, the Problem Quiz, the People Quiz, the Skills Quiz, the Hobby Quiz, and the Talent Quiz.
Answer a few simple questions about your passion, problem, potential customers, skills, hobby or talent to have AI develop business ideas for you based on your results.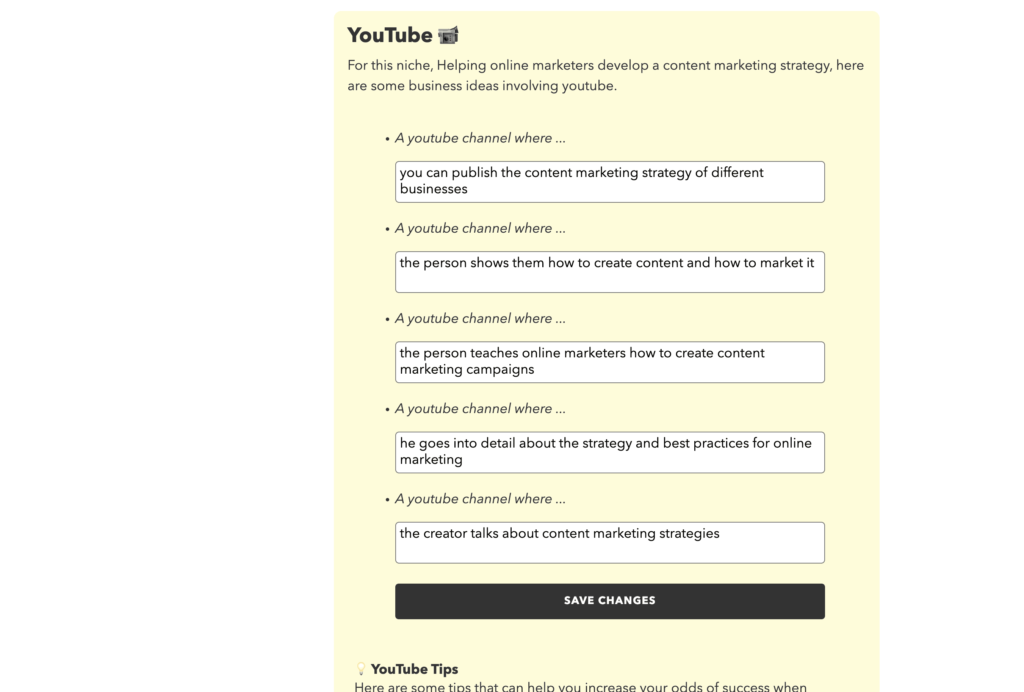 Once your ideas are developed, the tool offers you more data in the reportsuch as Google Trends and a function to search for so-called subreddit feeds in Reddit. In Germany, the platform plays a rather minor role, but nevertheless the mostly English-language feeds are also helpful to expand and refine one's ideas, because one can learn more about one's target group, their size and their needs.
Marketing plan: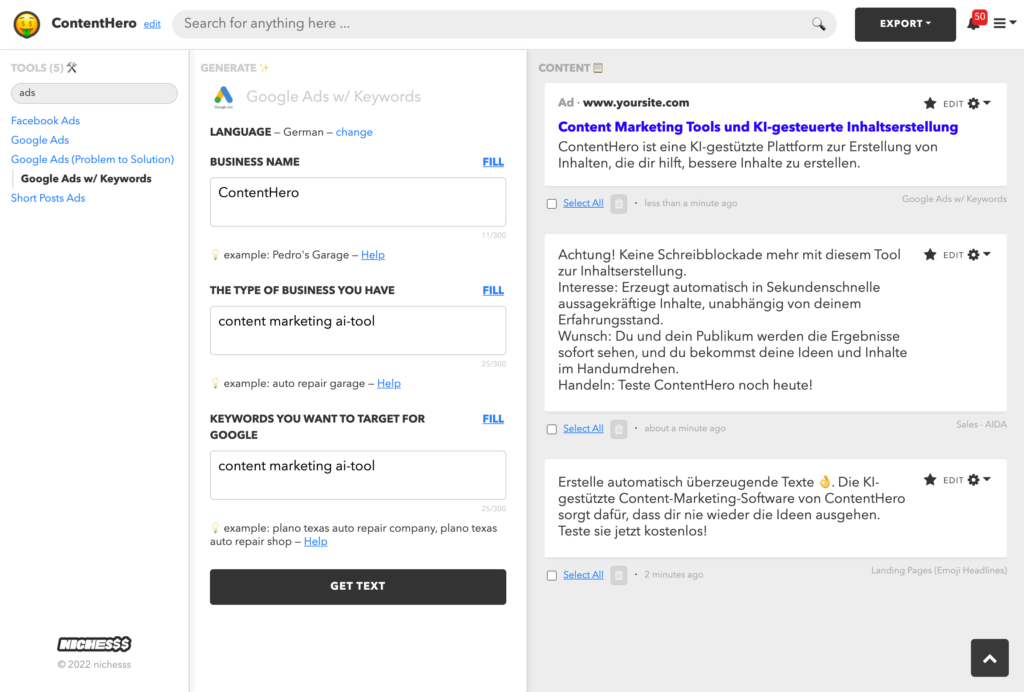 Nichesss offers a marketing plan generator that includes tools to generate contentfor blog posts, emails, ads, landing pages, product descriptions and more. It's practically a kind of project-based collection of different content modules that you put together for a central marketing task, for example.
Choices include email themes, Facebook Ads, FAQ answer generator, landing page headlines and blog post intros.
To create a marketing plan, you need to fill out a form that contains all the necessary information. The form asks for details about your target audience, your product or service, your competition, and your goals. You'll also need to provide a budget and timeline for your plan.
You can also select the language in which the content will be created.
In the current version of Nichesss, a marketing plan is always created automatically, even if you only use a single tool. Within your plan you can of course use other tools from Nichesss.
Blog Tools – Ideas and tools for blogs and your niche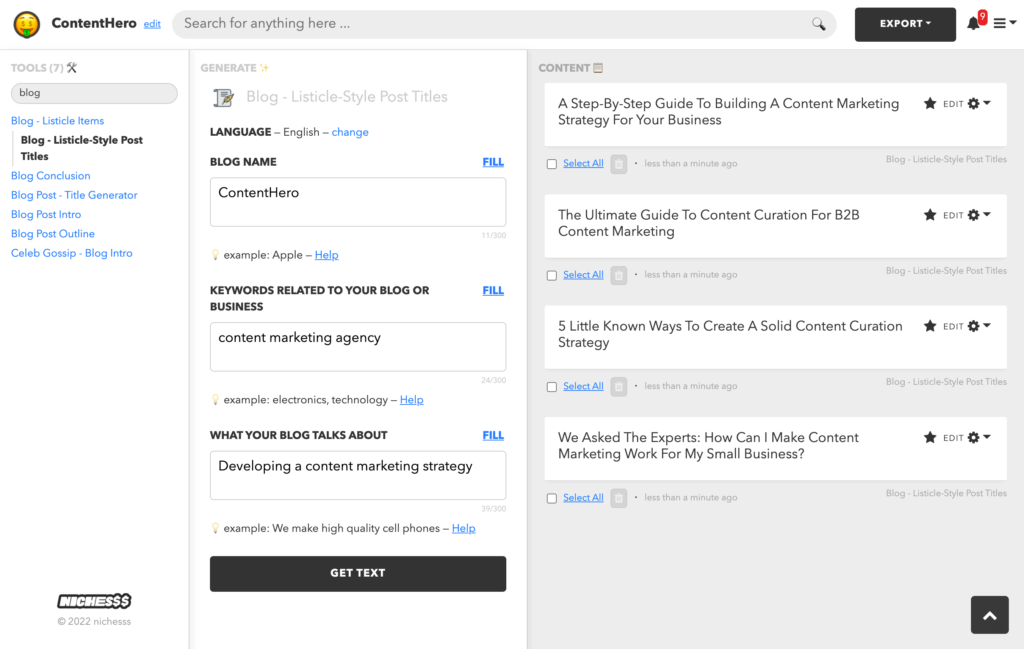 Blog tools can be used to create blog outlines and open paragraphs. This can help you come up with ideas for your blog and give you ready-made content. You simply enter your main topic and Nichesss provides you with a list of related topics to choose from.
You can use the Blog Intro tool to create an introduction for your articles.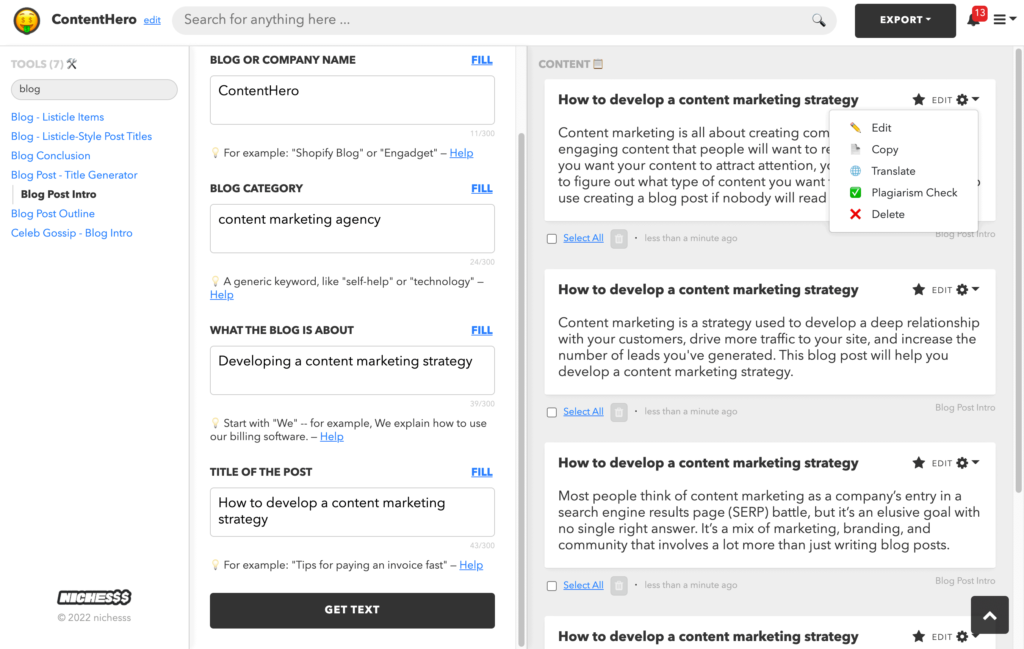 Creating great content is only 50% of the work. After that, the blogger has to promote his article, optimize it, check the analytics and do many other things. That can be a lot of work. Nichesss is a great help in all these steps.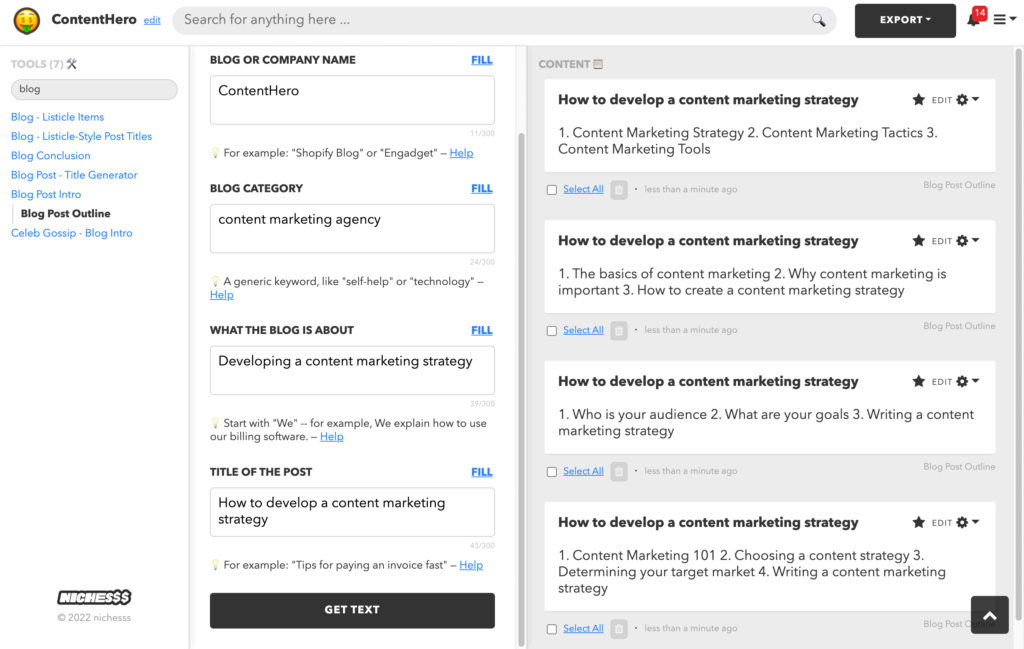 Product tools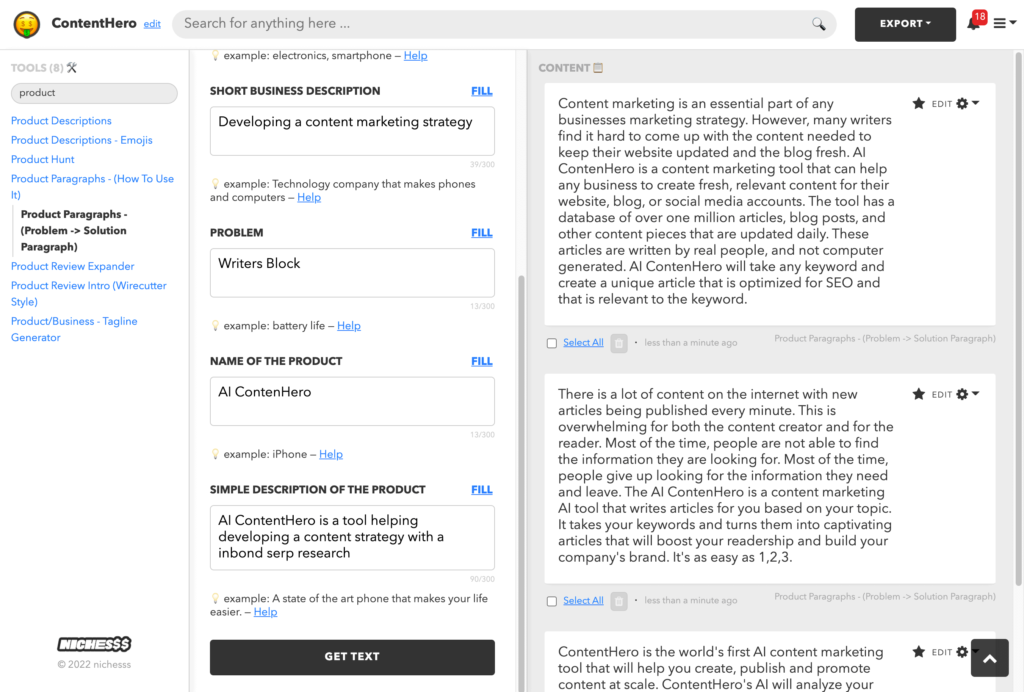 Product Tools are tools that you can use when creating information about your products. Well-written product descriptions can be instrumental to success and help increase product sales.
Nichesss helps you to quickly create product descriptions and information for different purposes – be it optimized for your store or even the Amazon channel.
Image Posts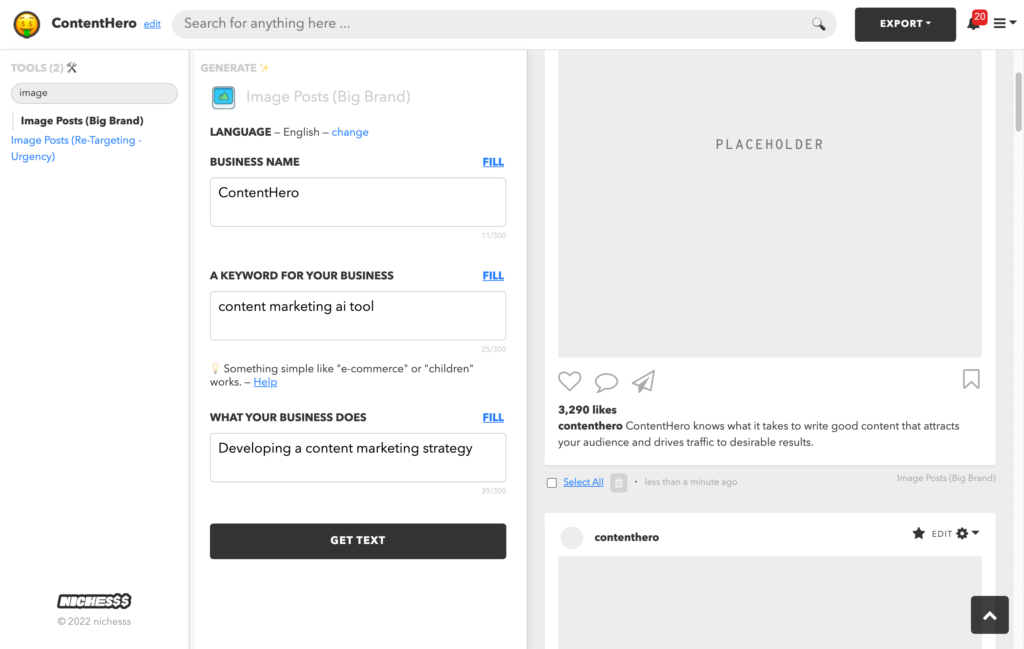 With Nichesss, you can create optimized content for image-based social networks. It can be used for Instagram, Pinterest, and Tumblr, and it saves you a lot of time that you would normally spend writing content for your image posts. Also, this program will make sure that all your image posts are as appealing as possible.
Short Posts – short ideas that will help you with your next share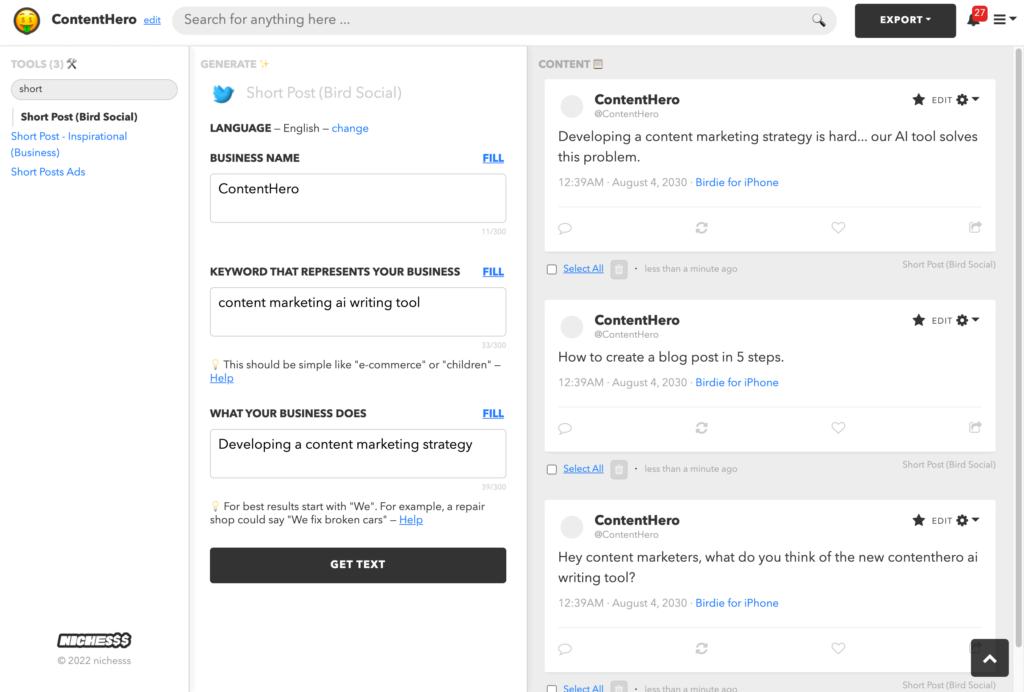 Short posts are a great way to get users interested in your content and keep them coming back. The headlines should be short and concise so that users quickly understand what the post is about. On top of that, they should be descriptive so that users know what they are getting into before they click on the link. Finally, the titles should be catchy and attract the attention of the users.
Short Posts is one of Nichesss' favorites. It can be used to create different types of social media posts, from inspirational to sales-oriented. Short posts are essential and can be a tweet about your business, an article on Facebook or LinkedIn, or even a short video.
Ads Tool:
With Nichesss you can quickly and easily start creating ad texts. Just select Ads from the main menu and enter the necessary information. Nichesss does the rest and you can create ads that are both accurate and attractive.
Nichesss' ad tool uses artificial intelligence to determine which words to use for your ad based on your input and goals. This not only makes your ads more effective, but also saves you time for other things.
With Nichesss you get four different versions for each ad text. If you want more ad suggestions, just run the generator a second or third time.
Click the gear icon to change the text to your liking. You can also create copies or variants of your ads, translate them, and run a plagiarism check to make sure your final ads are unique and authentic.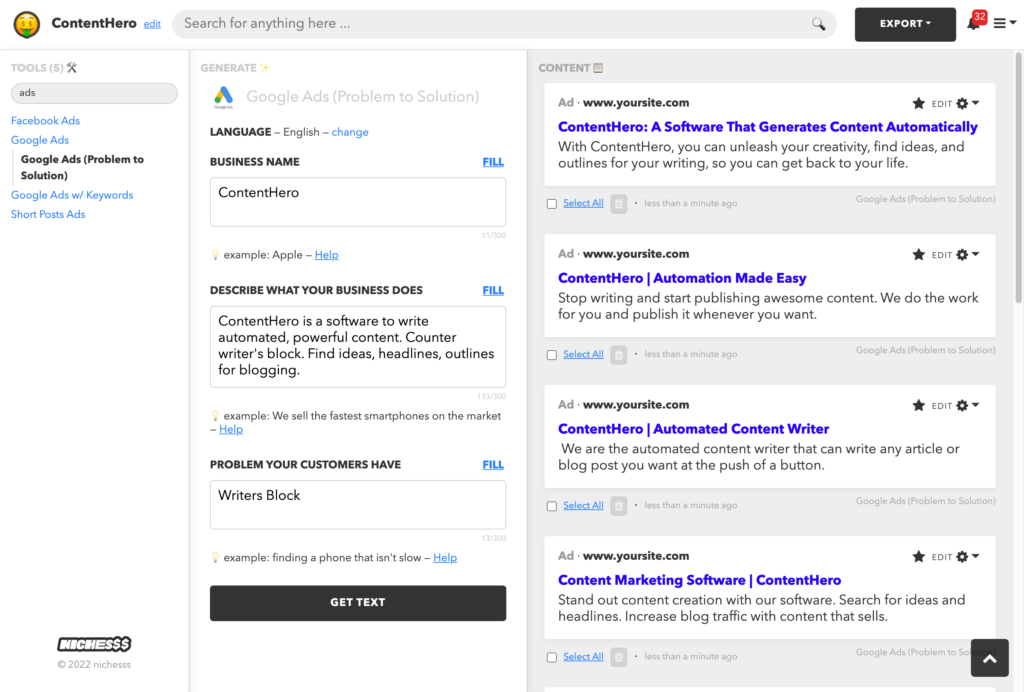 You can get ads or parts of ads like a headline created for Facebook Ads, Google Ads and also other networks.
YouTube & Video Tool: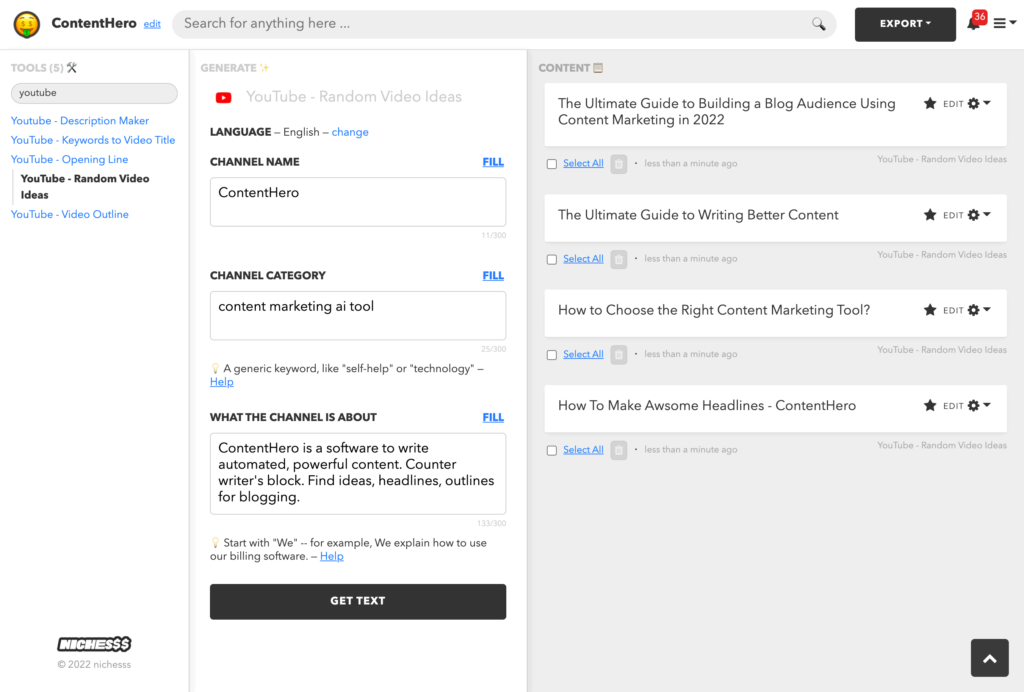 Nichesss is a great tool for finding content ideas for your YouTube channel. You can use the YouTube tool to create a video outline and keywords for your title. You will also get suggestions for headlines and a description of the video.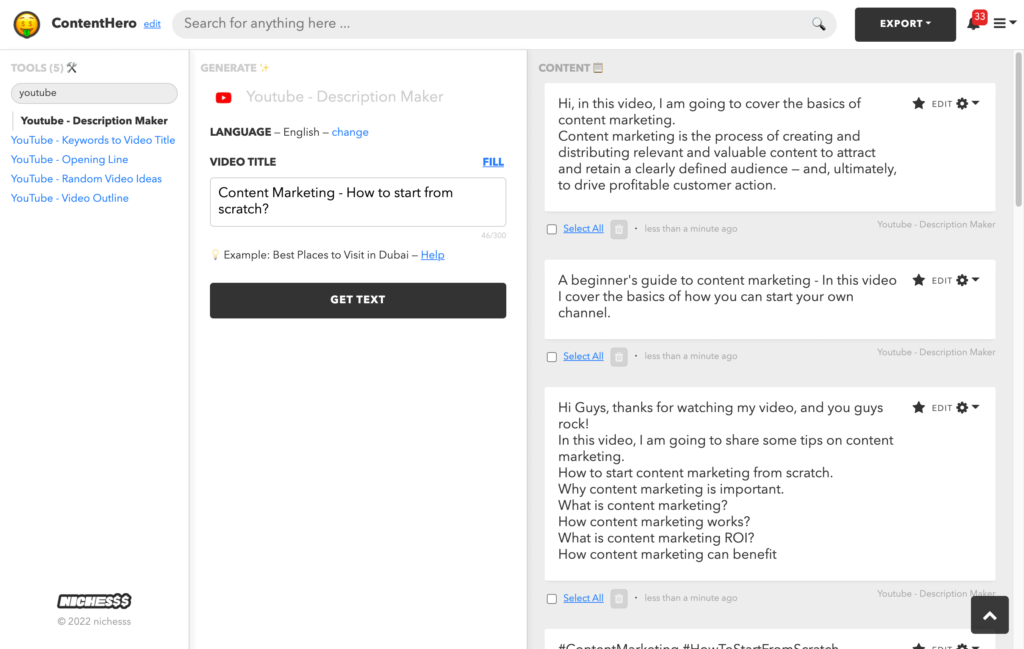 When you start a video, it can be difficult to come up with ideas. Nichess helps you by suggesting topics and keywords to include.
Emails Tool: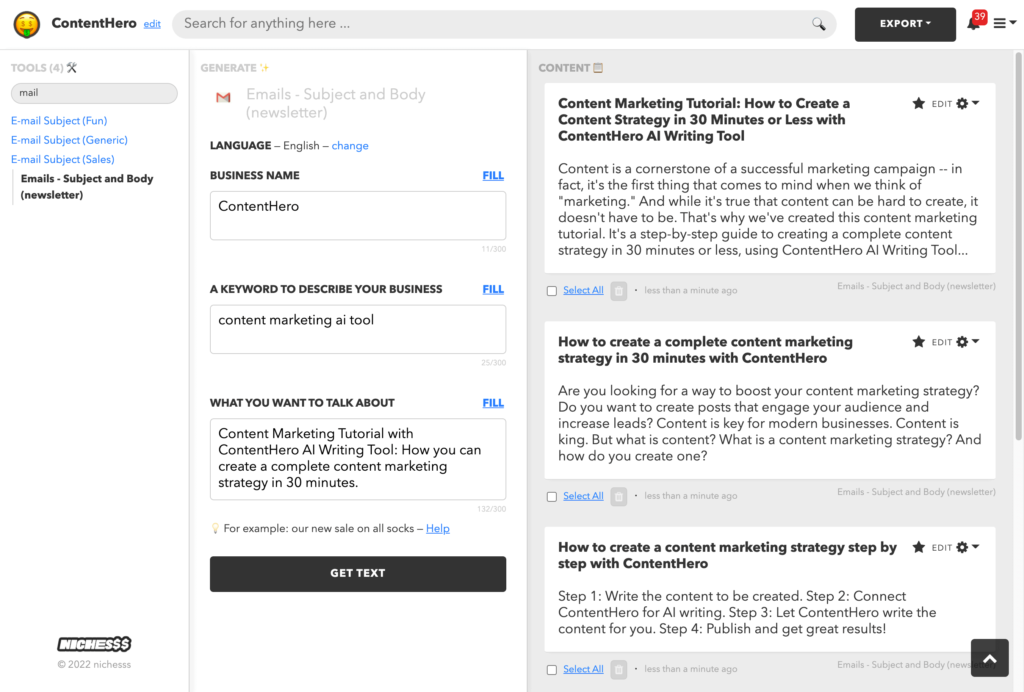 Nichesss can help you come up with ideas for your emails as well as write them yourself. It provides ideas for creating high-quality, engaging content.
AI Writer helps you create the content for your email campaigns. It delivers relevant content tailored to your business based on your preferences and inputs. This will save you time and money while still providing you with high-quality, effective, and converting content that will engage your customers.
Nichesss writes subject lines or even complete emails for you.
Career Tools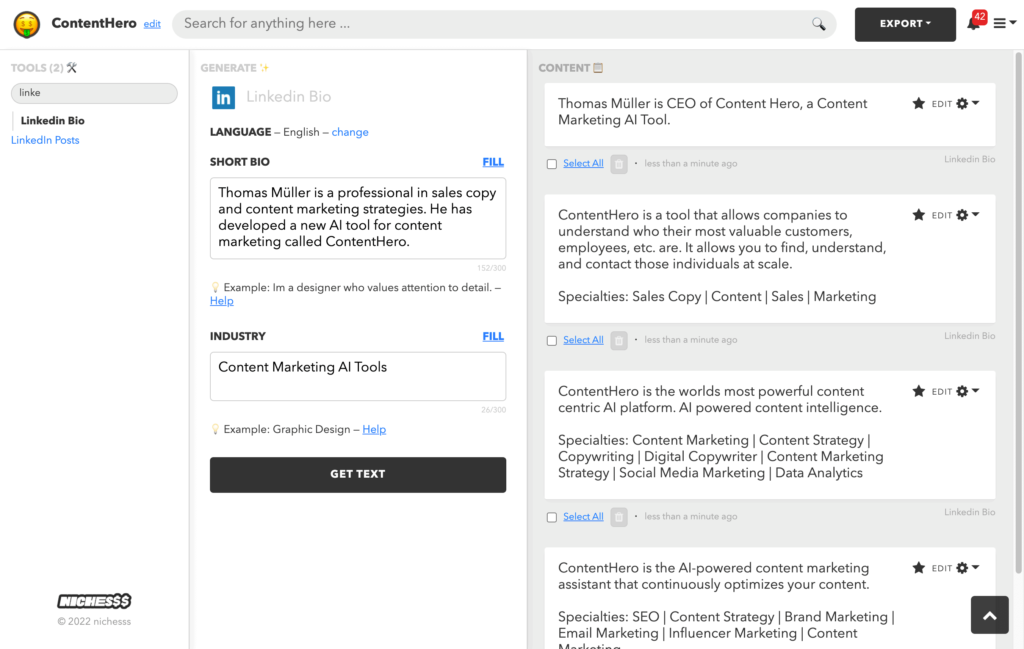 Career tools can help you make new contacts on LinkedIn and create messages for contacting potential clients or employers.
The career tools in Nichesss will help you find the right job and make your applications stand out. The Persona tool helps you personalize your contact messages, while the Auto Reply tool creates a good format for your contact messages.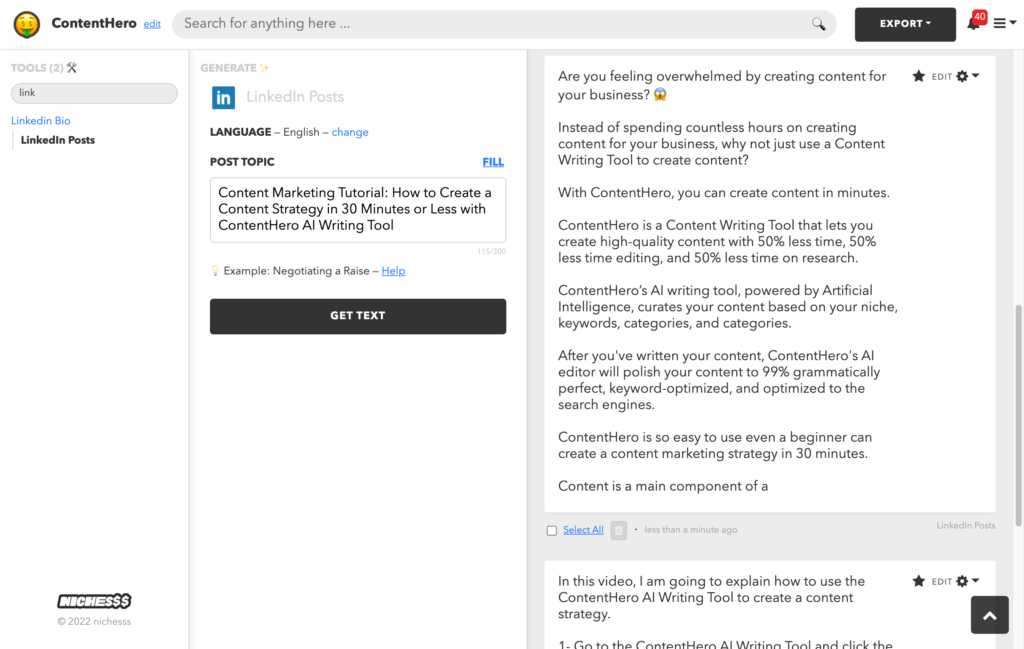 With the help of artificial intelligence, it is now possible to generate an individual address that gives the recipient the feeling of being addressed personally.
Nichesss in German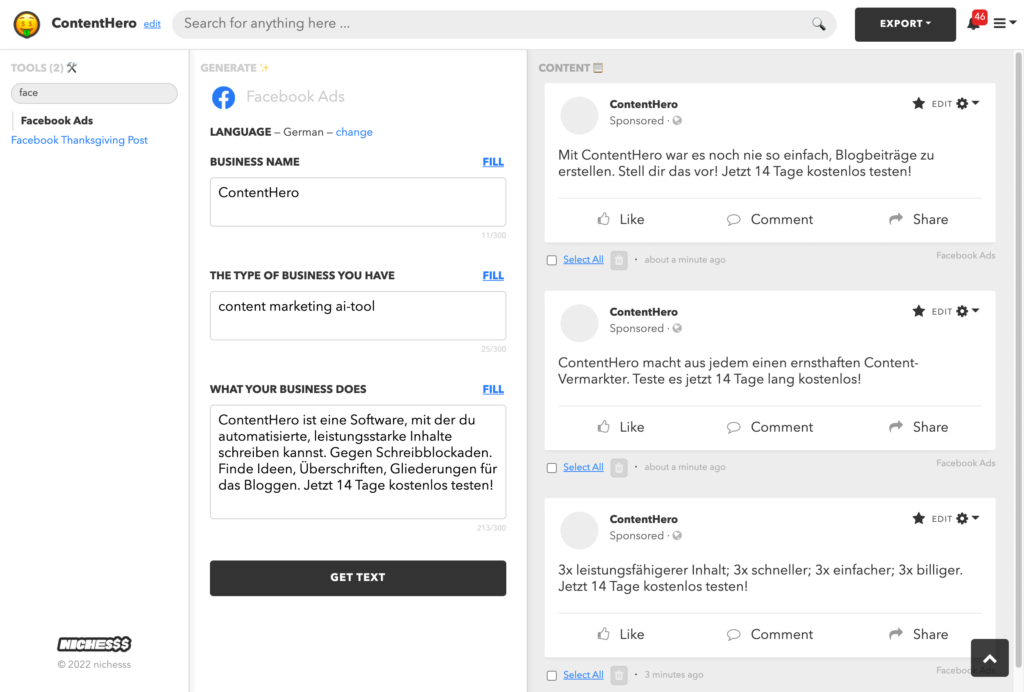 Nichesss uses DeepL and Google Translate to output foreign languages. The language can be used first in form input and output, or you can simply use Nichesss in English and have the translations translated with one click.
By integrating with DeepL, Nichesss masters formal and informal address and you can address your readers with "you" or "you're". Just as you wish.
---
Nichesss Conclusion
Nichesss is, in our view, a good AI copywriting tool with a phenomenal price-performance ratio. It has a very unusual look of the user interface, but you get used to it and of course you can like it because it is just motley weird. Nichesss is primarily aimed at individuals such as bloggers, freelancers or copywriters who hope to gain the broadest possible support. With over 80 AI models, certainly also one of the most diverse form-based approaches. The tool consistently delivers excellent quality, but sometimes and in individual cases it lags behind that of other tools – depending on how well the corresponding AI model has been trained. However, it also offers some perfect tools that truly surprised us.
---
Frequently Asked Questions (FAQs)