Outranking.io is a specialized SEO, content research and AI writer tool. It promises one thing with the very meaning of the product name: to dominate rankings. Big words, but can Outranking deliver on that promise? How does the revolutionary new SEO tool work? Is it really an SEO wonder weapon? Can even a layman beat big competitors with it? We took a look at it for you.
---
What is outranking?
Outranking is an AI writing tool with a focus on search engine optimization to achieve top rankings. The tool uses a data-driven approach to help you achieve high rankings. The process is several times faster than manual methods, and the tool achieves these results by using artificial intelligence and content research tools.
In essence, Outranking helps you with three tasks:
Find and prioritize content tasks & potentials
Optimize existing content
Generate new qualitative content
Outranking maps the following areas:
Figure out which low-hanging fruits can be easily optimized on your website
Research for new keywords & topics
Find out who is ranking for your target keyword and why
Researching fact-based knowledge about your topic
The high quality production of your article with the help of AI
Optimizing your article based on SEO analysis & data for top ranking.
Monitoring of your results and performance
So Outranking – here in version V7 – uses artificial intelligence to analyze my potentials, find my competitors, analyze them, research the right keywords and search intentions (questions & wishes), provide me directly with the facts, write my article partly on my own and always make sure that my content later dutifully achieves top positions in the search engine. And then it also wants to monitor the result?
Holla, die Waldfee – what a crass shit.
Behind Outranking.io are entrepreneur, author and speaker Natalie Luneva and marketing expert Pankil Shah. Anyway, you'll notice with every tutorial on their tool: they know absolutely exactly why, why, and why they built their tool the way they did. Both are extremely experienced specialists in online marketing, content marketing and in the field of SEO.
---
Contents
---
How does Outranking.io work?
GPT-3 based AI tools always have the problem: The AI lies. You could also say it likes to play bullshit bingo. All the time. You will notice this mainly when you want to produce fact-based content and rely purely on GPT-3. A lot of it is just crap. A lot of things are wrong. You need to rework.
Of course, this can be improved with enough context. Context keeps AI on track. But where do the facts about feeding AI come from?
Outranking solves the problem with "Concepts".
"Concepts" are crawled from existing competitor content (SERPs), clustered using NLP (Natural Language Processing) and summarized. These "concepts" guide the AI fact-based through the paragraphs and statements of your articles, so that it just succeeds in producing no bullshit.
Open AI's GPT-3 knowledge state is based on training data through 2019. So, if you want to write about current events, you have to rely on additional knowledge. If you write about your company or industry, GPT-3 will struggle if you don't feed it additional context.
If you write about your company or industry, GPT-3 will struggle if you don't feed it additional context. The system starts a search process that can take anywhere from 30 seconds to several minutes. Outranking identifies the top 20 ranking URLs, crawls the content of these pages, clusters the high frequency keywords into topics using NLP (Natural Language Processing), taps into several other sources such as Google PAS (People also Ask), Google Keywordtools and SEMrush on demand, and then guides you step-by-step through the creation of your article.
---
What can you do with outranking?
Outranking is a tool that allows you to quickly and easily collect data and write content for your website.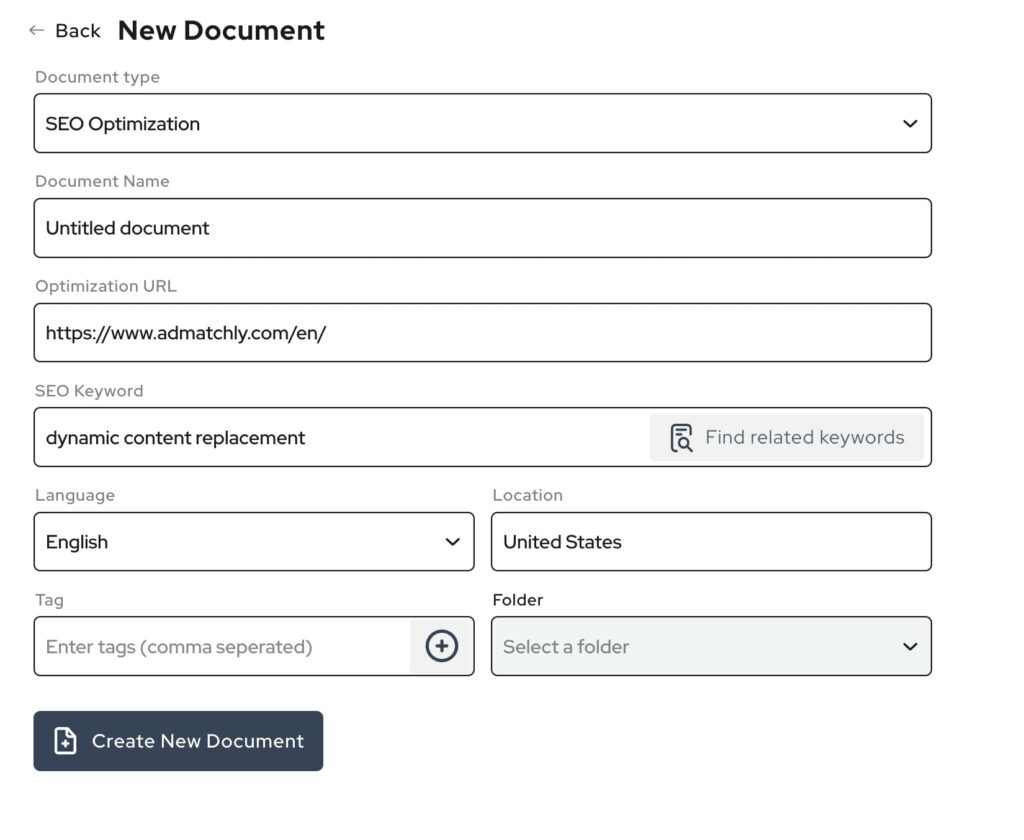 The full spectrum of outranking includes:
With Outranking, you can research keywords, find content ideas, and write articles quickly and easily.
It not only helps you research and write quality content, but also optimizes it to rank high in search engines. This makes Outranking an indispensable tool for anyone who wants to improve the ranking of their website.
It can help you write better content and avoid common mistakes.
It helps you get direction for content creation by providing step-by-step guidelines and instructions.
It also offers AI Writer & content research features that help in creating high-quality content.
It uses GPT-3-powered AI, SEO practices, and SERP statistics to create compelling content.
This content is designed to help businesses improve their SEO and drive more traffic to their website.
It also offers templates and forms ("methods") for various AI text modules, e.g. also for press releases, recipes, landing pages, product texts, social media and YouTube.
---
Advantages and disadvantages of content writing with Outranking.io (Review)
Advantages:
Specialized in the task SEO & Content Marketing
Complete suite that fully maps the workflow
Fact-based writing with GPT-3
Saves manual research for content
Save time
First draft function (fully automatically created article based on AI's outline).
The user interface is easy to understand and follow.
AI helps generate targeted SEO content with a high success rate
The registration is free.
Low fees to get started. Affordable even for occasional bloggers
Disadvantages:
UI partly "bitchy" and a bit "buggy"
very high character consumption due to calculation of input and output characters of AI (we need 1,000 words per blog article and mixture of manual and automatic texts approx. 20,000 to 100,000 characters)
Quickly high-priced due to high AI consumption
Longer training period required due to high functional scope
---
Outranking AI Writer Prices:
For annual payment:
Mega
For individuals or small startups. Create and optimize up to 10 articles a month.
10 Documents per month
60.000 AI words processed
0 Team
$ 40,- per month
Giga
For in-house content teams and agencies. Create and optimize 25 articles a month.
25 Documents per month
250,000 AI words processed
1 Team
$ 82,- per month
Tera
For agencies producing content at scale. Create and optimize 50 articles a month.
50 Documents per month
500,000 AI words processed
3 Team
$ 157,- per month
---
AI Wizard – a simple user experience to start with: meta data, title, description and outline.
The AI Wizard helps you write titles, meta descriptions and article paragraphs for your text. It walks you through a three-step process that will help you create high-quality content in minutes.
At the end of the process, you can have a complete AI design for the entire article automatically generated with one click.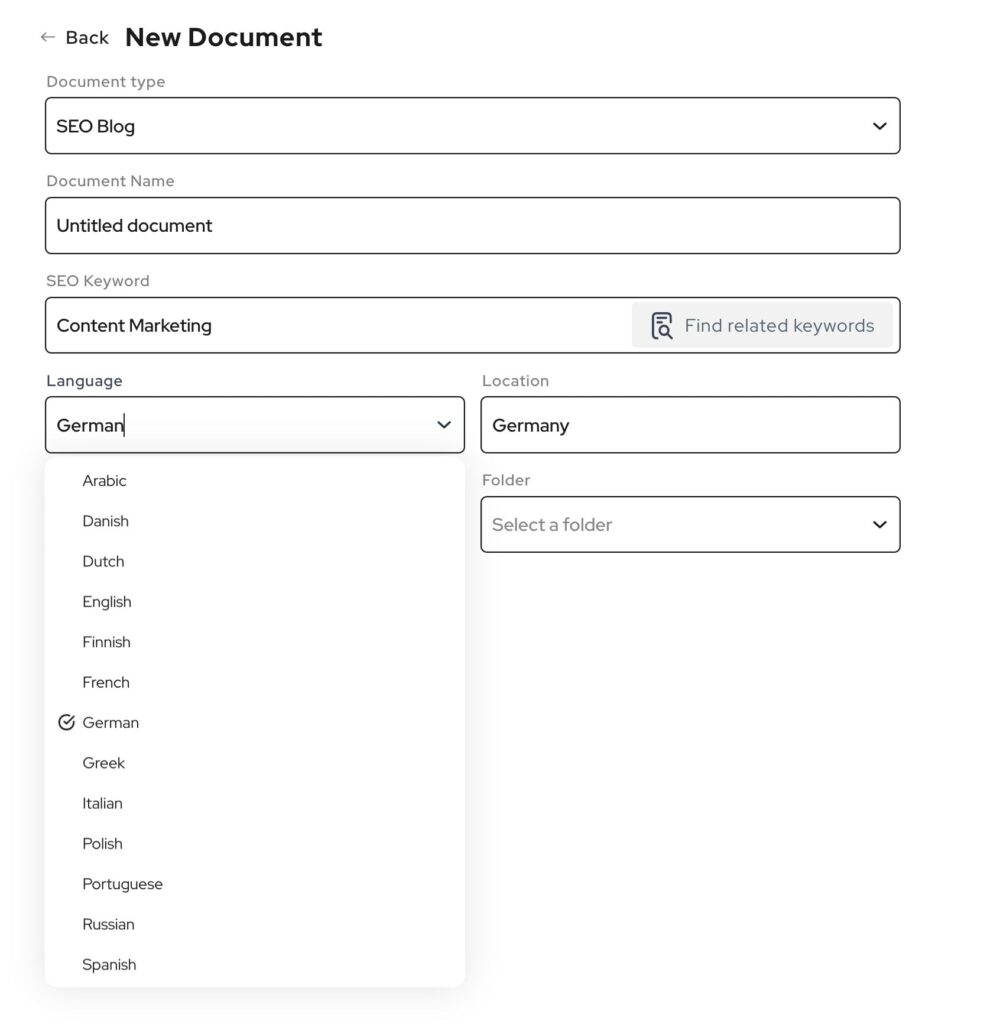 1) Generate meta title ideas with one click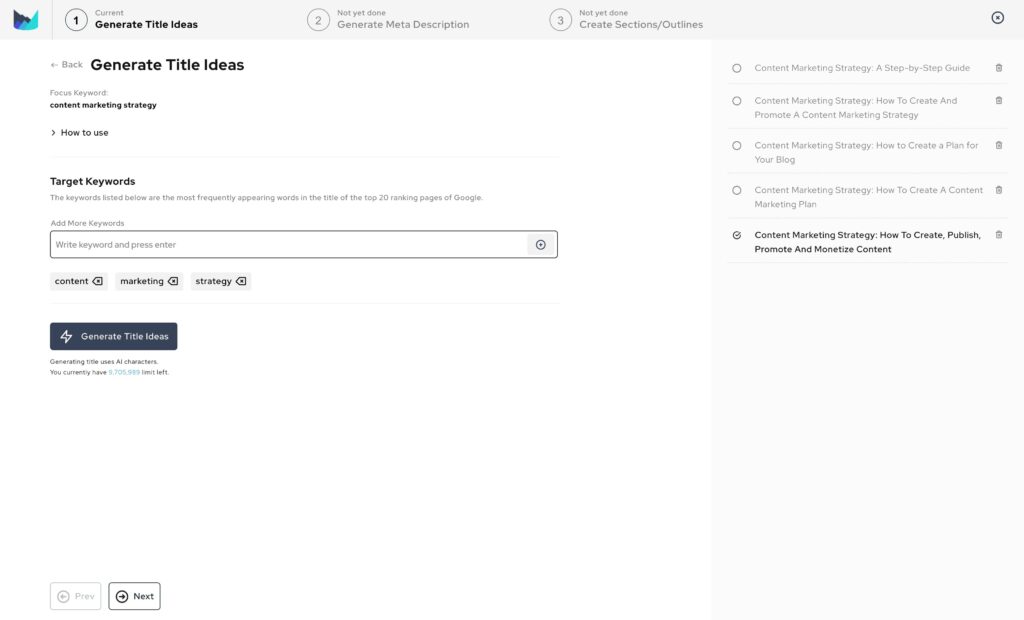 With AI Wizard you can generate title ideas in just one click. Right after creating your document, you just need to click on the "Generate Title Ideas" button and the AI will provide the several suggestions for your meta title. If you need more ideas, just click the button a second time.
Optionally, you can add specific words to be used in the suggestions. However, the important words are automatically added to the suggestion list based on the analysis.
The suggestions are displayed in the right column. By clicking on the text you can select your desired suggestion. You can modify it with a double click.
2) Create a meta description with one click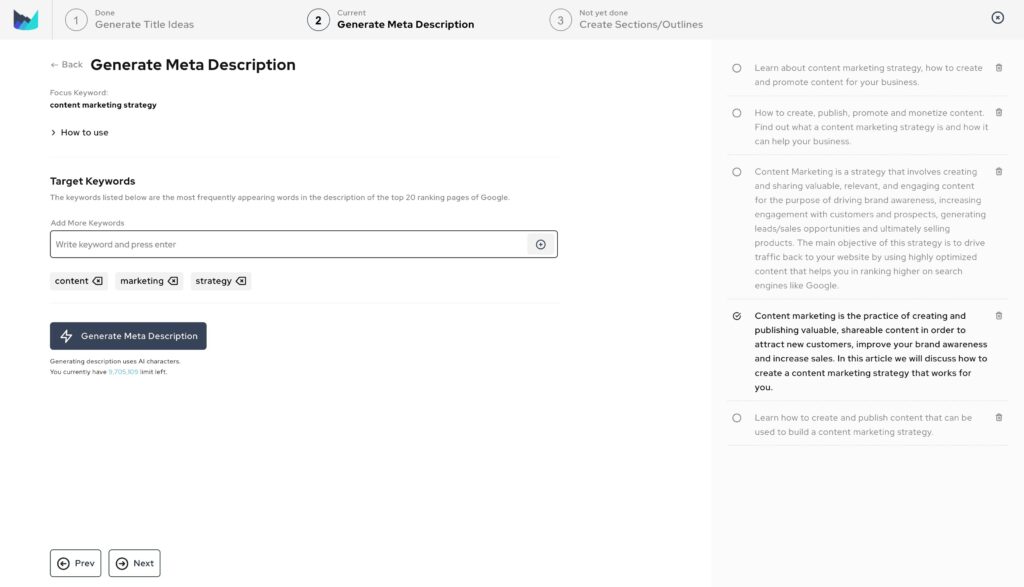 In the second step of the AI Wizard you can define your meta description for an ideal ad online at Google.
3) Create outlines using structured content blocks, SERPs and Google PAA (People also ask).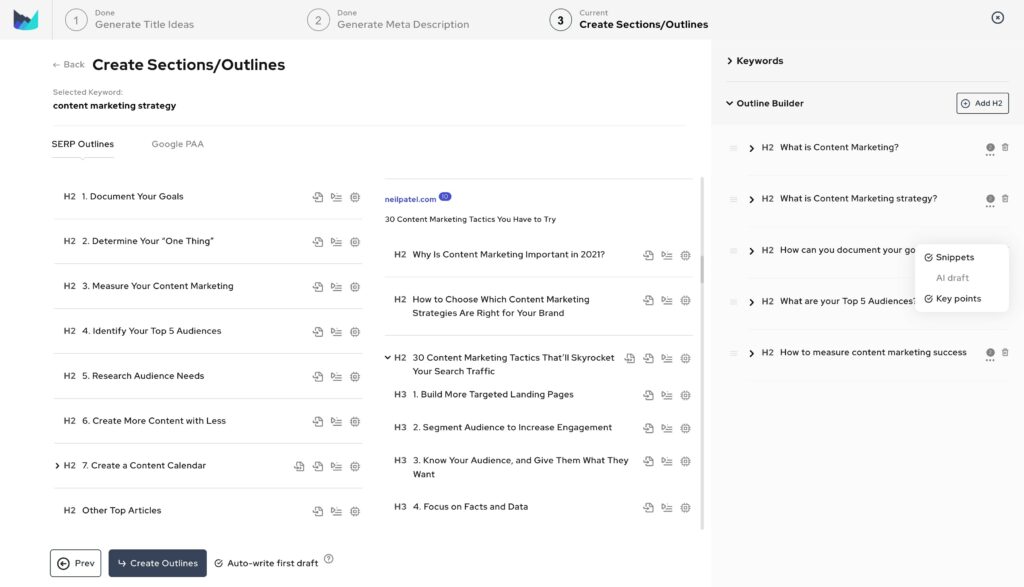 The third step is the most comprehensive. Here you can create your complete outline.
Outranking shows you the headlines of other websites' content on this topic in the left column. You can transfer these ideas to the right side with one click. Drag and drop to arrange your outline.
You can also adopt common questions about the topic based on Google PAA (People also ask) as headlines and article blocks.
In the right column you will find relevant keywords and frequently used words from the competitor's texts at the top. When you click on one of the words, the right column will show you the headings that serve those words, making it easy for you to cover the full range of topics in depth with your article.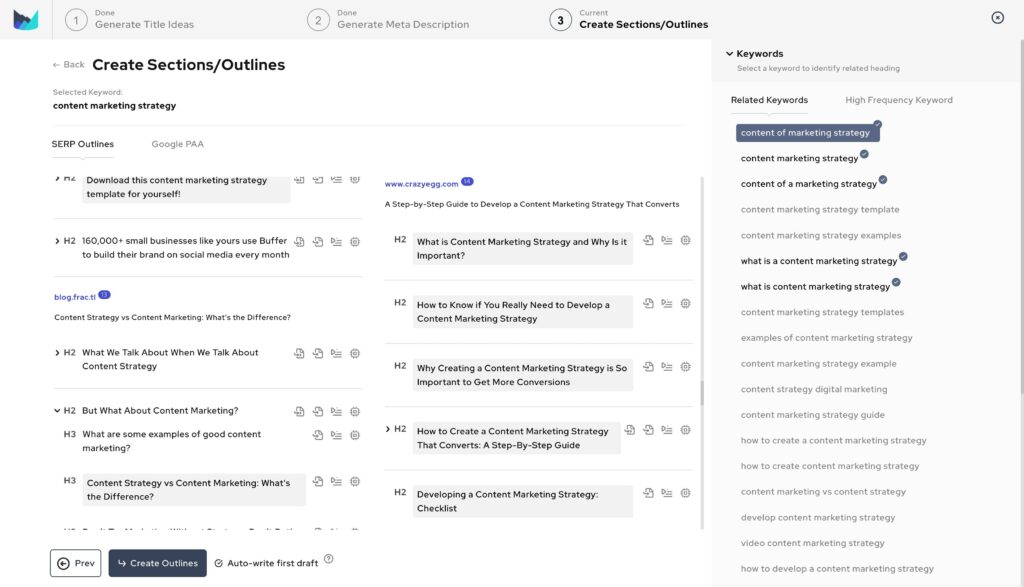 When your outline is ready, you can specify for each heading which AI strategies should be used in each case to try to generate a complete first draft of the article.
Snippets:Snippets are responses generated in a format that Google likes to display as "featured snippets" and "people ask too". The snippets are created exclusively with the help of AI and must therefore be checked for accuracy and optimized. Outranking automatically uses this setting first for all questions.
AI Draft: The AI Draft setting attempts to write a paragraph to the heading based solely on GPT-3. The setting is suitable if it is more of a general topic where the knowledge about it might be present in GPT-3.
Key Points: This setting should be used when the paragraph content is very fact-oriented or requires specialized knowledge about the topic. In doing so, Outranking will generate "Concepts" from the crawling results for the topic in question. From these fragments and statements, complete flow texts can then be generated in the later course (more on this later)

When you click the "Create Outlines" button, the outline will be transferred to your document. If the "Auto-write first draft" function is enabled, the AI will also generate content for all your headings according to the settings made for the headings.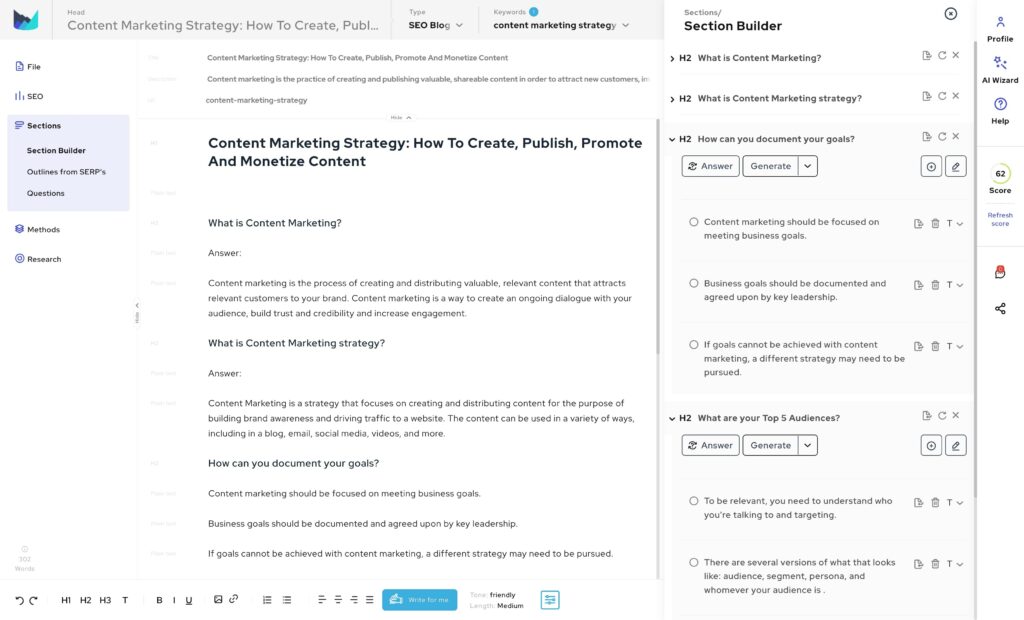 ---
Outline Builder / Section Builder
The Section Builder is the tool in Outranking where you can assemble your outline. You research your facts from there via the AI and usually trigger the AI from there to create paragraphs. You will probably spend 90% of your time with just this tool.
What's very exciting is that anywhere in the tool where you find content or research results, you can add a new section to the Section Builder with one click. However, since you usually already have a completely finished outline with the AI Wizard, you will hardly need to do any further research at first and call up other tools from Outranking.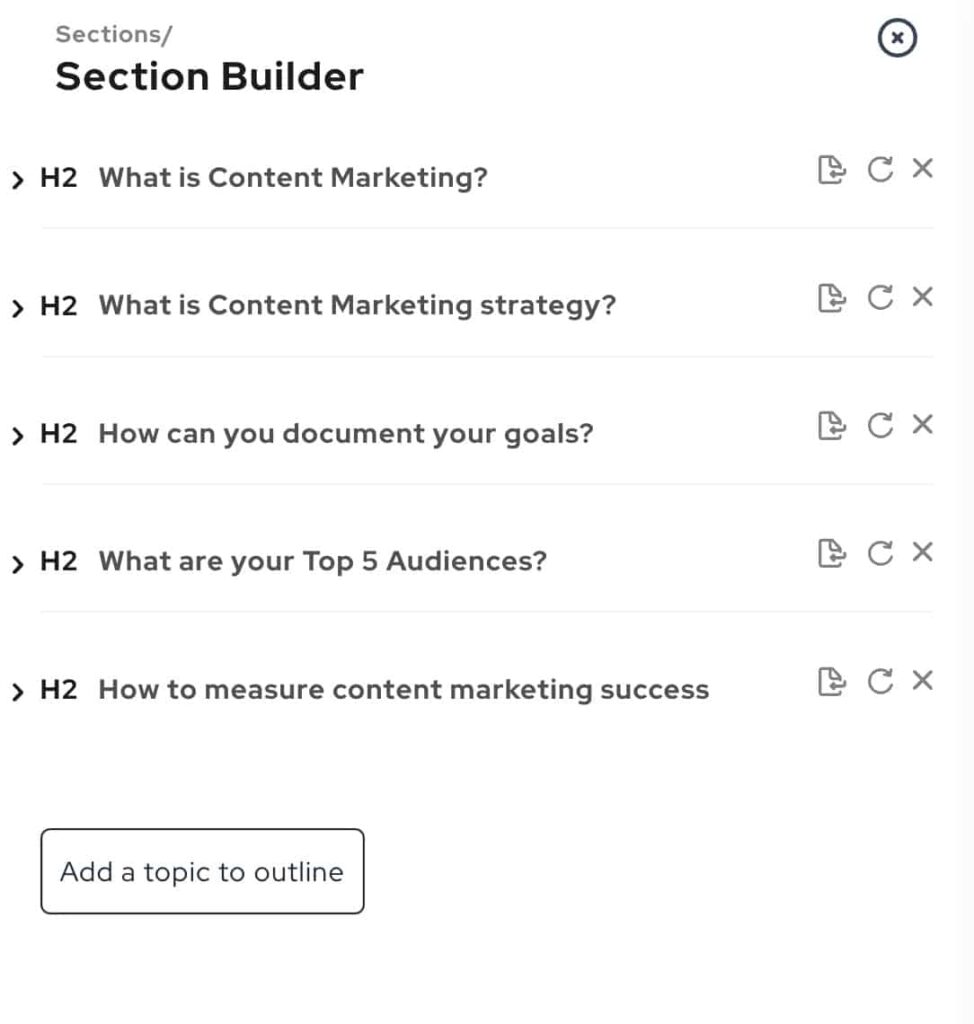 ---
Concepts – Integration of facts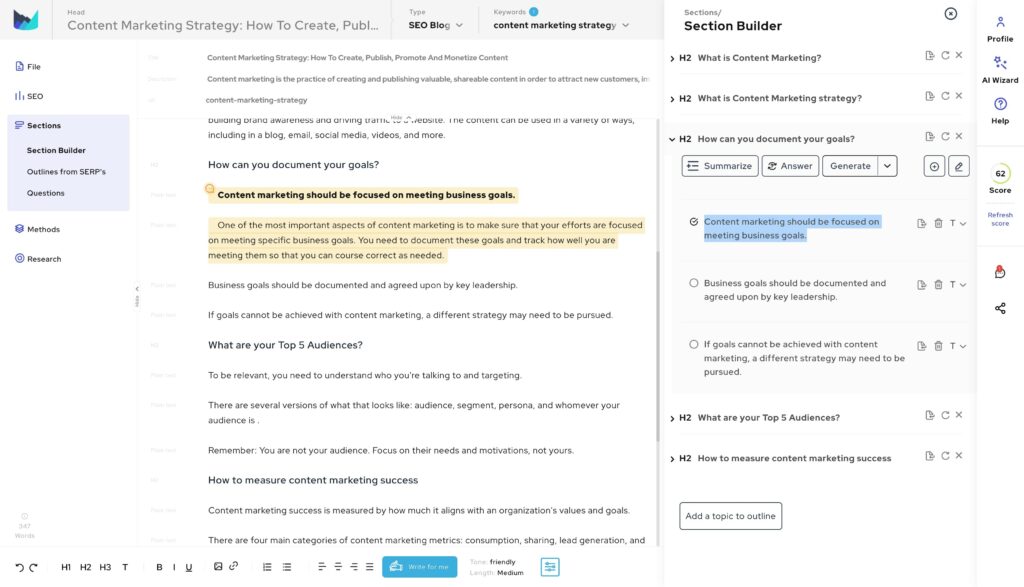 You can unfold every single headline. You can have the AI generate an answer directly via GPT-3 ("Answer" button). The "Generate Concepts" button generates the fact-based points on the given topic. Outranking information from the search results lists (SERPs) and their articles serve as a source.
You can select the generated facts individually and with a click on "Summarize" the AI will write a complete unique paragraph for you. Here you can be very sure that the facts are correct respectively match the information from other articles.
You can select the "Concepts" individually or have up to four of them grouped together. If you select multiple "Concepts", the AI will try to combine the individual aspects into one paragraph.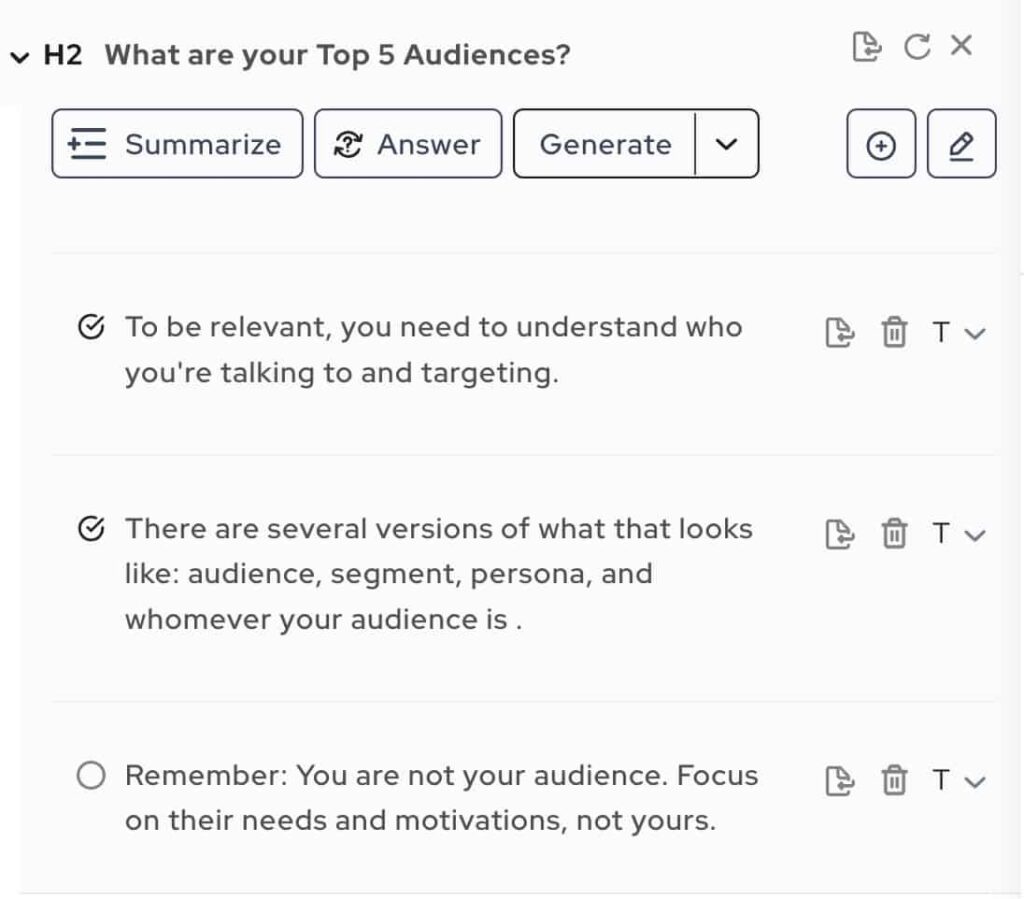 For the generation of the "Concepts" you have different strategies at your disposal
Key Points – tries to extract the key points from content
Default –tries to find as much information and facts as possible, but does not focus on key statements
Introduction – tries to find information suitable for introductory texts.
Features – tries to find characteristics of e.g. a product or service
Benefits – seeks to extract advantages of an aspect, product or service. Features may also be interpreted and converted in the process.
Disadvantages – tries to find disadvantages of an aspect, product or service
Highlights – focuses on absolute top statements and things that are suitable for e.g. a summary
Related – tries to find aspects that are related to your "Concept".
FAQs – searches or interprets for common questions about the aspect and directly generates the answer to it
Steps – searches content for step-by-step instructions, for example, when writing a cooking recipe or building instructions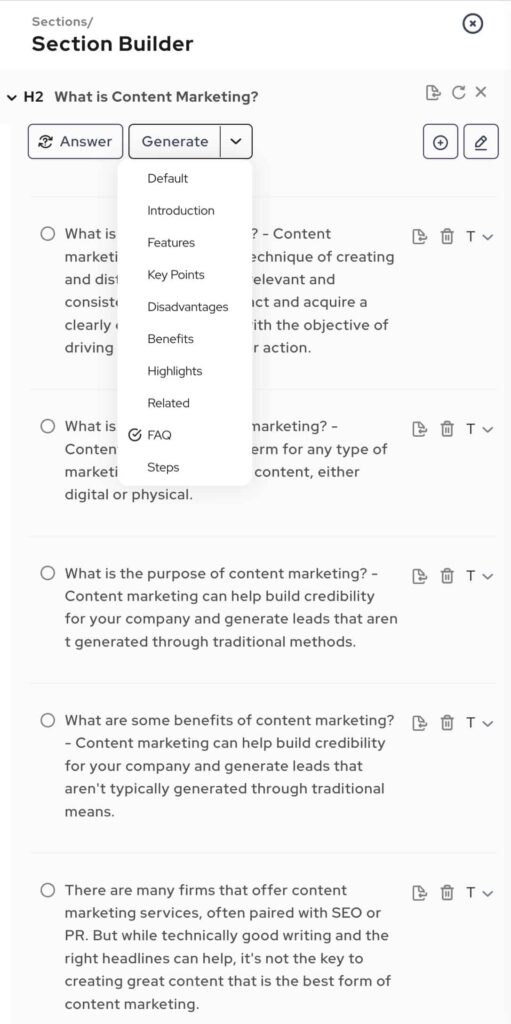 Of course, you can also specify your own content and contexts in the Outline Builder. This is very helpful, for example, if you write about special products of your store or your affiliate marketing partner and the facts are not present in the previous search results lists.
You can therefore take features, benefits, advantages and disadvantages as well as facts from content from Amazon, for example, by taking the product description there and applying the "concepts" to the manually selected context. You can add the context using the button with the pencil icon.
---
SEO Optimization & Content Score – Evaluation of the potential for ranking based on content and keyword data.
The SEO Content Score is a tool that helps you measure the effectiveness of your and others' SEO optimization. It evaluates the content of your website and gives an overview of how well it is optimized for search engines. The score is based on factors such as topic depth and breadth, best practices such as title tags, meta descriptions, etc.
In outranking, the content score plays a central role. Generally, any content, whether your own or that of other websites, is rated with the Content Score.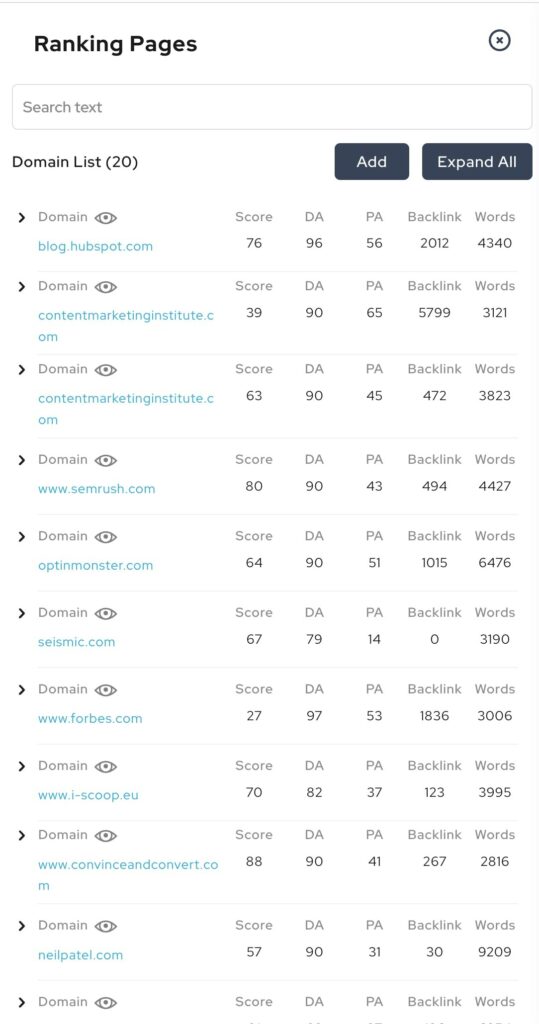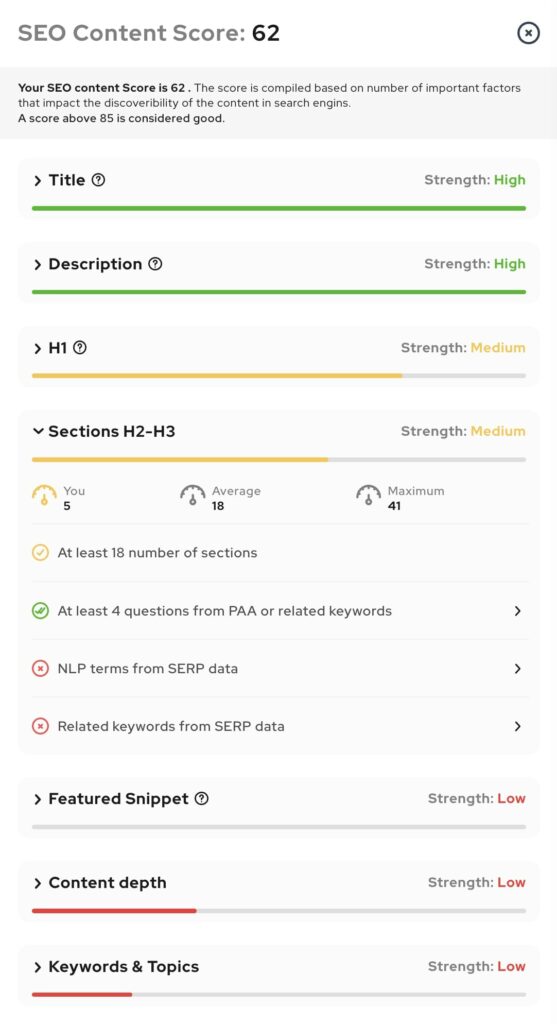 You can see from the content score:
Which of my competitors' rankings are based primarily on content quality?
How does my page stand in relation to other content
To help you optimize your content and increase the content score, Outranking provides you with the SEO Optimization module, a tool that allows you to quickly see where you need to tackle.
SEO-Optimization gives you exact hints:
How you should optimize your meta title
How you should optimize your meta description
How you should optimize your headline
Which sections your content needs and what you should improve
What optimizations you should make in the Featured Snippets section to stand a chance of having your content show up as a direct response on Google.
Whether the content depth is sufficient and what you should do
Whether the breadth and depth of your keyword and topic coverage is sufficient and what you can do about it
To what extent and which links with which anchor texts you should insert
How you should design your URL
How you should use images in the article (quantity and alt tags)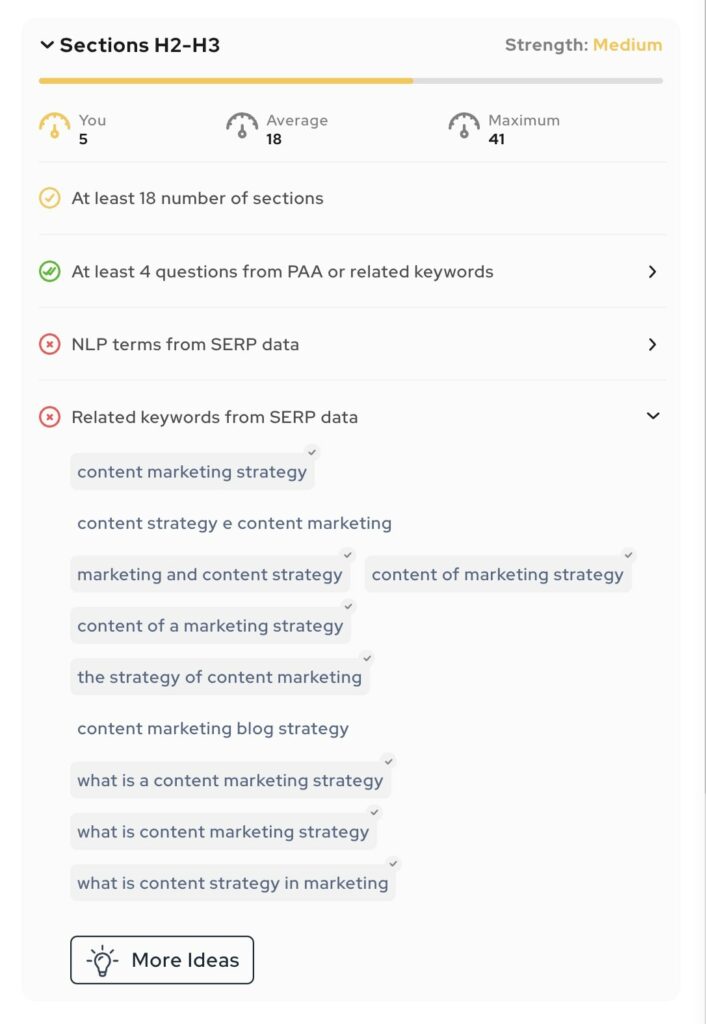 Please note that the recommendations are not simply implemented as best practices, but are always based on the analyses of your competitors' content. How long should the text be? Which links should be set? How many images? With what content, etc. With Outranking, this is not based on rigid specifications, but flexibly on the data collected.
With what content, etc. With Outranking, this is not based on rigid specifications, but flexibly on the data collected.
---
Questions – Your user's questions at a glance
Questions from users are a promising way to create content that meets user needs. When you use questions as the basis for your content, you can be sure you're addressing the topics people are looking for. You can also use question-based content to improve your SEO strategy by targeting specific keywords and phrases.
You can use relevant questions to support your content. Use the information and search queries provided here to find the right question.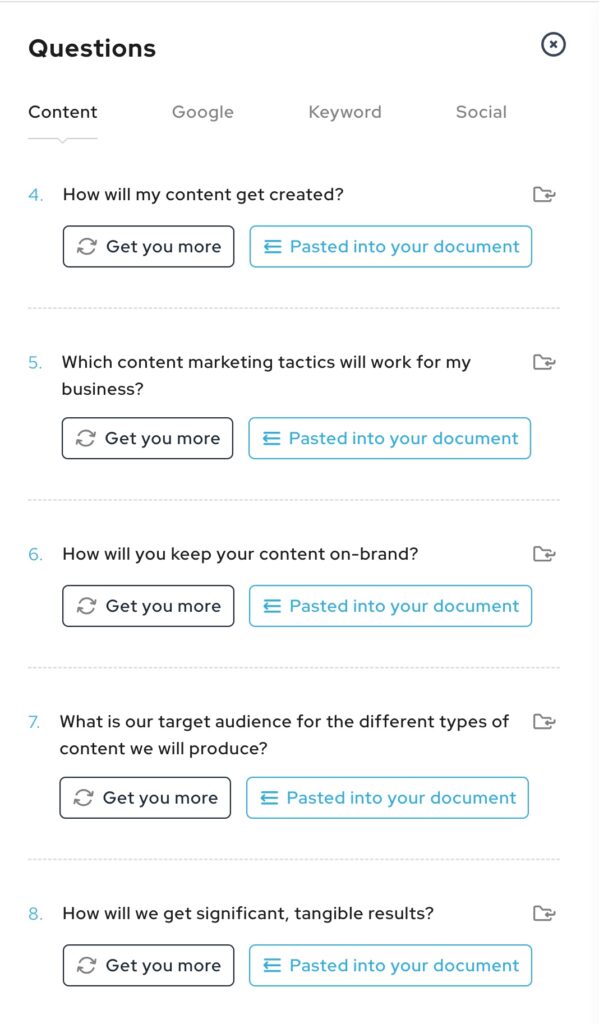 In Outranking, you'll find modules to help you identify questions in your topic area and answer them with AI.
Questions from the content of the competitors. Outranking recognizes questions in headlines.
Questions from Google (People also ask)
Questions from social networks
You can take all questions into your section builder and answer them with various AI tools or "concepts".
---
Methods – AI Writing Platform and Workflows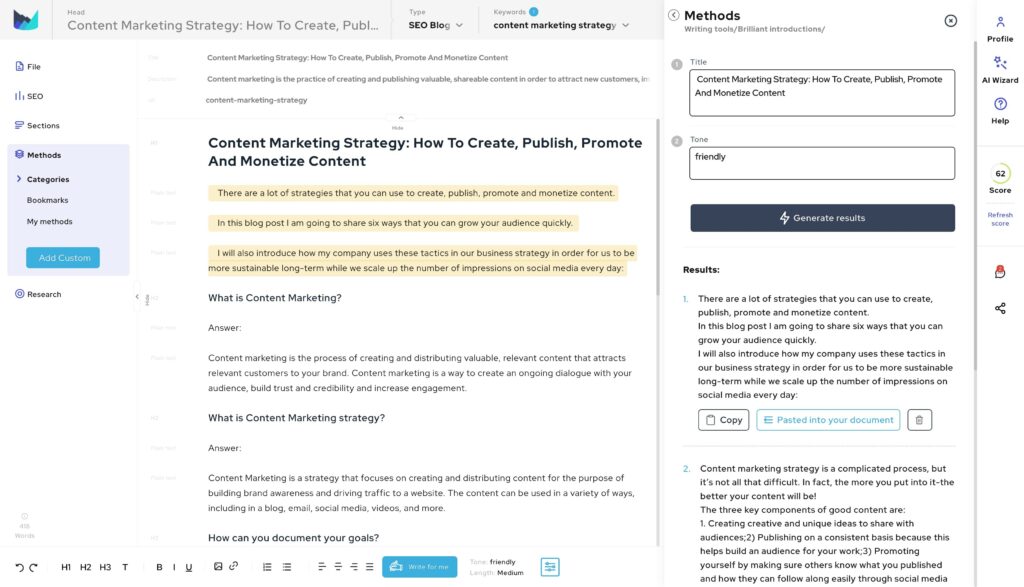 Methods allow you to create AI based workflows and automate certain sections of your content to simplify and speed up the process. This is especially useful for content that needs to be updated regularly, such as blog posts, recipes, or product descriptions.
With Methods you can quickly and easily create introductions and conclusions for your articles.
With Outranking, you can use many public methodsor create custom AI methods for specific workflows, using pre-built content and SEO parameters to create content quickly and easily.
You also have the freedom to choose a specific tone for your target audience.
If you are missing a use case – no problem. You can define and create custom methods, i.e. your own AI models.
Press releases
Writing press releases can be a time-consuming process, but with the help of AI, you can save a lot of time and ensure that your press releases are error-free. The four parts of a press release are the introduction, supporting details, conclusions, and CTAs. If you use AI when writing your press release, you can be sure that all these parts are well organized and error-free.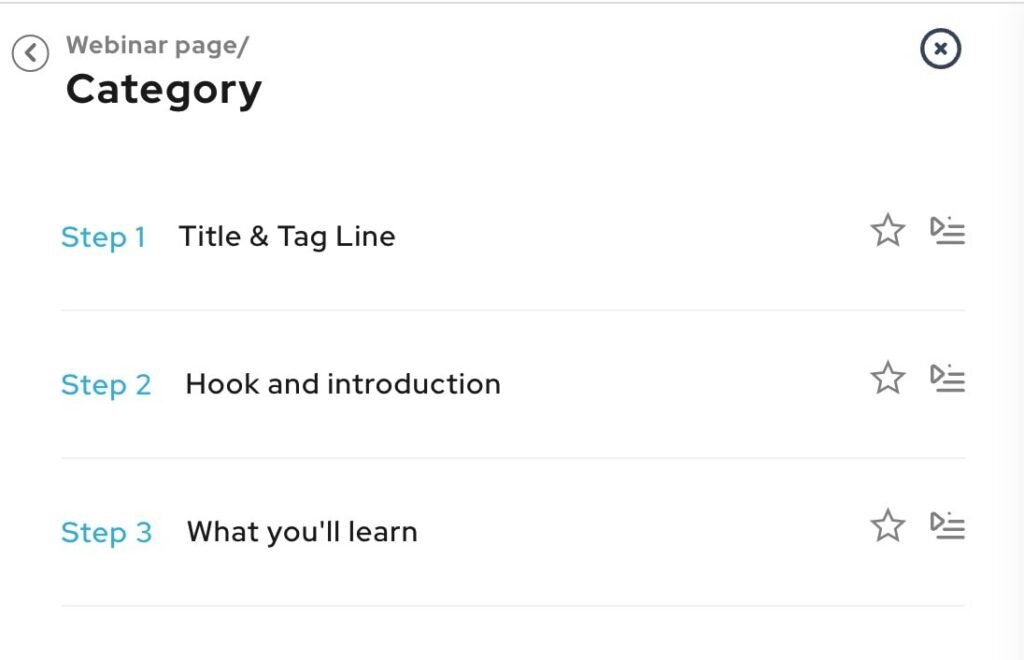 Webinar Page
Webinar Page is a great way to promote your events and get more people interested. You can use it to create an event, invite people, and track who comes. Outranking offers you many AI templates to create content for a webinar page.
Receipts
"Receipts" is the AI-powered workflow for creating recipes. Step by step, the tool guides you through introductions, descriptions, ingredient lists, step-by-step instructions and conclusion to create recipe-style blog articles and guides. Primarily for cooking recipes, of course, but other content formats are also conceivable.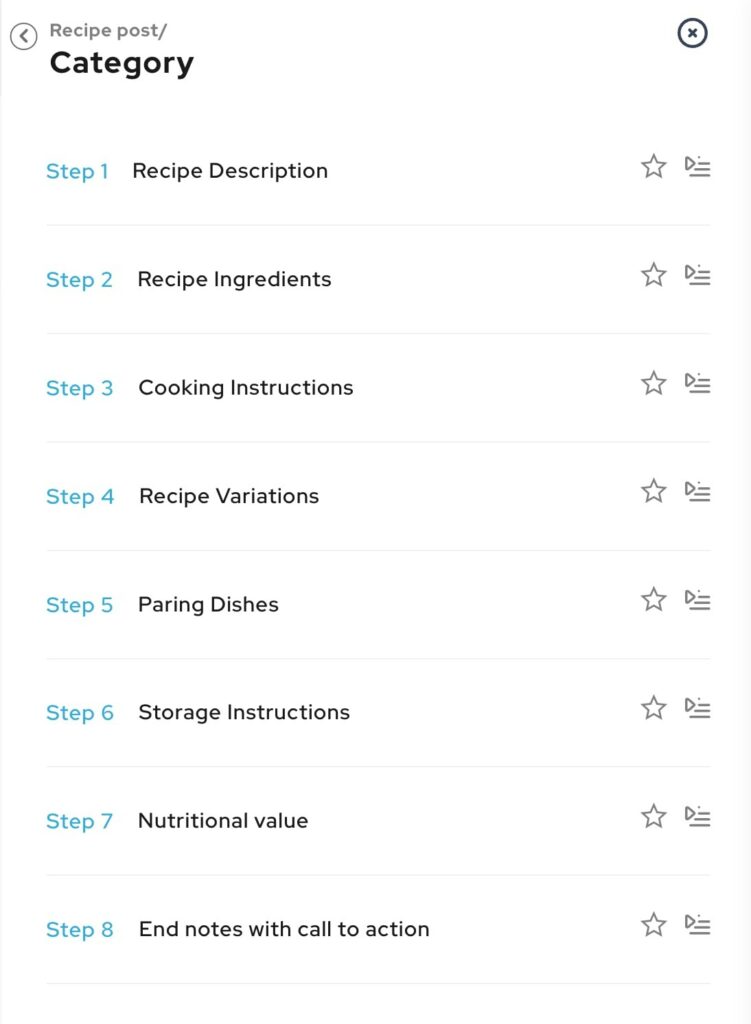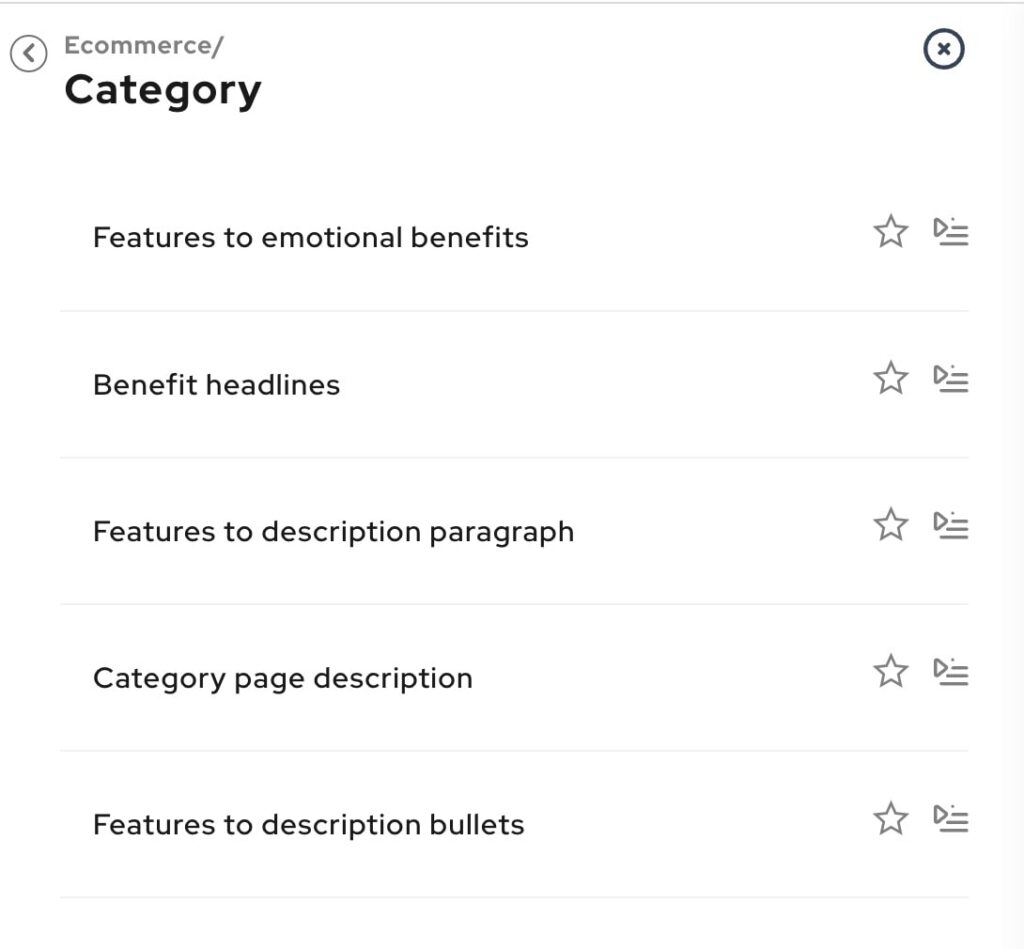 E-Commerce
With AI, you can quickly and efficiently create content for your product pages. A workflow guides you step by step through the process to create highly optimized texts for your product.
Social Media
Social media has become an important communication tool for companies of all sizes. You can reach a large audience quickly and easily and are a promising way to build relationships with customers. In Outranking, you'll find AI methods to develop content for your social channels.
YouTube
YouTube is a video sharing website and social media platform where users can upload, watch, rate and share videos. The site was founded in February 2005 by three friends – Chad Hurley, Steve Chen and Jawed Karim.
On YouTube, users can upload, watch, rate, share, add to favorites, report, comment, and subscribe to other users' videos. It is available in 76 languages.
With Outranking you create content for the YouTube channel and your videos in a guided and efficient way.
---
Quick Wins – Which pages of your website could rank fast?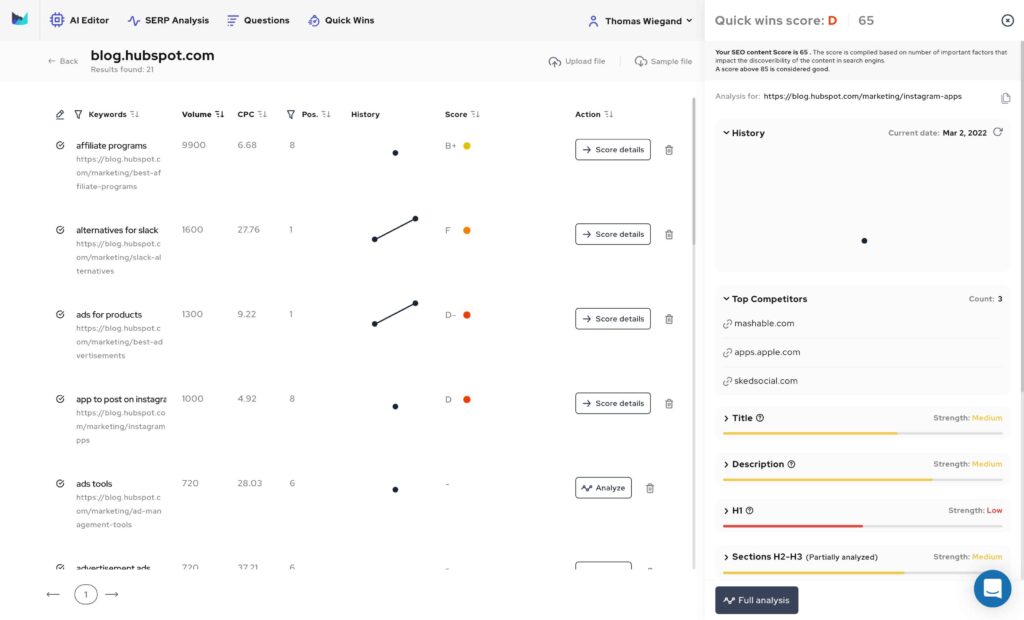 The latest tool "Quick Wins" helps you prioritize SEO and content tasks. For which keywords does your site rank? What is the search volume of the keyword? What position is it in? How good is the content up to date? What is the best way to get good rankings quickly?
This way, you can quickly identify the low-hanging fruit on your site and spend your time where you can make the biggest impact.
Example: Find all keywords and pages that rank in the potential range of position 5-30 and have the highest possible search volume with currently low content quality and topic breadth and depth. If you start there, you can quickly celebrate significant traffic successes with little effort.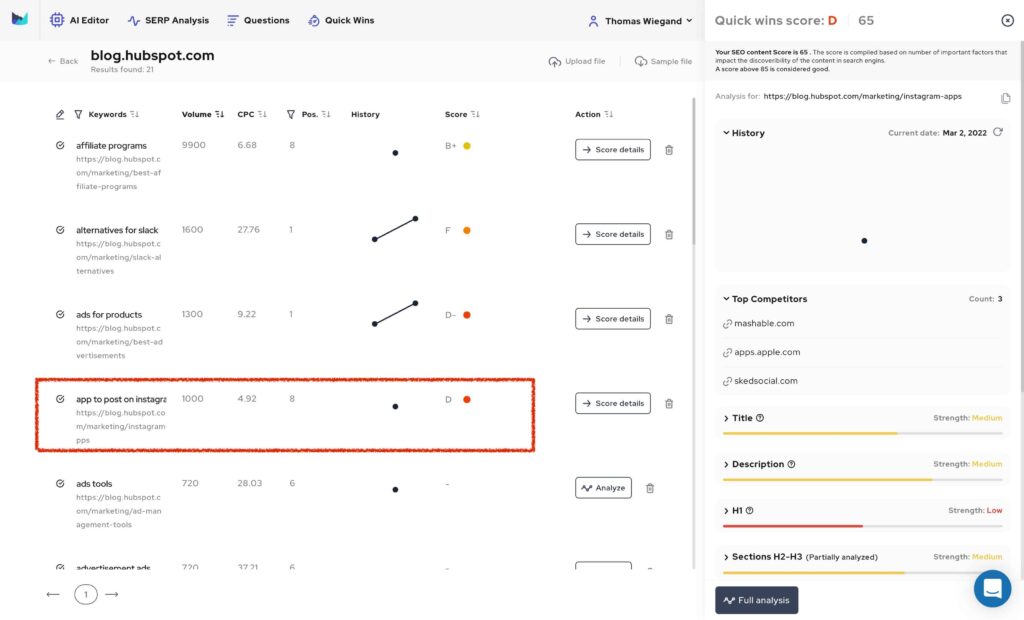 ---
High frequency keywords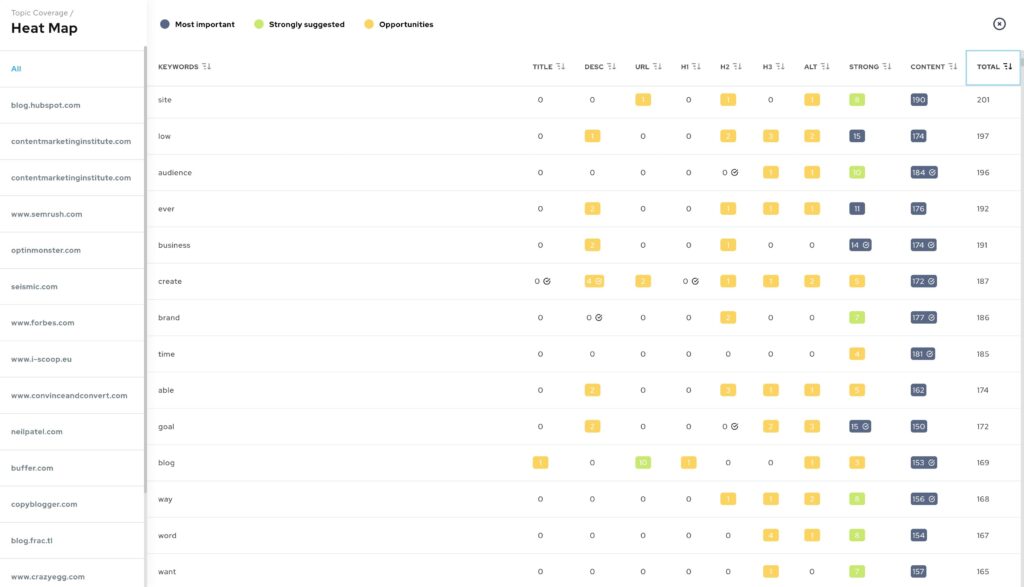 Outranking.io is a tool that can help with search engine optimization (SEO) by suggesting high-frequency keywords and heat mapping how often they are used in content and exactly where.
This information can be helpful in deciding what to look for when creating or editing content.
Using high-frequency keywords (HFK) is an important SEO strategy for optimizing your content.
---
How well does outranking work in German?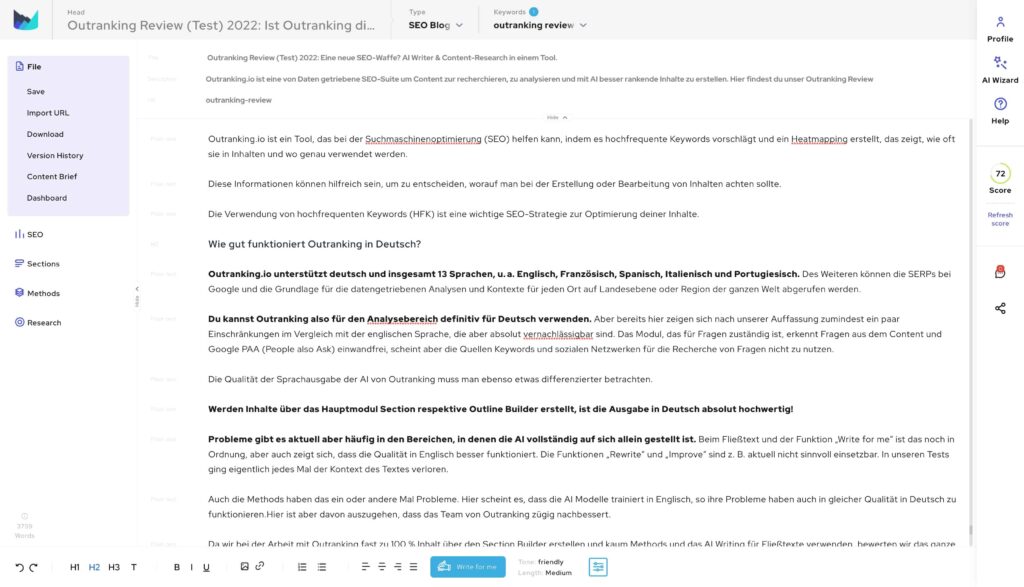 Outranking.io supports German and a total of 13 languages, including English, French, Spanish, Italian and Portuguese.Furthermore, the SERPs on Google and the basis for the data-driven analyses and contexts can be accessed for any location on the country level or region of the whole world.
So you can definitely use Outranking for German for the analysis area. But already here, in our opinion, at least a few limitations show up in comparison with the English language, but they are absolutely negligible. The module responsible for questions recognizes questions from content and Google PAA (People also Ask) flawlessly, but does not seem to use the sources keywords and social networks for researching questions.
The quality of the voice output of Outranking's AI must also be viewed in a more differentiated way.
If content is created via the main module Section or Outline Builder, the output in German is absolutely high-quality!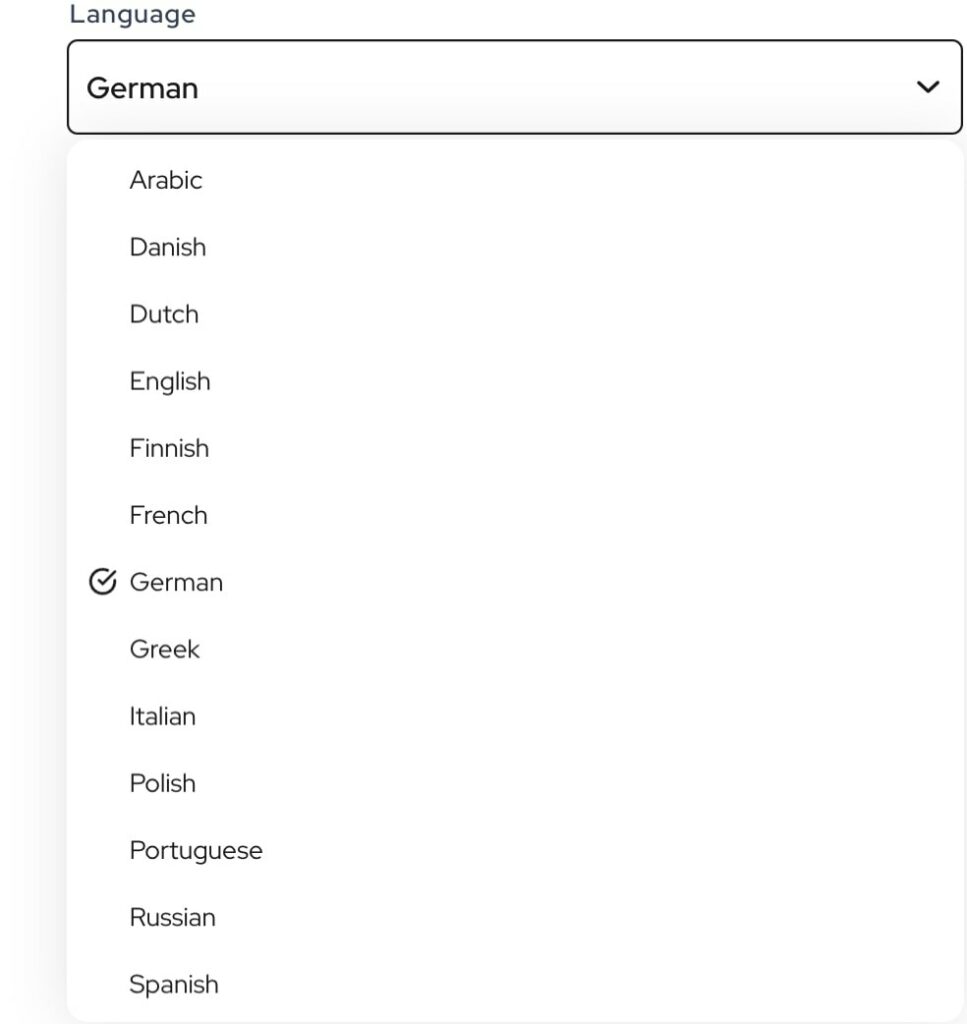 However, problems currently often arise in areas where AI is completely left to its own devices. With continuous text and the "Write for me" function, this is still okay, but it also shows that the quality works better in English. The "Rewrite" and "Improve" functions, for example, cannot currently be used in a meaningful way. In our tests, the context of the text was actually lost every time.
The Methods also have problems one or the other time. Here it seems that the AI models trained in English, so have their problems to function in the same quality in German. Here it is to be assumed, however, that the team of Outranking quickly improve.
Since we create almost 100% content via the Section Builder when working with Outranking and hardly use Methods and AI Writing for body text, we rate the whole thing as teething problems that will surely soon be history.
---
Conclusion:
Outranking is an SEO weapon. It helps to produce content for high search engine rankings in a targeted and data-driven way. Even if you use Outranking exclusively for analysis and research, the tool will give you a brilliant overview of the topic in just a few minutes.
Combined with AI Writing capabilities, Outranking is currently the fastest and most effective workflow for us to produce accurate, high-ranking content. We are also sure that Outranking has set a very high bar here for the SEO content AI tools market.
---
FAQs