What is the best AI writing software 2022? Find out how to write better, faster, and more engaging articles, sales copy, and social media content using AI tools to automate the process.
AI Writing helps you get more conversions, traffic, sales and success in online marketing. In this post, we'll introduce you to some of the best AI writing tools you can use to automate your content marketing.
---
What is AI writing software?
AI writers can greatly simplify your writing process, especially when it comes to posts, articles, texts, and other online content. Not only do they save time, but they also make the whole creative process easier – so you can focus more on what you do best.
Also, you can use it to write your social media posts, Facebook ads, Instagram ads, etc. It can even help you write your next product review, press release or book.
AI writing assistants make your work easier and more efficient by automating everyday tasks. The most popular AI engine on which most tools are based is GPT-3, a natural language generation (NLG) model developed by OpenAI.
GPT-3 is a natural language generation model that uses artificial intelligence to create content that sounds natural.
---
Why use AI Writer tools?
AI writing assistants are a great way for businesses to produce high-quality content quickly and efficiently. They are easy to use, so companies can work with them quickly.
In addition, AI writing assistants can help companies diversify their content marketing strategyby delivering high-quality content to multiple channels.
For example, they can help you brainstorm, structure your thoughts, and develop concepts. In addition, many AI writing assistants can automatically check for spelling, plagiarism, and grammatical errors.
Social media content writing
There are a number of AI tools that can help you produce high-quality content for social media. These tools can automate the content creation process and improve the quality of your social media posts.
AI writing software you should consider with a focus on social media content:
Automate your content marketing
To stay ahead of your competition, it's important to have a content marketing strategy that encompasses both quality and quantity. One way to do this in combination is to automate content creation or social media updates with AI software.
This gives you more time to focus on other aspects of your business, while producing content on an assembly line.
AI Writing Software you should consider with a focus on content marketing:
Outranking
ClosersCopy
Rytr
Get more conversions and sales
AI writers can write content that is both compelling and sellable. You can write emails that get opened and read, and Google and Facebook ads that generate more leads. Content is the key to more conversions and sales – that's why companies are turning to AI writers for help.
AI Writing Software you should consider for focus on content marketing:
ClosersCopy
Writesonic
Rytr
Generate more traffic
AI writers can help you generate more traffic to your website or blogbecause they can write content that improves search engine optimization and ranks better in search engines. They also have a writing style that appeals to people, which makes it more likely that readers will stay on your site longer.
AI Writing Software you should consider with focus on getting more traffic:
Outranking
ClosersCopy
Rytr
Create high-quality content (High-Quality-Production)
Nowadays, there are a number of AI writing software programs that can help you write more creatively and originally. The software automatically checks grammar, spelling, vocabulary and sentence structure. This can be a helpful tool to improve your quality.
AI Writing Software you should consider with focus on high quality content:
Outranking
ClosersCopy
Rytr
Language.org
Improve your writing skills
AI writing software can help you understand how AI approaches certain tasks and identify the different techniques used by AI. Likewise, it can help make your texts more compelling, understandable, and SEO-friendly.
Increase your productivity and that of your team
If you want to increase your productivity or that of your team, then using AI writing software is a good option. It is much faster and easier than manual writing, and AI writers are more efficient than human writers. This means that you can save a lot of time by using AI software. Most AI writers can write dozens of posts in an hour or even less.
---
What is the best AI writing tool for writing?
Of course, which is the best AI writing tool depends primarily on your requirements. We looked at more than 20 current solutions and selected those that generally produced above-average results.
Later in the article, we'll also revisit different objectives you could pursue and give you what we think are the three to four best ones for the task at hand.
---
Rytr – the qualitative generalist with Chrome plug-in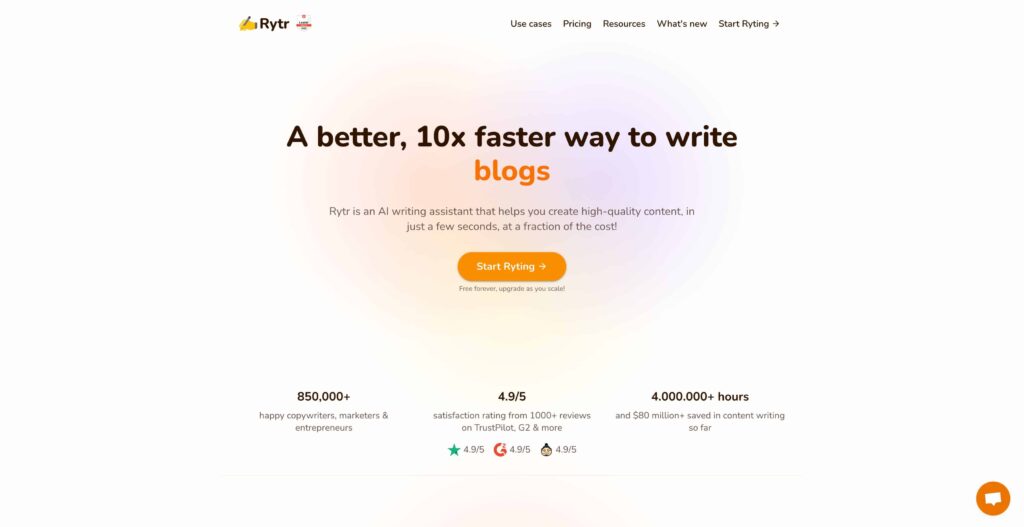 Rytr is a high quality AI copywriter with a wide range of applications. It is ideal for you if you are looking for a writing assistant for a wide variety of projects, you are a beginner, you want support also via a Chrome plugin within other web applications, and you want to write long texts (long-form) and articles as well as short fragments like headlines.
Advantages – What we particularly like about Rytr:
Should you be working with other AI tools, you can also get additional help from Rytr through the Chrome plug-in within your other tools like WordPress, Google Docs or even within other AIs. The editor of Rytr is very easy to use and delivers, stands high-quality texts. Managing your documents is simple but effective using folders like in a file system. With a price starting at $29 a month and $290 a year, you'll get great help and produce better copy faster.
Disadvantages – What to improve Rytr:
Unfortunately, Rytr does not master informal address, e.g. in German. The texts consistently address the reader as "Sie". We did not find the AI models for Ads ideal. Other tools are stronger there. If you want to write blog articles and long texts, Rytr supports you excellently and also provides introductory paragraphs to each headline. Writing continuous text is sometimes a bit more humpy than in other tools. Rytr relies solely on training data from AI. This partly makes writing fact-based texts a bit more effortful, as you then always have to take care of the right input in the form of context.
When you should buy Rytr?
You should consider Rytr if you don't have much experience, your content tasks are broad, you want AI support in other third-party applications, or you want to add additional capabilities to a secondary tool. Through the plugin you get virtually integration with all web applications.
Rytr is suitable for freelancers, blog owners, small agencies, copywriters of sales copy and is a good start for anyone who wants to write better and faster texts.
---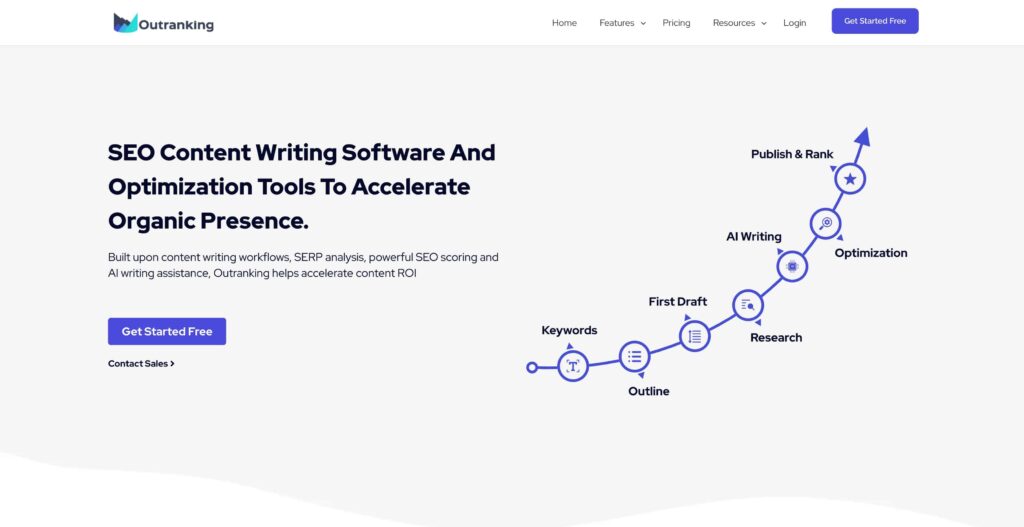 Outranking.io is the specialist for SEO content and content marketing. It combines data-driven content research, SEO analysis, monitoring with an AI copywriter. What is unique is the capacity for fact-based text output and combining SERP content with Writing AI. The toolset is extensive, but Outranking is specifically designed for website and blog content workflow – whether working in a team or alone.
Advantages – What we particularly like about Outranking:
Outranking immensely speeds up the production of texts that are to achieve a good ranking in search engines. After our first few months, production time was reduced to about 1/3 of the time. The tool works rapidly in generating AI outputs. The tool completely maps various tasks such as prioritizing content, content and keyword research, content planning, factual writing, optimizing content for SEO, and also monitoring in parts. Outranking thus combines applications that previously usually required multiple tools.
Cons – What to improve about outranking:
While Outranking offers a small price to start with at $29. However, the AI in Outranking is very hungry, as AI credits are needed for output texts as well as for some input texts and intermediate steps. Every additional document, every keyword analysis, every AI need can be purchased additionally via add-ons that exceed the standard quota. This goes quickly into the money. Some parts of AI do not yet work ideally in German. However, the most important thing works perfectly.
When you should buy Outranking?
If you are an SEO specialist, a blogger, an affiliate marketer or an SEO agency – best buy now. Outranking will help you achieve better rankings and extremely faster production times with AI-based SEO. If you use a tool like Surfer SEO in combination with Jasper – then check if Outranking could cover your requirements better and cheaper.
---
ClosersCopy – Der Sales-Copy und Long-Form Spezialist mit individualisierbaren AIs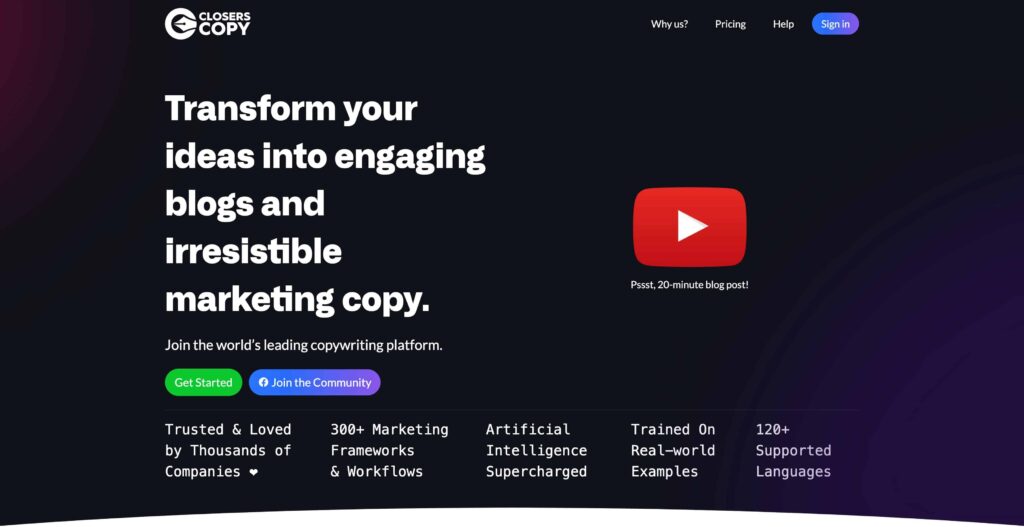 ClosersCopy is an AI writer from Germany with a focus on long-form copy and sales copy. Users can expect not only a large library of AI applications, but the ability to completely customize their own AI models and workflows to meet their needs. However, a deeper exposure to writing and creating AI prompts is a prerequisite. ClosersCopy offers as many as four complete AI integrations: one for sales copy, one for blog articles, one for stories, and GPT-3. Within a lifetime deal, there is an offer of unlimited use.
Advantages – What we particularly like about ClosersCopy:
ClosersCopy offers an extremely customizable toolbox. Custom AI models/templates, complete custom workflows, custom settings for long-form copy, choice of AI engine, and much more. With actually no other AI writing tool is such a variety of theoretically all possible applications and over 120 languages implementable.
Very ingenious is the price-performance ratio,because ClosersCopy is offered (as of March 2022) for an amount of $ 397,- unlimited. Even 4 users are included. The application itself runs on a simple text editor at its core, which is a simple form and a good combination of AI generated and self authored content.
ClosersCopy's output also supports adult contentand at least 3 of the AIs have no problems with sensitive content. The input and output volume in characters is also much higher than with purely GPT-3 based tools, so ClosersCopy can also generate extensive content up to 5,000 characters on one.
Support for SEO is excellent with a research and rewriting module. While not comparable to Outranking's specialization in SEO, ClosersCopy is also ideal for writing content for website and blog articles.
Disadvantages – What to improve about ClosersCopy:
For us, the most annoying thing about ClosersCopy is the sometimes slow calculation of AI content. Depending on the volume of input (context) and output, you have to reckon with up to one minute here in extreme cases. While some AI writers shine with output within 1-5 seconds, it usually takes 3 to 4 times as long with ClosersCopy. But if your AI model is well trained, then the text will fit immediately. And take into account that the output of ClosersCopy is mostly much more extensive than that of GPT-3 tools.
Which brings us to the next point. ClosersCopy is able to write extremely qualitatively. But. The most offered templates from the provider and also the community do not always meet the highest quality standards. Also, many of the models and frameworks were provided in English and sometimes have problems to work well even in the foreign language. Of course, these problems do not exist with purpose-built AI models.
When should you buy ClosersCopy?
ClosersCopy is thus aimed at professionals who need a lot of text in customizable patterns. Whether agency, in-house copywriter or professional blogger. Less so for copywriters who want a little help from an AI. The learning curve here is not as steep as with other tools. But you will be rewarded with excellent quality and customized workflows.
---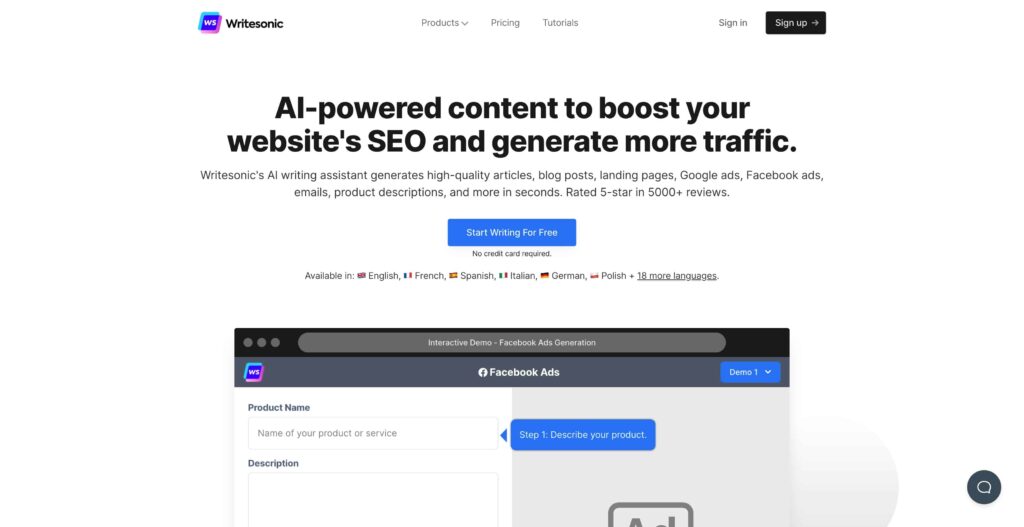 Writesonic is a simple AI writing assistant that's worth checking out, especially for beginners. By the way, Writesonic was also our first contact with an AI writing tool. Here you are simply presented with individual text tools for several tasks. Every single task guides you through one or more steps of a form and at the end you get high-quality suggestions. The tool helps you with over 40 AI use cases for ads, landing pages, blog and social media, email marketing and much more.
Advantages – What we particularly like about Writesonic:
Writesonic shines with an easy-to-understand user interface that allows any beginner to produce good texts right away. Particularly noteworthy is the module Landing Pages, which creates complete proposals for landing pages from some data and also displays them visually.
AI Article Writer is also a great approach that lets you develop a first draft of a complete blog article in just four steps.
In our testing, we found that of the form-based AI tools, Writesonic consistently offered the best trained models. From our perspective, you can quickly develop excellent ideas and content for the use cases provided.
Cons – What to improve about Writesonic:
Writesonic does offer a long-form editor for continuous texts, but the range of functions is very limited compared to other providers. The simple usability concept helps to get started easily, but then makes work cumbersome for more experienced users. It is a pity that Writesonic does not master informal speech in German either.
Writesonic allows to save text suggestions. These are then placed on a separate tab of the project. Each suggestion creates a tile. It goes very quickly and you quickly no longer have an overview of what is actually there and how it should be organized. This also makes working in a team more difficult.
If you need a lot of users, Writesonic quickly becomes quite expensive and in the end it is rather a smaller tool, if we compare it with the functionality and especially specialization of, for example, Outranking or ClosersCopy.
The pure generation of content via GPT-3 brings with it the usual restrictions on the subject of facts, output lengths and sensitive content.
When you should buy Writesonic?
You should buy Writesonic mainly if you need occasional texts, but you want them to be really good. It doesn't matter if you're a blogger, sales copywriter, or agency. The tool quickly gives you good ideas when you need them and provides the important passages and structures. It doesn't matter whether you have a lot of experience with AIs or not. However, continuous work and mass texting just like teamwork is less the focus of the provider here.
---
Nichesss – AI Writing in a colorful environment at an attractive price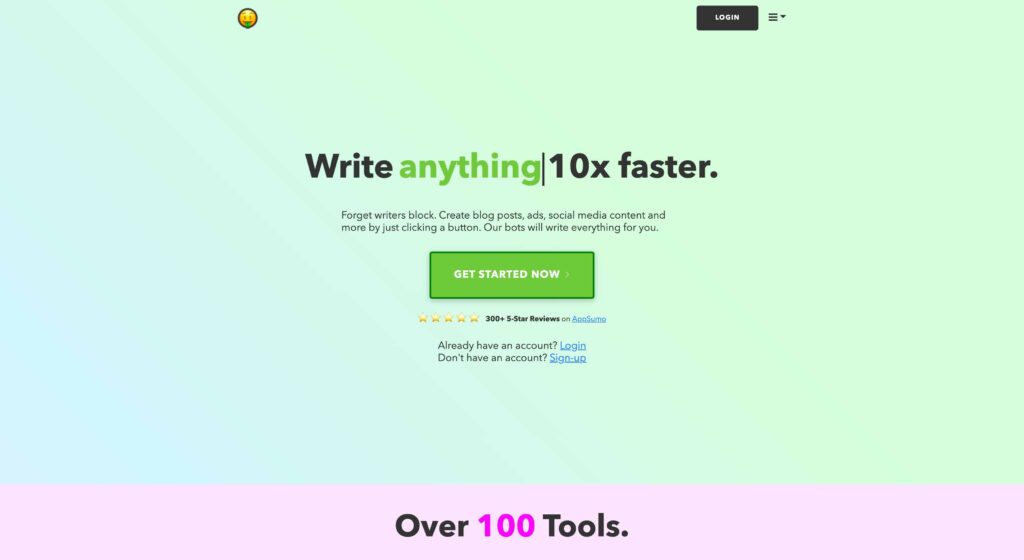 Nichesss is a good AI writer at a really small price. It seems a bit like the little ninja for content tasks. His performance is just as rigorous. It's colorful. It's shrill. It looks a bit like it came from the tinkering workshop of a crazy developer. Nevertheless, you should by no means underestimate the tool. Both the quality and the variety of AI models offered make it very useful, especially for users on a tight budget.
Advantages – What we particularly like about Nichesss:
Nichesss offers very many form-based use cases that should cover almost any need. Mostly – not always – even surprising, with extremely good ideas that outperform other tools. In the meantime, Nichesss also offers the option of integrating your own AI use cases, although these always go through an approval process with the provider and are not directly available.
An excellent feature for form-based tools is the storage of all entries in form fields and the possibility to call them up from a versioning at any time. This saves you from constantly typing or copying in contextual defaults, as we've had to experience with other AI tools.
Otherwise, one must clearly emphasize the low price starting at $19 per month. In the package there are 200 credits regarding the number of AI queries.
Disadvantages – What to improve Nichesss:
When you see the usability and the design of the user interface for the first time, you get a shiver in your pacemaker. But, this can also be seen as a trademark of the tool. It looks like a small patchwork of wildly assembled tools.
For this reason, however, we underestimated Nichesss for the time being. Nevertheless, a facelift would probably do the application good here.
The management of the text output is sometimes a bit tricky, as you can quickly lose track of the content fragments created in your project and a click too many is required here and there.
We really don't like the long-form assistant offered by Nichesss. We think it's integrated in such a marginal and spartan way that it seems like it's there to say: we also have a long-form editor.
When you should buy Nichesss?
Nichesss is mainly suitable for freelancers and individuals who do not want to invest so much money in an AI Writing solution,especially since there is currently a lifetime deal (as of March 2022). Especially if you work in the field of social media and YouTube videos, Nichesss should be interesting for you, because there are many templates available. But even if you want a wide range of different texts, Nichesss is a good alternative, as it offers over 80 tools currently.
---
What can you do with AI writing software?
AI writing software was originally developed for copywriting, but is now being used more and more to create long and fact-based texts.
These tools can create any content, from simple single texts to long articles or blog posts. With mostly well-designed user guidance, it's easy for people with any kind of experience to create content, though the level of difficulty varies from tool to tool.
When it comes to essays and academic papers, AI writing software helps you get organized, do research, and use your time more effectively. There are many different programs, each with unique focuses like blog articles, SEO, sales copy, or even essays.
Therefore, when buying, you should consider the strengths and weaknesses of the tools offered and especially your objective.
Blog, WordPress and Website Content – Achieving SEO and Rankings
Writing with AI copywriting tools helps you create content that is both compelling and SEO-friendly. This means you can generate more traffic to your website or blog and improve your SEO ranking. The AI or rather the tool should go through and process factual information instead of relying solely on AI capabilities.
AI Writing Software you should consider focusing on blog articles and website content:
Outranking
ClosersCopy
Rytr
Social media – posts and content for social channels on the assembly line
With AI writing software, you can create social media posts that are both compelling and generate more leads. This can be done by writing emails, ads and other content. They need to be trained to create content in the way it is written for social media.
AI writing software you should consider with a focus on social media content:
Ads Copy – Create Google Ads & Facebook Ads successfully
Ads must be convincing. One way to increase your chances of selling is to write content that appeals to people. Artificial intelligence software can create compelling ad copy that sells because it understands your audience and knows how to identify their needs and interests.
AI Writing Software you should consider focusing on Ads-Copy:
Landing pages – Achieving high conversion rates
To increase conversions, it's important to develop your landing pages from a conversion-oriented perspective. The ultimate goal is to use the elements and language that make people convert. AI software can help you create compelling, high-conversion, SEO-friendly pages that are both engaging and encourage action.
AI Writing Software you should consider focusing on landing pages:
Writesonic
ClosersCopy
Rytr
Sales letter and email marketing
With AI writing software you can write complete emails and sales letters that will be opened and read. This can help you get more conversions and sales.
AI Writing Software you should consider with a focus on sales letters and email marketing:
ClosersCopy
Writesonic
Rytr
E-Commerce Copy – Features, Benefits, Descriptions
When writing e-commerce copy, you need to know what your customer is looking for and how to sell it to them in the most compelling way. With AI writing software, you can write compelling and SEO-friendly e-commerce copy that sells.
The tool should specialize in understanding needs, converting features into benefits, and finding the right tone for headlines and emotions.
AI Writing Software you should consider focusing on e-commerce copy:
Outranking
ClosersCopy
Writesonic
Marketing Formulas – Strategically Plan Sales Copy
AIDA (Attention-Interest-Desire-Action) and PAS (Pain-Agitate-Solution) are two examples of marketing formulas and developing a strategic point of view that will help you write compelling copy that converts.
Almost all AI tools have this feature on board. We cannot necessarily prefer one or the other here, as this task was satisfactorily accomplished by all tools.
Proofreading – Check grammar, expression and spelling
Some tools specialize in producing high-quality content that is as error-free as possible. Others have no functions to do so. This means that many tools can check the grammar and spelling of your content.
A good example is Grammarly or Language-Tool, which always check the grammar and spelling of your content. Even though these two tools are not AI Writers, you can usually run them in combination with the web-based AI Writers via their plug-ins without any problems.
Many AI tools also have control functions, integrated into the system.
Summarizing with AI
A summary tool can help you turn long content into a short summary. This makes it easier for people to process the content and find the gist, which in turn means you can rewrite it.
Some AI tools specialize in this. Some have it as a built-in feature.
AI Writing Software you should consider with a focus on Summarizing:
Outranking
ClosersCopy
Writesonic
YouTube – video and storyboard
YouTube is one of the most popular platforms for video content. When writing a storyboard or descriptions for a video, you need to think about what will captivate your audience. To do this, you can use an AI tool that helps you write compelling video scripts, descriptions, and storyboards.
AI Writing Software you should consider with a focus on video and storyboard:
Story Generator and Storytelling – Writing Fictional Stories
Fiction writing is one area where AI is gaining a foothold. Creativity, the thought process behind each scene, and the reading flow of your work are all important things to consider when writing fiction in general. Luckily for you, there are numerous programs that can assist you with this, such as ClosersCopy or Rytr.
If you want to write adult content or sensitive content, you should consider a special program or a program that is not based on the restrictive GPT-3.
AI Writing Software you should consider with a focus on storywriting:
Academic papers, theses and essays
AI (Artificial Intelligence) writing software is perfect for writing academic essays. With it, you can write any type of essay, from dissertations and thesis papers to regular essays and research papers.
For this, however, you should use software that is good at handling factual information.
AI Writing Software you should consider focusing on essays:
Rewriting and Paraphrasing – Avoid Plagiarism, Refresh Content
If you focus on paraphrasing, you can rewrite any text in new words. This is a great way to create content that is unique and not considered plagiarized. Also, you can get more SEO traffic this way.
One of the biggest limitations of AI-powered tools is that we don't think they all do a good job in this area. The reason for this is that the restrictions imposed by GPT-3 limit you to editing paragraphs with a maximum of a few characters per AI pass.
In our opinion, the best way is to combine paragraphs into fact snippets and expand them into new paragraphs using AI templates. This task is therefore most likely to be solved by tools that are good at summarizing facts from existing content in order to then expand these fact snippets again with AI.
AI Writing Software you should consider with a focus on rewriting and paraphrasing:
Outranking
ClosersCopy
Rytr
Translation – Translate content
DeepL and Google Translate are two of the most popular translation tools on the market. They are often supported by AI writing software and are fully integrated within the application. So you can usually translate content from one language to another directly from your tool.
When it comes to translating and writing in languages like German, you should be able to switch between formal and informal language.
AI Writing Software you should consider with focus on content translation:
ClosersCopy
Nichesss
Rytr
DeepL