With the new AI copywriting software (AI writer)Rytr you can easily automate your content marketing strategy, speed up implementation and increase the quality of your work. In this article, you'll learn how Rytr can save you time and money, increasing your ROI. We have taken a closer look at Rytr.
---
What is Rytr?
Rytr is an AI tool based onOpenAI GPT-3 , that lets you create texts automatically. It uses AI to generate text from a variety of sources – such as content learned from the AI GPT-3, your input, and other contexts – which you can then customize and edit. Rytr simplifies the entire writing process and is available 24/7, cross-platform in a web application. With Rytr you have the possibility to create creative and original content.
---
Contents
---
What can you do with Rytr?
Rytr is very simple to use. All you have to do is enter the content into a form and Rytr will do the rest for you. With its help you can create your texts faster and easier.
Rytr is an AI texting tool that creates different types of articles.
To make it work, all you have to do is enter a description of what you want to write, and in seconds a highly engaging article will be created for you.
As an AI writing assistant, Rytr simplifies the entire writing process.
The content created by Rytr is 100% unique.
Rytr has an intuitive interface that lets you create different texts.
Rytr offers a Chrome plugin that can help you write in other applications as well
---
What content does Rytr write for you?
Currently Rytr offers 32+ templates for different text tasks. These include various use cases from social media, blogging, ads, video, as well as poetry, lyrics, and conceptual texts such as an AIDA formula (Attention, Interest, Desire, Action).
Blog Ideas & Blog Outlines
Writing blog paragraphs
Creation of company and brand names
Pitch for business ideas
Texts for Google and Facebook ads
Copywriting frameworks like AIDA, PAS (Pain-Agitate-Solution) and many more
Website-Titel und -Beschreibungen für SEO
Product descriptions for online stores
Video descriptions
Video ideas
Creating testimonials and reviews
complete creation of e-mail cover letters
Job Descriptions
Texts for landing pages (headline, subheadline, body copy)
Profile information e.g. for your LinkedIn or XING profile
Song Lyrics
Poetry texts
Outlines for fictional stories
---
Advantages and disadvantages of content writing with Rytr (Review)
Advantages
Intuitive and easy to use interface
Overcome writer's block quickly and at any time
More than twenty tonalities
Unlimited writing for a small price
Unlimited writing for a small price
Chrome extension
Magic Command – any commands that the AI executes for you
Integrated plagiarism check service

Disadvantages
Low volume of characters in the free package
No support of informal address (du) in German
Partially low number of characters for context
Lack of support for continuous automated writing (Write for me) Volume of characters in free package
---
Rytr AI Writing Tool Prices:
Rytr currently offers 3 pricing models:
Rytr Free AI Plan
5,000 characters per month
Access to more than 32 use cases
Access to more than 30 languages
Access to more than 20 tonalities
built-in plagiarism checker
Access to the Premium Community
free
Rytr Saver AI plan
50,000 characters per month
Access to more than 32 use cases
Access to more than 30 languages
Access to more than 20 tonalities
built-in plagiarism checker
Access to the Premium Community
Create your own use case
$ 9,- per month
$ 90,- per year (2 months free of charge)
Rytr Unlimited AI Plan
Unlimited characters per month
Access to more than 32 use cases
Access to more than 30 languages
Access to more than 20 tonalities
built-in plagiarism checker
Access to the Premium Community
Create your own use case
Dedicated account manager
Priority email and chat support
$ 29,- per month
$290 per year (2 months free of charge)
---
Core features of Rytr Writing AI
Rytr is clear and beginner-friendly. You can quickly sign in with your email, Google or Facebook account by clicking the "Start Ryting" button. Rytr does not yet have a mobile app. However, it is optimized for use on mobile browsers.
User interface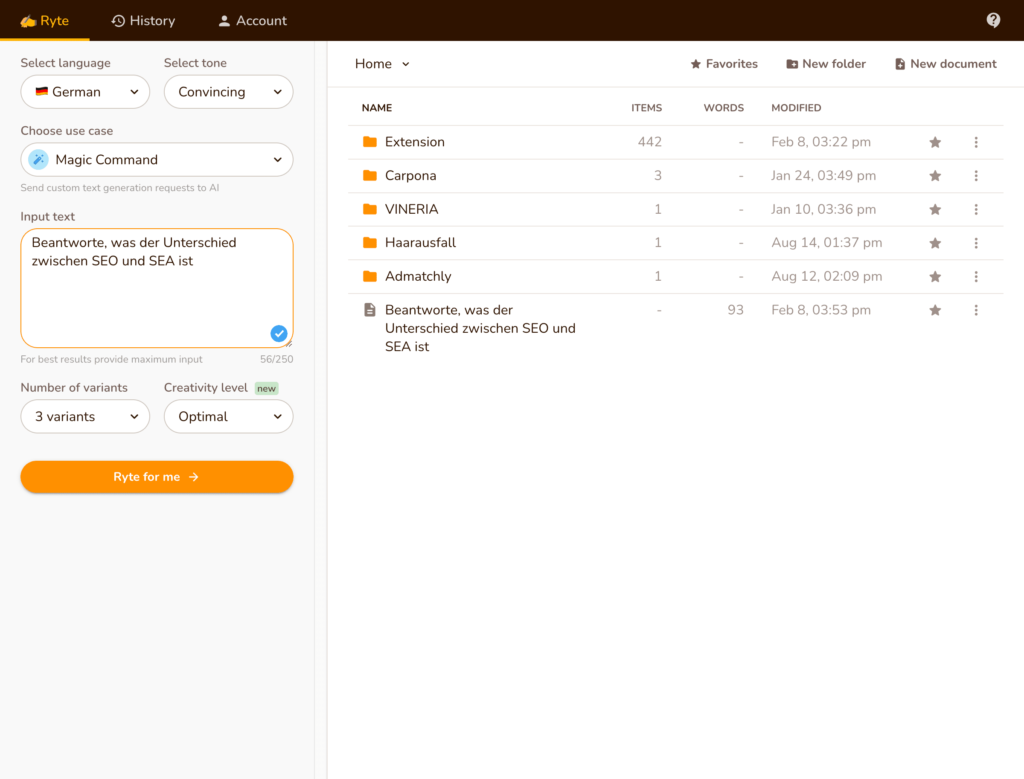 The usability concept follows that of a representation as you know it from your operating system. There are folders and documents. If you select one of the forms on the left, fill it out and click the "Ryte more" button, your generated texts will be loaded into a Word-like document. This you can save, edit, add to.
This makes it easy to keep track of the content created.
Languages
Rytr allows you to write texts in more than 29 languages. The software also supports multiple fonts and character formats. The wide range of possible languages makes Rytr a good choice for authors and editors from many different countries.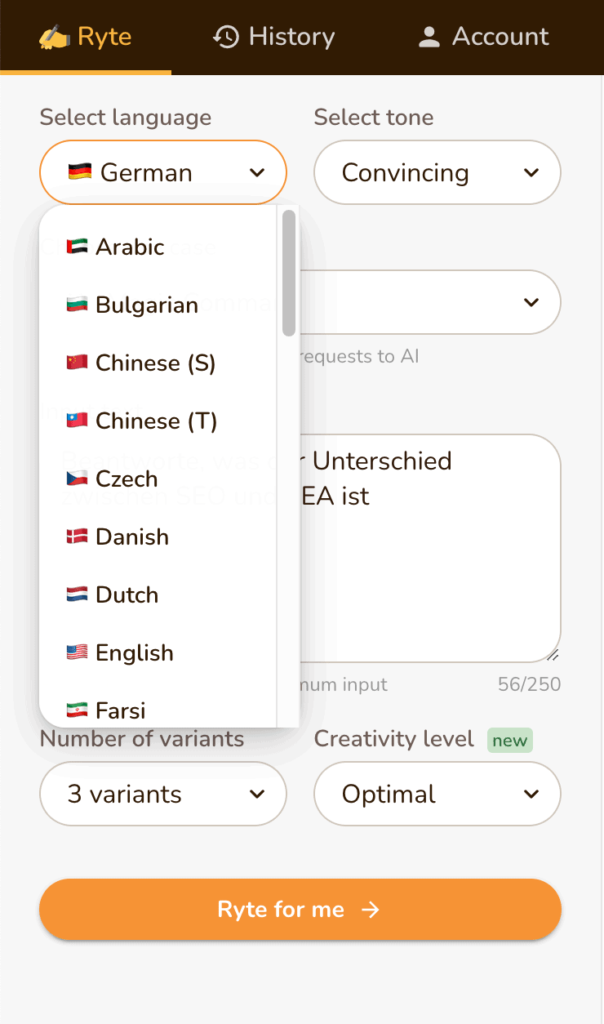 Tonality
You can make tonality settings in the tool to express different emotions. There are 21 different tonalities to choose from, so you'll find just the right one for your purposes.
Humorous, casual, persuasive, concerned, humiliating, excited, and formal are just a few of the different tonalities. Among the newest tones is the tone critical for use, for example, on YouTube or in critical texts.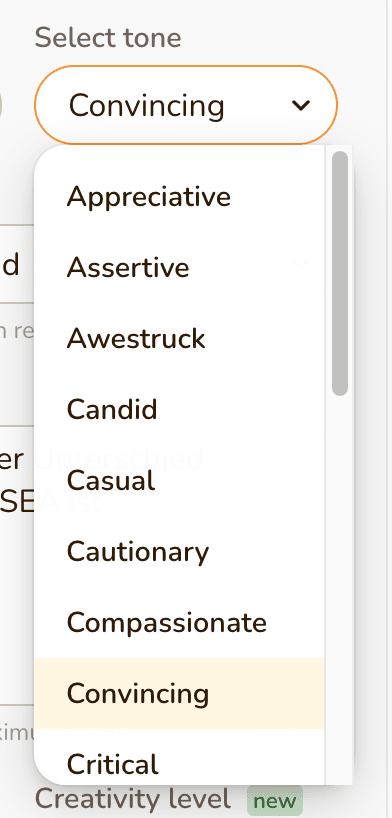 Chrome Extension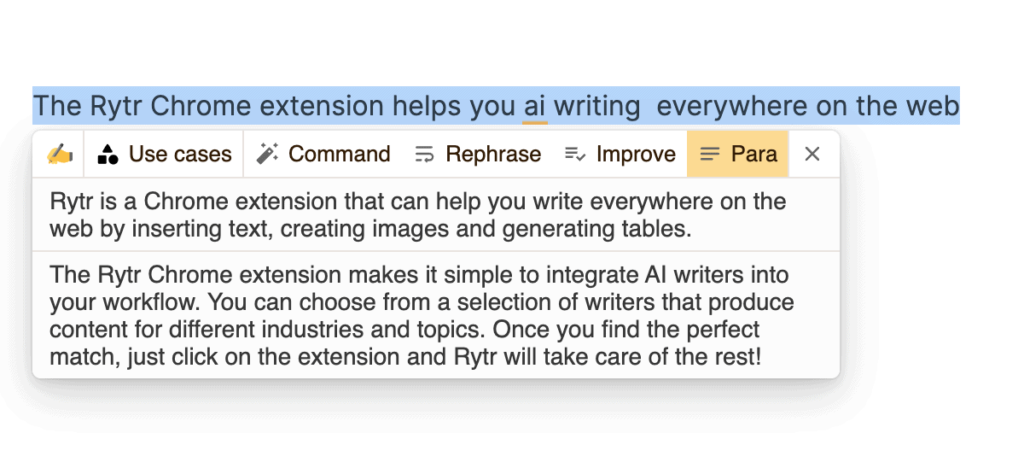 An absolute highlight: Rytr AI offers a Chrome extension that allows you to generate texts automatically using AI within your browser. You can download and use this extension to edit your texts quickly and easily.
The Chrome extension Rytr is a handy tool for content creators who always want to have a ki-supported writing tool at their disposal. It is not very comprehensive, but it offers all the basic functions you need to create texts. And that's everywhere you enter text in your web browser, such as the backend of your content management system, Gmail, Google Docs, and more.
The main features that we always appreciate:
Improve" function: your marked text will be optimized grammatically and in expression
Function "Rewrite": your marked text will be rewritten. The context and the statement remain largely intact.
Paragraph" function: a complete paragraph is written for the selected text.
---
Plagiarism check in Rytr AI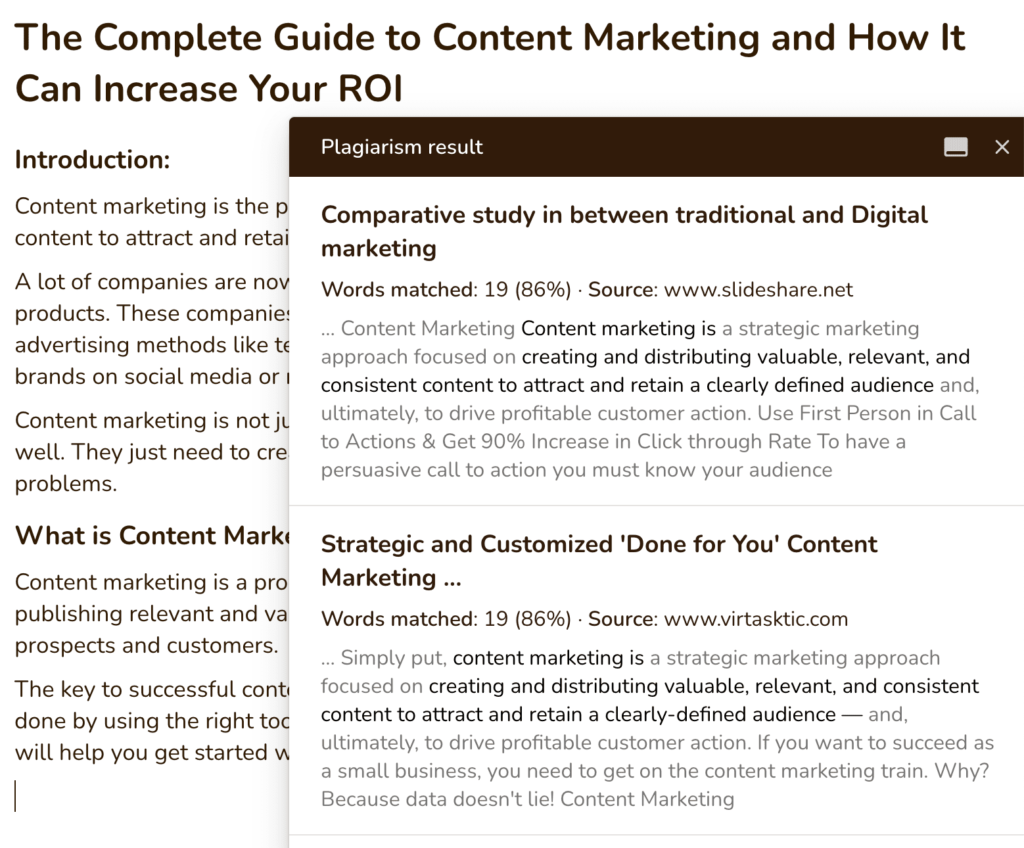 True, an AI writes mostly unique text. Nevertheless, plagiarism occasionally occurs, i.e. text passages that are almost identical in content on other websites.
Rytr has a plagiarism checker (from Copyscape, one of the industry leaders) to verify the authenticity and uniqueness of the content. When plagiarism is detected, you will see the sources in a pop-up window. You can click on any source and view the original content.
This feature is available free of charge to all customers who have a subscription with Rytr. The processed characters will be added to your monthly consumption. There is no upper limit for unlimited pacts.
Blog ideas and outlines for your website articles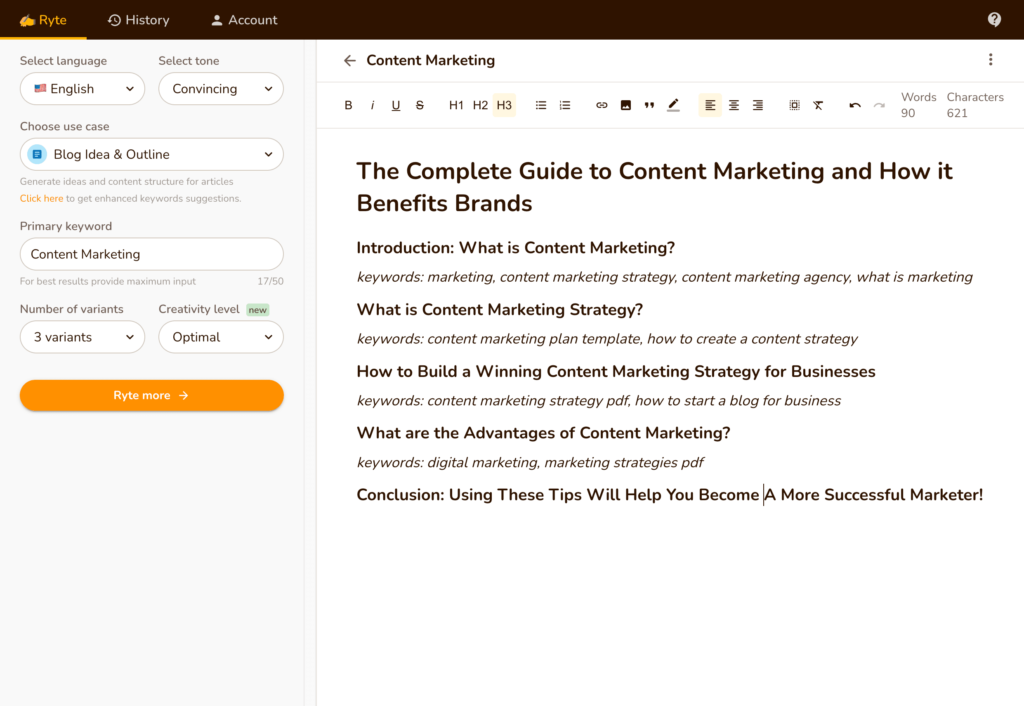 Rytr creates blog ideas and outlines that are relevant to the topic at hand. This way, you can quickly and easily create high-quality content without having to do any research yourself.
The simultaneous creation of keywords for each bullet point is very efficient. This is best understood with an example:
We enter our keyword "Best diet for weight loss" in the "Primary Keyword" field and get the following suggestion:
The ultimate guide to the best weight loss diets
Introduction: What are the 3 main factors that influence weight loss? Keywords: calories, diet, discipline
What is the best diet? Keywords: best diet to lose weight, what is the best eating habit to lose weight, what is the best eating habit to lose weight, what is a good eating habit to lose weight
What are some of the most popular diets? Keywords: keto diet, paleo diet
Conclusion & recommendations
Thus, Rytr not only gives us ideas for a blog article, but also directly gives itself context for creating suitable paragraphs, which can be done in the next step.
Blog paragraphs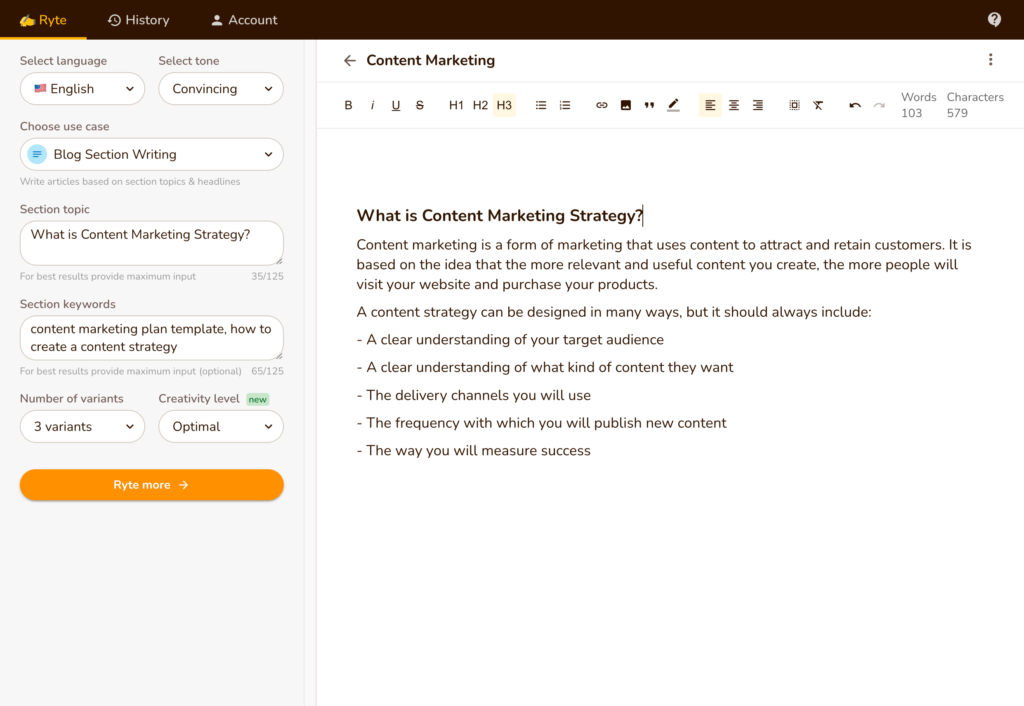 In the next step, we enter the individual subheadlines and their keywords into the Blog Section Writing tool. As an example, we use the subheadline "What are some of the most popular diets?". Keywords: keto diet, paleo diet"
The proposal created by Rytr reads:
What are some of the most popular diets?
There are countless popular diets that focus on different aspects, but each is based on a goal. The Paleo diet is designed to help people lose weight and maintain a healthy lifestyle, the Zone diet is mainly for athletes, and the Keto diet – well, the ketogenic diet was developed for children with epilepsy.
Rytr works well for general content, but is not the most effective tool for creating technical content. Here, the facts within the AI are usually missing. In general, you can learn to give Rytr context so it can work better with facts…otherwise, as with most AI tools, be careful when numbers are mentioned. You should take them with a grain of salt and always check them.
Magic Command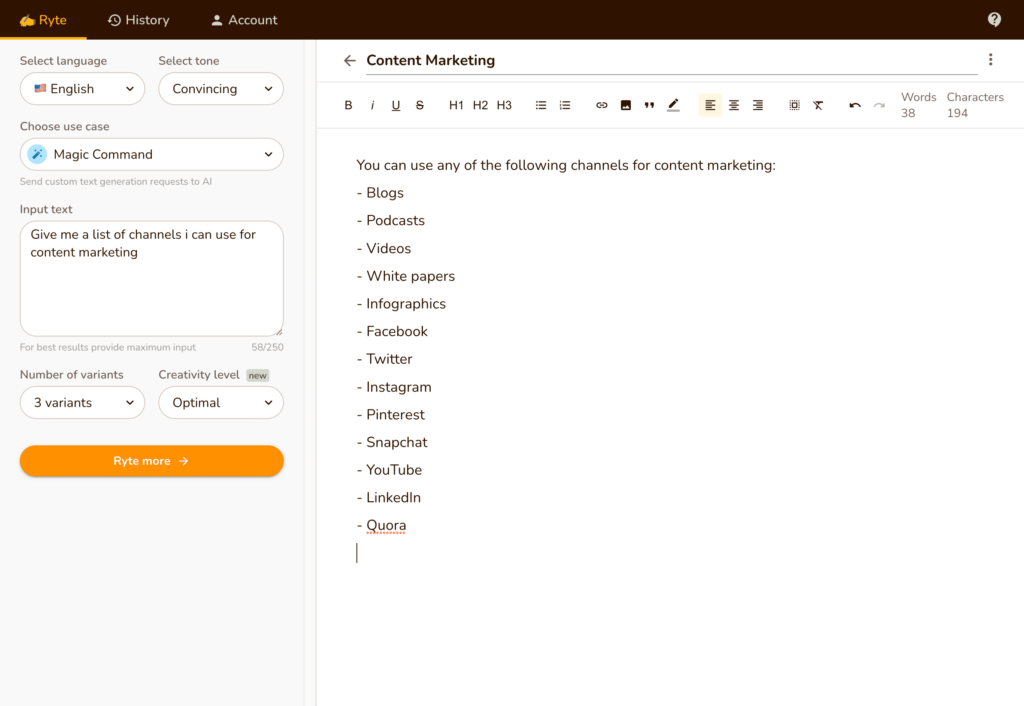 With Rytr's "Magic Commands" you can tell the robot exactly what to write. This makes it a great tool to automate the writing process and provide you with information on a topic.
To use this feature, simply write a command in the text box and press Enter. The command must be limited to 250 characters. It is important that it is short and precise.
Example "Potato gratin":
Input: "Write a recipe for potato gratin".

Output: "Preheat oven to 200 °. Peel potatoes, cut into slices and boil until soft. Layer thinly sliced potatoes, salt, butter and grated cheese in a baking dish. Season with salt and pepper. Pour milk over the layers, making sure it is evenly distributed throughout the dish. Bake for 30 minutes."
Example "Sights in New York":
Input: "Give me a list of places to visit in New York".

Edition: "- Statue of Liberty – Empire State Building – Grand Central Terminal – Times Square – Rockefeller Center"
Example "Difference SEO/SEA":
Input: "Answer what is the difference between SEO and SEA".

Issue: "SEO is when you create relevant content with the intention of ranking for search queries for your desired keywords. SEA, on the other hand, is when you buy ads on search engines like Google or Yahoo."
Rytr in German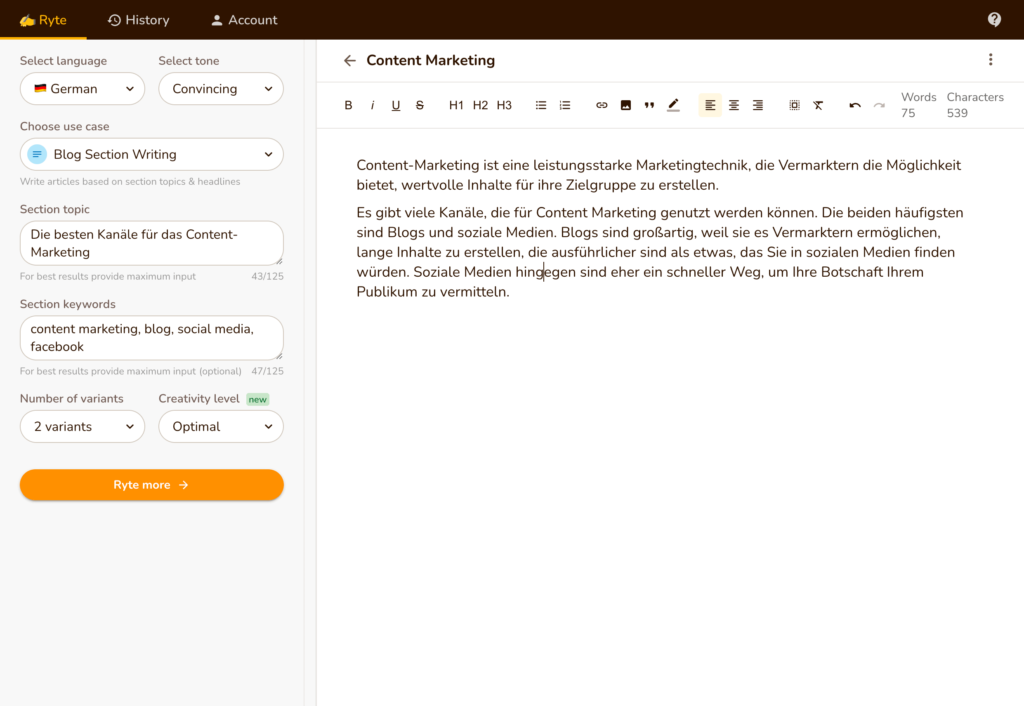 In general, German is supported by Rytr,as well as many other languages. The output is excellent, fluid and articulate. The lack of support for informal forms of address is very regrettable. The texts are issued throughout politely with "you". Unfortunately, this is not ideal for the usual form of address in texts for social media or blog articles, where the "you" is more the tone today. So you'll need to revise this if desired, or use yet another tool to achieve this salutation.
So far, the provider has reacted with little understanding to our support requests on this topic. This is surprising, since other languages such as French also have these requirements. Nevertheless, we are hopeful because other providers have also recognized this challenge and are gradually implementing it, so Rytr should also notice that they are missing an important feature here.
Your own custom templates – individual solutions for your business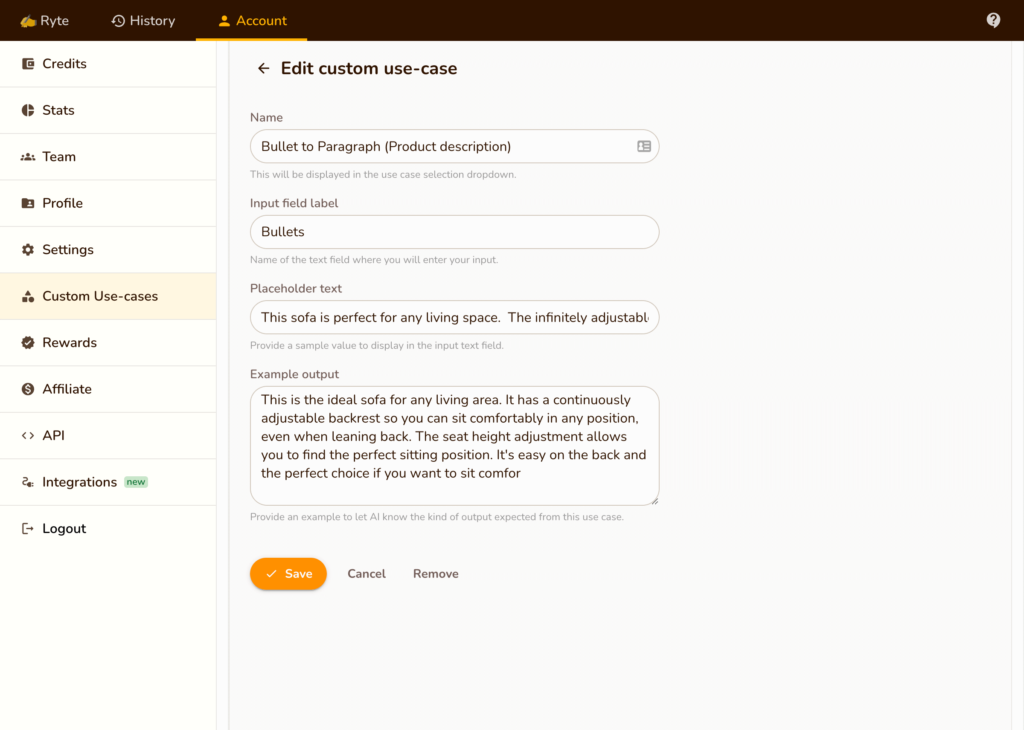 Rytr offers you over 30 templates for various text tasks. What if, for example, you want to turn bullet points about the features of a product into a product description as body text? A template that does not yet exist. That's where the custom templates come in.
Create a new custom template and provide as qualitative an example as possible. In this case, deposit a bullet point list and the text that should come out of it. This then becomes a new AI model (prompt), which you can use directly and always after checking by Rytr.
So there are practically no limits to your imagination and requirements.
Output quality
Rytr consistently delivers high quality text. The leadership team, Abi Godara (CEO), Atul Yaday (CTO) and Kriti Prasad (Marketing), writes on their website about Rytr:
"… When we explored the potential of OpenAI/GPT-3 technology in another chatbot project and saw the poor quality of existing AI texting alternatives, we decided it was time to give the market what it deserved – an intuitive AI writing assistant that delivers the best content, period …".
Rytr's progress is a bit slower than other AI tools, and new features are not added too quickly. However, the extensions seem to be thoroughly tested and of high quality.
Support & Help
The support team responds quickly and helps answer questions. We have actually never had to wait more than a few hours for a response.
The help section and documentation could be a bit more detailed, but serve their purpose.
---
Rytr Conclusion
Rytr is a good AI writing assistant that can convince its visitors with intuitive usability. It is aimed at entrepreneurs who want to optimize their online content. The service lets you create blog posts, social media posts, articles, emails, marketing campaigns and more at a fraction of the cost. Rytr is suitable as a generalist for AI writing and if you're looking for a tool with a high learning curve that lets you get started right away and quickly. In terms of price, Rytr is one of the most affordable tools on the market and offers unlimited write volume.
Frequently Asked Questions (FAQs)
Rytr is ideal for companies, bloggers, online marketers, agencies and copywriters who write a lot of texts, because it makes the work process much easier and faster. The tool requires no special training and is easy to understand.
AI for bloggers & website operators
If you are a blogger, Rytr.me is just what you need, because it makes your work easier with creating high-quality articles. Since you need regular publications to offer something to your readers, Rytr.me is ideal because it allows you to publish several articles per week.
Rytr helps you with blog ideas, blog outlines, grammar improvements and wording, intros and automatically created paragraphs from headings.
AI for Digital Marketers
Digital marketers today must possess a range of skills to be successful. Besides search engine optimization and link building, providing quality content is one of the most important. This content is crucial for your website's ranking in search results.
Rytr uses machine learning and artificial intelligence to generate copy that supports your campaign.
The tool helps you create texts for search engines, social media, ad texts, product texts and other purposes.
AI for e-commerce brands & business
Using tools like Rytr, you can automatically create texts with AI that are tailored to your products. This will help you create more content for your store and thus increase traffic.
Rytr helps you create product descriptions, social media ads, landing pages and leads.
AI for marketing agencies, advertising agencies & service providers
Especially for advertising agencies Rytr is a great advantage, because it facilitates the work enormously. A lot of content needs to be created for campaigns, PPC, SEO and social media. With Rytr you can generate a lot of texts, keywords and other data automatically, which makes the process extremely fast.
Ryte helps advertising agency quickly launch new campaigns, produce creative, promotional copy and create content for social media, keywords and other purposes.
Rytr uses state-of-the-art GPT-3-based language models trained on large portions of the Internet. These models can be created for any type of item and any use case.
AI usually weakens when it comes to technical content and facts. Some AI fans have a saying, "Watch out! The AI lies." So users should review and edit topics and content before publishing. A lot of things are right. But some things are not and have to be adjusted manually.
Yes. Rytr allows to manage content from multiple authors. Rytr allows to manage content from multiple authors. The current price per additional user is $19 per month.
Yes, you can use the free version for an unlimited time. The monthly output is limited to 5,000 characters, otherwise all features are available to you except custom templates.